Two things that I love the most in the world are chocolate cake and ice-cream. Let's face it, we have all had our days when we've craved both only to top our chocolate cake slices with a good scoop of ice-cream. But what if I tell you that you can have best of both the worlds in one? Sounds unbelievable, right?
A good ice-cream is such a crowd pleaser. For me, it is the perfect dessert option for a cosy night-in with family. If you don't want to make something elaborate but still want to indulge into something that's delicious, minimal and great for summer, then this is the recipe you're looking for – my chocolate cake ice-cream.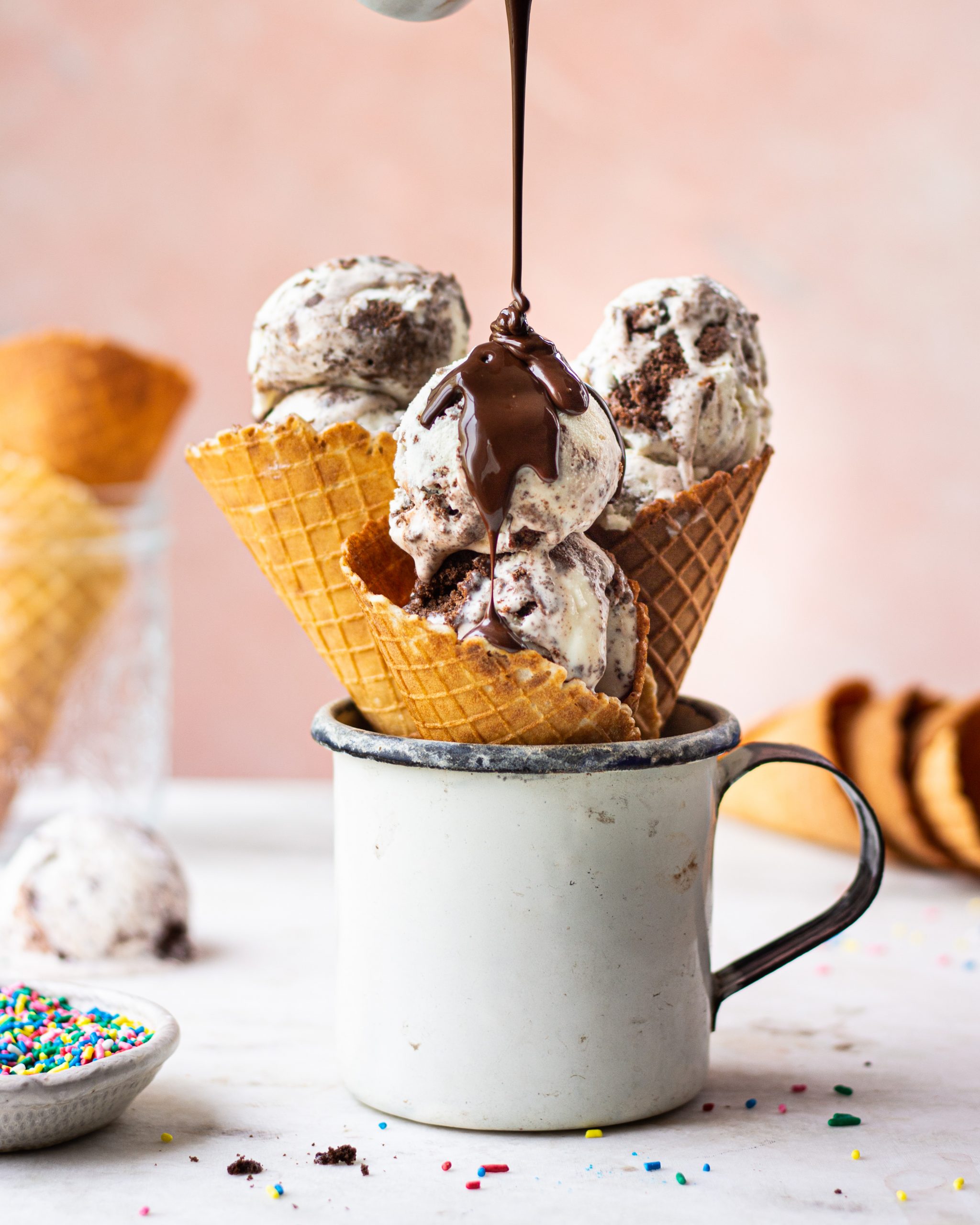 HOW ARE WE MAKING THIS Chocolate Cake Ice-Cream?
Traditionally, ice-cream is made using humongous churners. But, this is obviously what happens commercially. Oh, by the way, you can get your own mini ice-cream churners too. It just ensures a better homogenous and smoother mixture. But, honestly, there is nothing a hand-mixer can't do in today's world. So, just bother yourself with an easy and affordable hand-mixer and you are good to go! The main mixing tool we shall be using for this Chocolate Cake Ice-cream is a stand mixer or a hand blender. Both work equally fine! You can obviously use a whisk too but it will take endless an eternity to make this Chocolate Cake Ice-cream!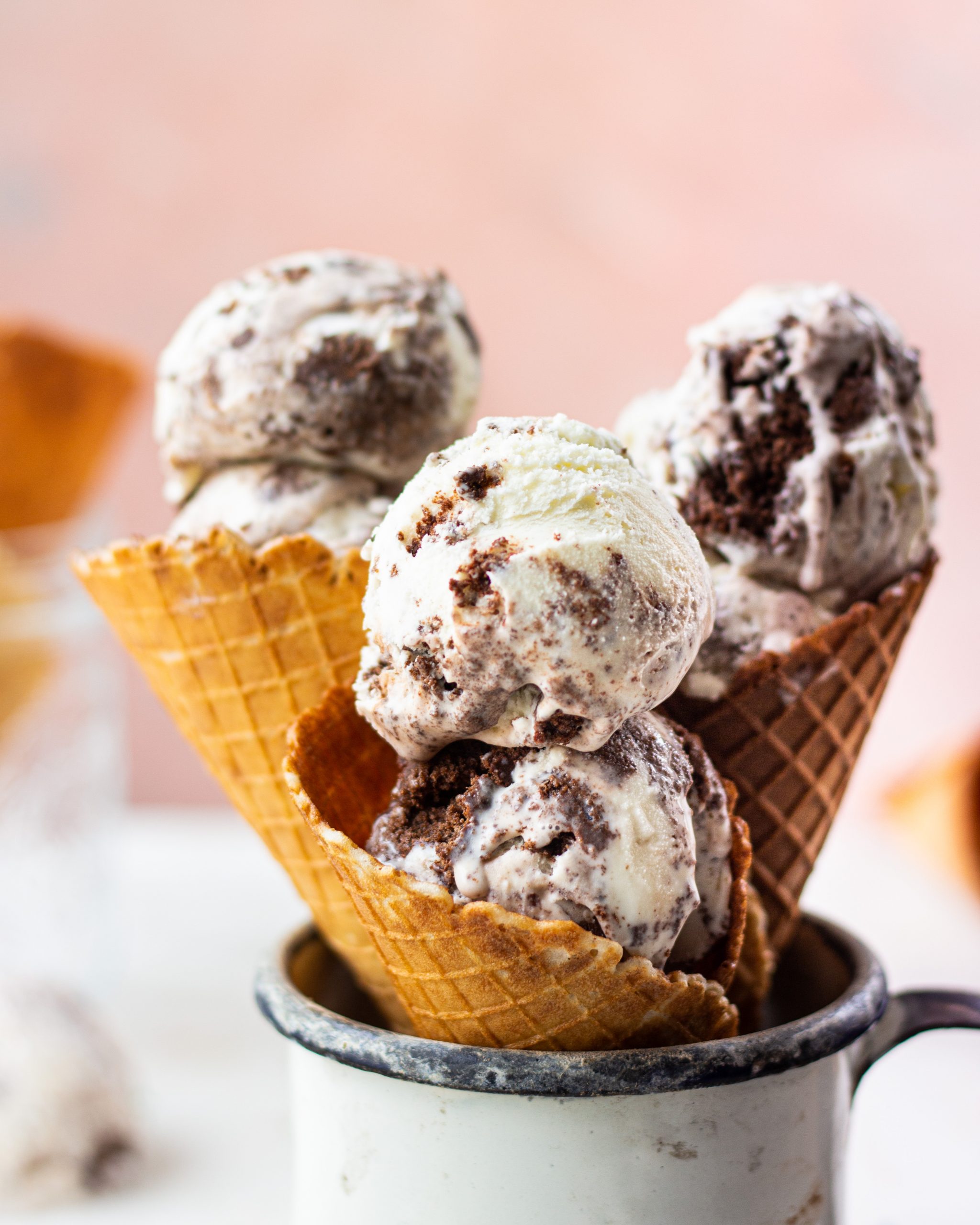 Ingredients needed for Chocolate Cake Ice-Cream
The ingredients for this Chocolate Cake Ice-cream can not get more simplified. Just in case you wish to have additional information on the brands that I have used or the brands you can get, read below to know more! Please remember that while it is advisable to stick to a given recipe, experimenting is what will get you to another level- especially if you are a baker! You can experiment with the given ingredients for this Chocolate Cake Ice-cream and get your recipe to another level!
WHIPPING CREAM
For my Chocolate Cake Ice Cream, you need to use heavy cream / whipping cream. This means that the cream should have at least 30% fat content in it. Whipping cream largely comes in three categories and these are: Dairy, Non Dairy, and Powdered form. The most commonly available in India is non dairy whipping cream.
Non dairy whipping cream is perfect for hot countries like India because non dairy creams are made with soy, hydrogenated vegetable fat, and stabilizers.
This means that even in hot temperatures, the whipping cream will stay stable and will also maintain its freshness, therefore suitable for consumption. The two most common brands include Ric and Tropolite. These two are also the ones that I most commonly use in my kitchen. If you want to know more about brands of whipping cream available in India, you can check out my article on the same.
THE CONDENSED MILK
Condensed milk or milkmaid is what makes this Chocolate Cake Ice-cream sweet. If you may have noticed, the sweetness in this Chocolate Cake Ice-cream comes only and majorly from condensed milk. It also helps bring about a smoother texture in the ice cream. The brand I have used is Nestle! It is the most commonly available one! But if you want to make your own condensed milk at home, then it's fairly easy! You can find the process and ingredients for the same below.
CHOCOLATE CAKE CRUMBS
Honestly, a good chocolate cake takes this ice-cream to another level. While using a store-bought chocolate cake does not make or break this dessert, a good home-made dark chocolate cake is really the way to go. To be honest, I always have some form of chocolate cake in my fridge. It's my go-to dessert after all. But if you don't want to go through the hassle of making a chocolate cake, store-bought chocolate cake or even Britannia's chocolate cake will do the trick!
If baking cakes intimidate you, then you need to shoo away your worries by checking out my article on Tips on making the perfect cakes.
For this Ice-cream, you can make my Best-Ever Chocolate Cake or Chocolate Butter Cake. Both are eggless, fun to make and delicious recipes! Make sure you only make the chocolate sponge and skip the frosting for this recipe. However, if you want to make some ganache and swirl it into your ice-cream, we might not have a problem!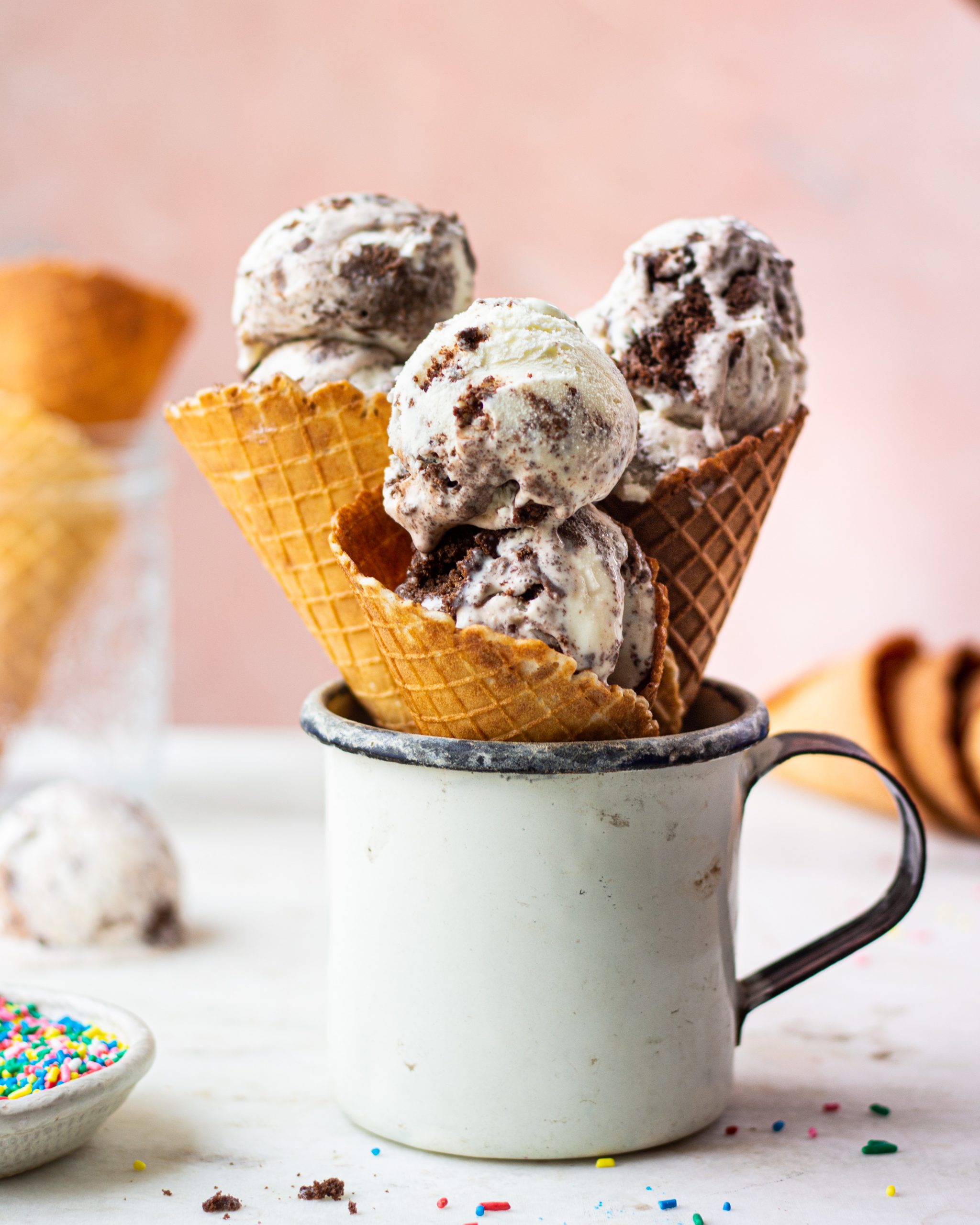 Soft peaks vs Stiff peaks – Whipped cream basics
Whether you're making frosting for your cakes or whipping cream for this chocolate cake ice cream, it's really important to know the difference between soft, medium and stiff peaks aka whipping cream basics. When heavy cream is whipped, it traps air inside and causes the cream to become foamy, rise in volume and then finally become stiff. For this to happen, the whipping cream as well as your mixing equipment need to be cold. So make sure you keep your whipping cream frozen and take it out about an hour before you start working on it. Before you start, also plop your whisk / the attachment of your mixer and your bowl in the freezer for 10 minutes. This makes sure you don't mess up your whipping cream and end up in a split mess.
Soft peaks hardly hold their shape. The peaks of the whipping cream will fall over as soon as you lift your whisk.

Medium peaks can hold their shape well, but the tip of a medium peak gets slightly curled when the whisk is lifted.

Firm or stiff stand can stand up straight when you lift your whisk without any curling. Another way of checking this is to hold the bowl of whipped cream above your head. If it doesn't fall, your cream is whipped to stiff peaks.
Different Flavor Combinations for this recipe
Using different kinds of flavors of this delicious ice-cream, can really allow you to be creative and make a yummy, super-fun ice-cream. Remember, the world is your oyster when it comes to flavors combinations! You can take inspiration from these ideas –
Ganache Swirls: You can totally skip the chocolate cake crumbs and make some delicious dark chocolate ganache to swirl into the ice-cream before freezing.
Fresh Fruits: Mangoes are in season and oh man! I'm already drooling thinking of how good mangoes would taste in this ice-cream. Just chop 'em up and fold 'em in.
Chocolate Chips: If you're not fond of the idea of cake in ice-cream like me, you can go for a crunchier option like chocolate chips. They would taste equally good!
Cookies and Cream: If you know me, you know that I ABSOLUTELY LOVE Oreos. If I could remake this ice cream, I would definitely crush some Oreos and add that in my ice-cream for a good 'ol cookies and cream ice-cream.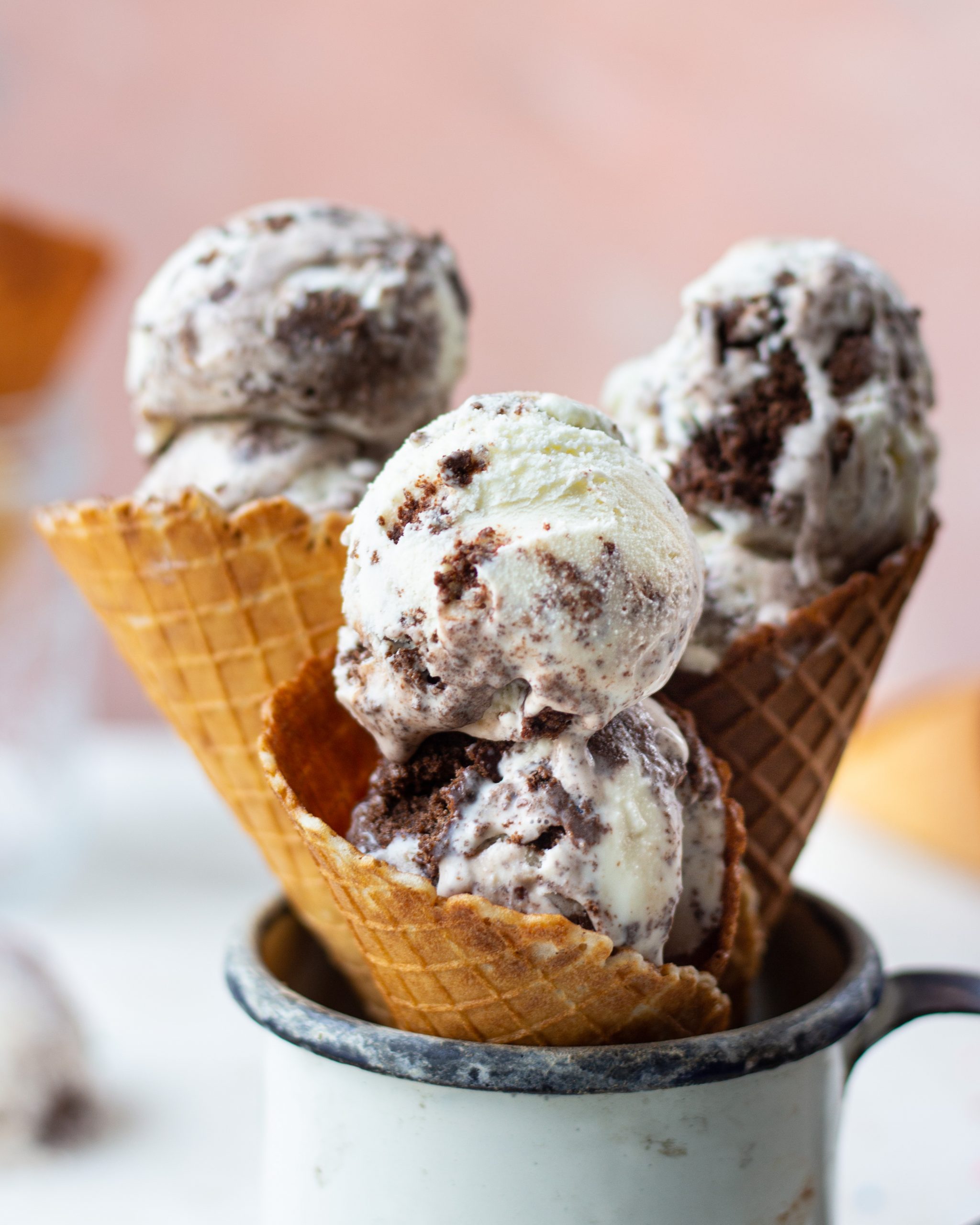 HOW TO STORE CHOCOLATE CAKE ICE-CREAM
This chocolate cake ice-cream is actually the perfect recipe to make ahead of time because you can sit and enjoy it anytime you want! You can combine everything, cover it and put it in the refrigerator to freeze. It can stay good for 4-5 days in the freezer. I would recommend you that if you're planning to present the chocolate cake ice-cream nicely like I did, then only take the ice-cream out of the freezer 5 minutes before serving. This recipe cannot be stored in the normal fridge because it will melt.
More Ice-cream recipes on the blog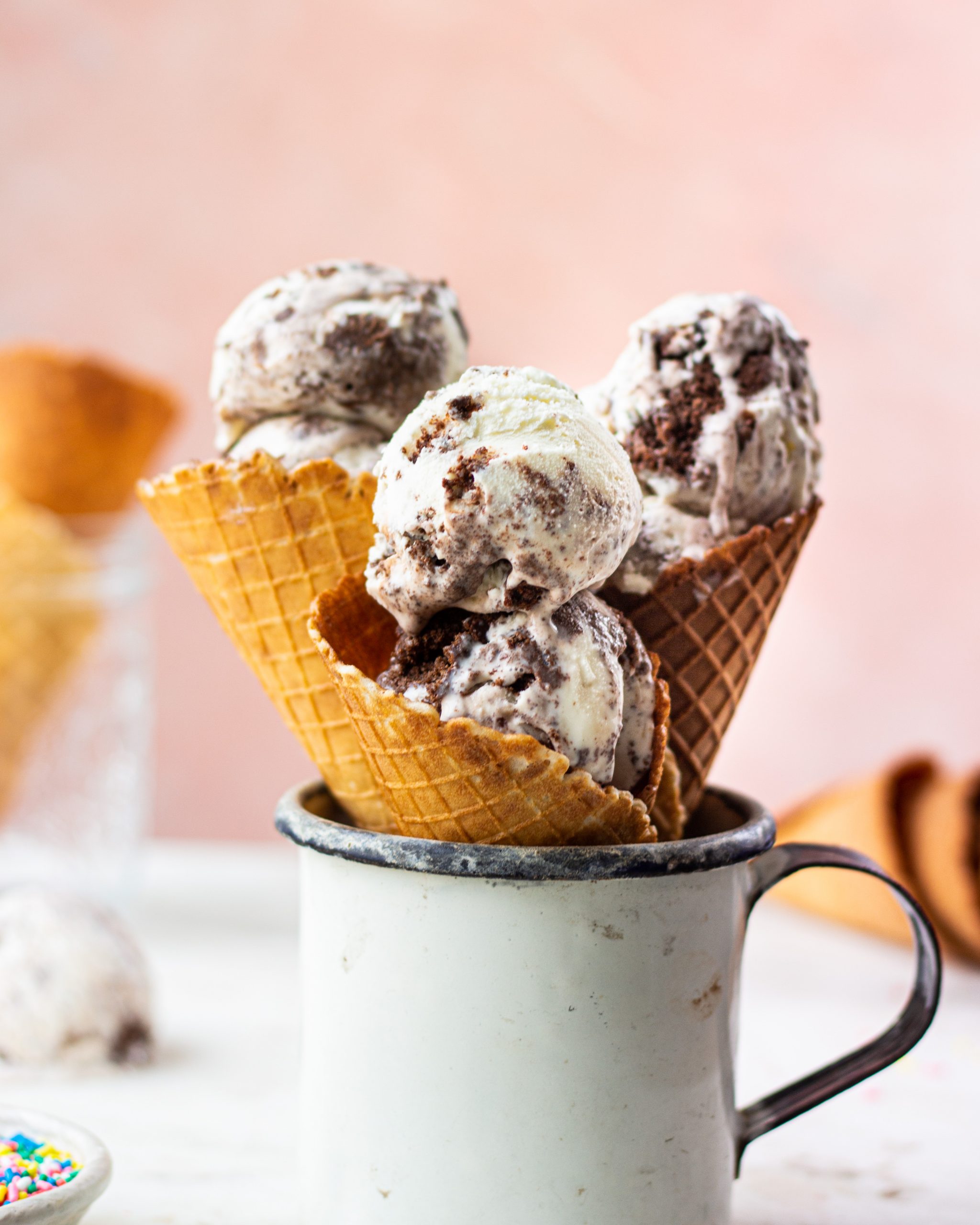 Chocolate Cake Ice-Cream Recipe
Chocolate Cake Ice Cream
Ingredients
For Chocolate Cake Ice-Cream
2 cups Whipping Cream
400 g Condensed Milk
1 cup Chocolate Cake Crumbs
For Home-made Condensed Milk
2 cups milk
½ cup sugar
¼ tsp baking soda
Instructions
In a bowl, take whipping cream and using an electric mixer, beat the whipping cream till you get soft peaks.
Add condensed milk and keep beating till it's well combined.
To this, add chocolate cake crumbs and fold it in gently using a spatula.
Pour the ice cream in an airtight container and refrigerate for 8 hours or overnight.
To make condensed milk at home, in a heavy bottom pan add milk and sugar and bring it to a boil while stirring it constantly.
Cook for atleast 10 minutes or until it reduces to little more than half it's quantity.
Now lower the flame and add baking soda. Stir it constantly for next 5 to 7 minutes till it becomes slightly thick.
Transfer it in a jar and let it cool down completely.
If you enjoyed this recipe, then don't forget to make it and tag me on Instagram / Facebook using #Bakewithshivesh.