As much as I like my strawberries in winters, I have an insane attachment to mangoes in summers. Maybe, secretly, I like my mangoes even more. What's there to not like – sweet, full of flavors and SO versatile! No matter what you put it in, it takes the dish one level up and this is how I can best describe my eggless mango cake recipe.
With the season in full swing, it's the perfect time to go to your kitchens and whip up a mango dessert. And when you're looking for one, my latest book has this lovely recipe for an Eggless Mango Cake and so much more. In case you're looking for a book that has all your dessert cravings sorted in one, get your copy on Amazon.
Ingredients in Eggless Mango Cake
I make this mango cake eggless so that many of you can make this recipe with me!
For the dry ingredients, I use a simple mix of flour, baking powder, and baking soda, and for the wet ingredients, I use sugar, oil, mango puree, vanilla, and milk. What gives this cake the delicious flavor of mango is the smooth mango puree that I mix with the wet ingredients as well as put in the middle of every layer of cake. It brings the recipe together and ties it with the cardamom cream cheese frosting.
For the frosting, I beat cream cheese with butter, icing sugar, vanilla extract and the star of the frosting- CARDAMOM POWDER. Oh, the flavor burst this brings to this cake is incomparable! I recommend you to not skip this ingredient if what you want is a dessert that is a true showstopper!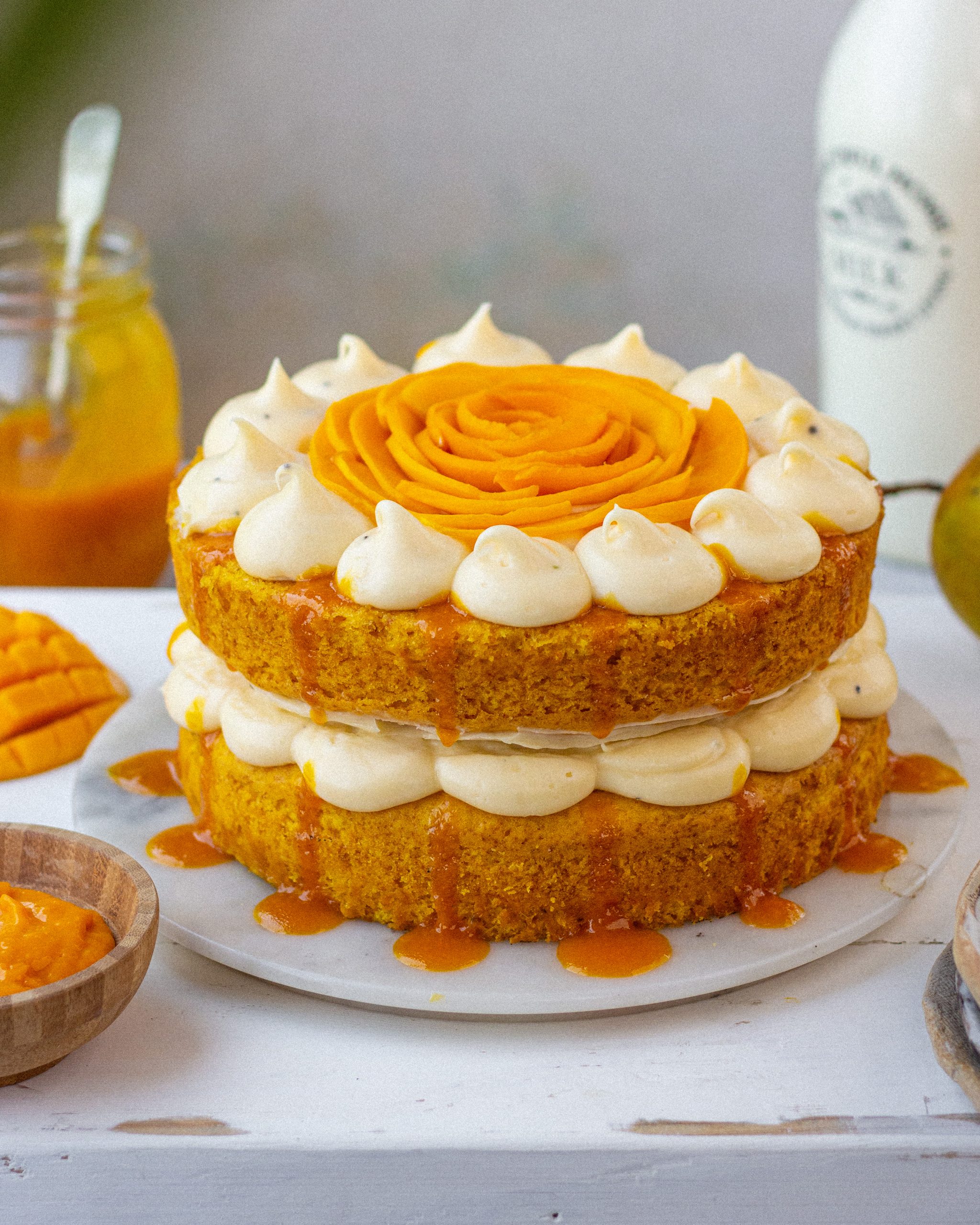 Tips for frosting eggless mango cake
This is a fairly easy cake to frost since we keep it naked, but in case you want to go full frosting on your cake, here are some tips that will come in handy –
ALWAYS PUT STRIPS OF BUTTER PAPER BENEATH THE EDGES OF THE CAKE
Before you start with anything else, it is important that you prepare your workstation for all the mess that could potentially take place. I hate it when I pause in the middle of the work to see things spilling or getting messy. This is why I always put in strips of butter paper or wax paper beneath the edges of the cakes to avoid the frosting from spilling on the surface below. You can easily get them off later when you are done with the whole process
ENSURE FLAT TOPS BEFORE FILLING OR FROSTING
If you plan to decorate your cake with toppings or icing, it always makes more sense to have a leveled top. It makes it easier for you to stack your requirements and give a more professional look to your ensemble.
In that case, be very sure that the top is even so that the frosting looks evenly put on the cake. You can always upturn the bottom to the top in order to get the leveled look. Even when you are filling in between layers, make sure the layers are leveled to hold the cake in the right proportions.
DIP THE OFFSET SPATULA IN A JAR OF WARM WATER
One helpful tip that I employ is to dip my spatula in a jar of warm water for a few minutes and then wipe it and use it to make the frosting look neat and even. The warmed-up spatula will minimally melt the upper layer of frosting to smoothen the surface making it look refined.
These are only the basic tips you need to be very careful about. But you are always free to improvise and experiment with better ways of getting around your cake. Don't forget to get back to the comment section below to pitch in your own tips that had enormously helped you, or share your experiences on frosting your cake.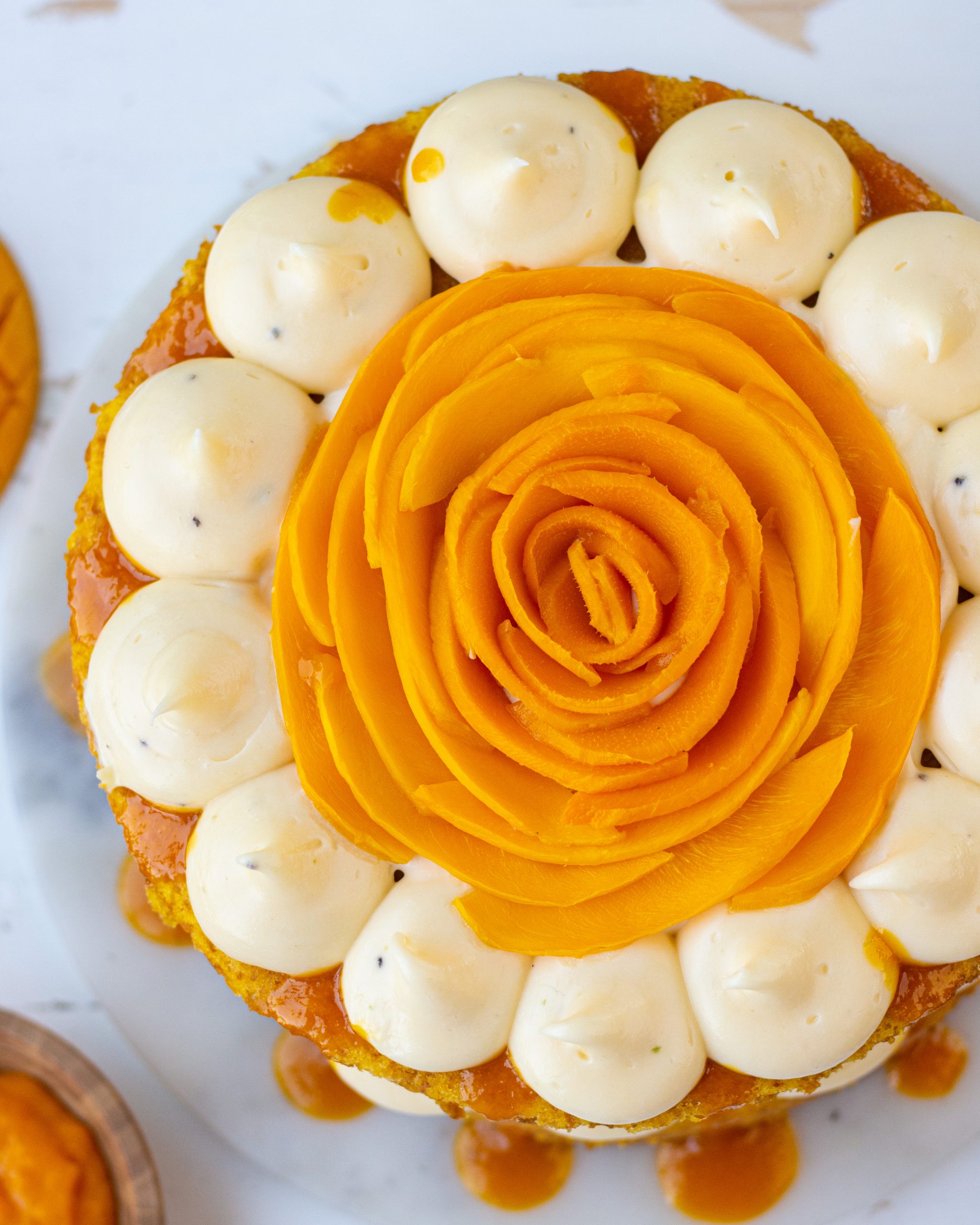 CAN I MAKE THIS CAKE IN THE MICROWAVE?
This has to be the most asked question on all my social media platforms. Can we bake the recipe in a microwave? And the answer is YES! I am so glad that I am creating a recipe that can be made both in an oven and a microwave so everyone can bake and rejoice with this beautiful eggless mango cake.
If your microwave has a convection mode, you can also bake this cake in it!  To bake this cake in the microwave, preheat until 160 degrees celsius. Place the cake pan on your tray, and allow it to bake for 30-40 minutes only. Again, microwaves differ, so keep a sharp eye out for the golden edges.
This cake can also be made in a cooker or kadhai, the options are endless. Basically, I just want you to make this recipe and share the joy it brings to you!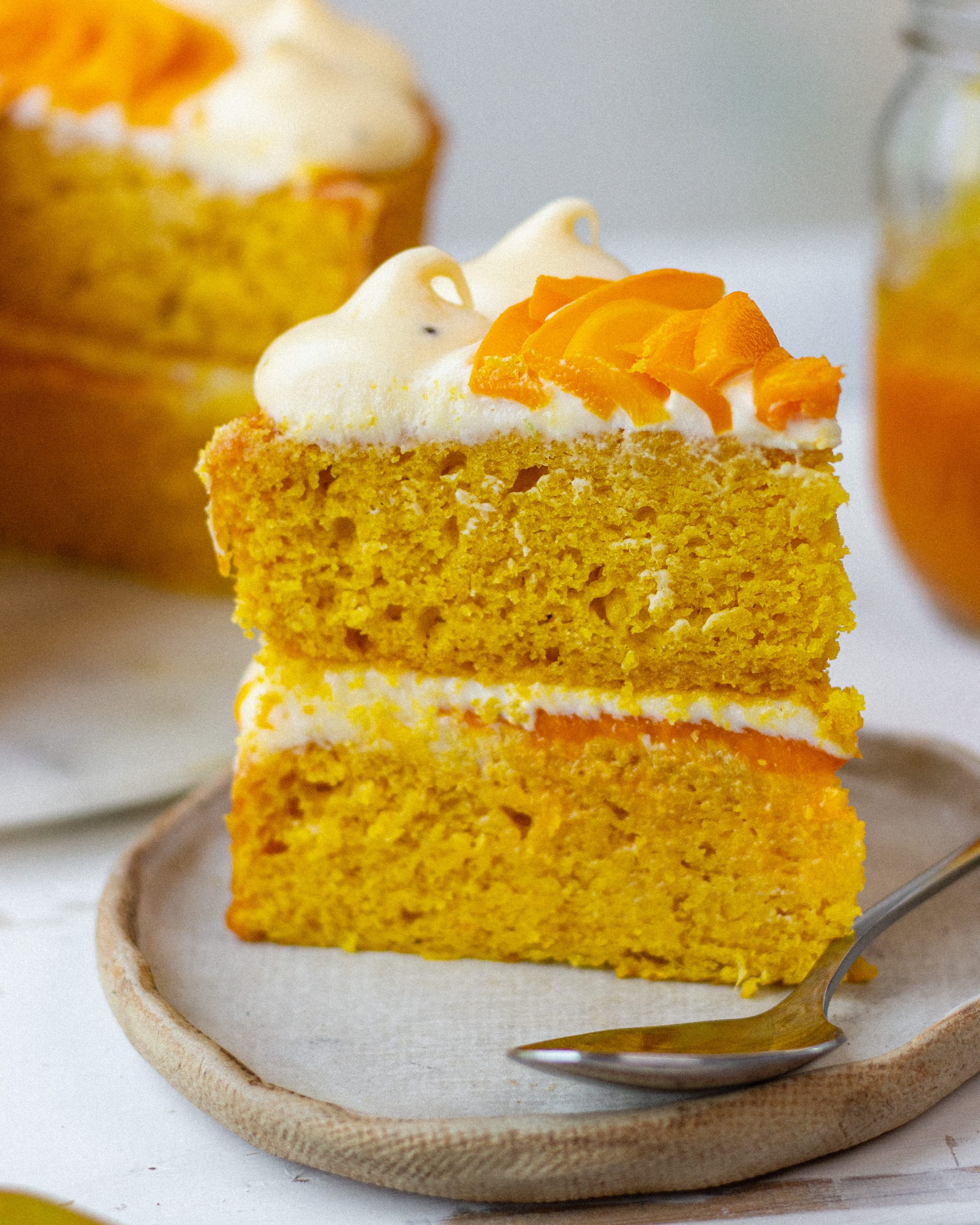 Tips for baking a perfect eggless mango cake
Before making this eggless mango cake, make sure you line your baking tin with parchment paper. If you don't have parchment paper, you can brush the pan generously with melted butter/ oil.
Make sure all your ingredients are at room temperature. This is important because room-temperature ingredients emulsify better.
While combining dry and wet ingredients, be sure to NOT over-mix. By over-mixing, you will knock out all the air and land up with a dense cake. Simply use an offset spatula and gently fold the dry ingredients into the wet ingredients.
Let the cake cool completely before you start frosting it.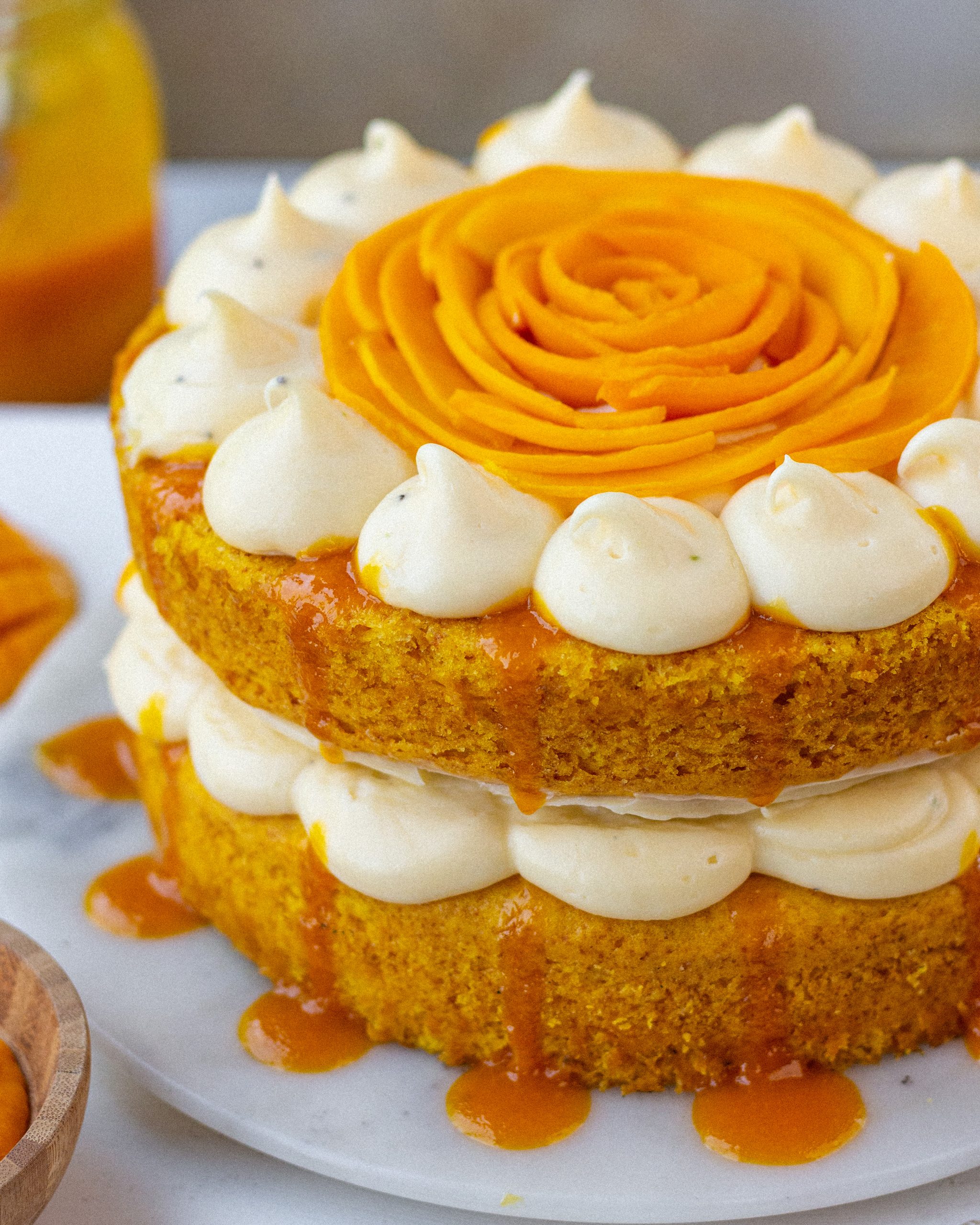 Assemble the eggless mango cake
Now that you're aware of the elements of the cake – mango sponge, mango puree center and cardamom cream cheese frosting, let's talk about how everything will come together.
First things first, you will make the cake batter and bake the cake according to recipe instructions. While the cake is baking, you need to prepare your frosting so that once the cake is out of the oven and cooled, you can frost your cake and this way, you don't waste any time!
I bake the cakes in two 8-inch pans so that I have my two layers already sorted. If you're baking the entire recipe in one pan, you'll have to level the cake. Once done, we put some frosting on the side and mango puree in the middle. Then put the second layer in and frost the top of our cake with some more delicious cardamom cream cheese frosting.  Now the best part- I decorate the top of the cake by making a rosette with fresh mango slices! Make sure you use the best quality mangoes you can get your hands on with this recipe.

Other summer recipes on the blog
If you happen to make this awesome recipe, do tag me on Instagram using #bakewithshivesh. Happy Baking!
Eggless Mango Cake Recipe
Eggless Mango Cake
Ingredients
For mango sponge
2 cups (220 g) maida
2 tsp (8 g) baking powder
½ tsp (3 g) baking soda
½ cup (120 ml) vegetable oil
1 cup (225 g) caster sugar
1 cup (265 ml) mango purée
1 tsp (5 ml) vanilla extract
¼ (60 g) cup milk
For Frosting
1 cup (120 g) cream cheese
½ cup (100 g) butter
1 tsp (5 ml) vanilla extract
¼ tsp (1 g) cardamom powder
1+ ½ cup icing sugar
Garnish
Instructions
Pre -heat the oven to 180 degree C and line two 8 inch round cake pan with parchment paper.
In a bowl whisk together flour, baking powder and baking soda and set a side.
Whisk together castor sugar and oil in a separate bowl until pale and well combined.
In a blender, puree some chopped mangoes and add the mango puree to the sugar oil mixture.
Add the vanilla extract and milk.
Gently fold in the flour and mix until everything is well combined there are no large flour pockets in the batter. Do not over mix at this stage.
Transfer the batter to the prepared cake pan.
Bake at 180C for 30-35 minutes or only until a skewer inserted in the center comes out clean.
While the cake is baking, prepare your frosting by beating cream cheese, butter, vanilla and cardamom together. Add icing sugar slowly in batches and beat until well incorporated.
After the cakes have cooled, assemble your cake by frosting it and decorate with fresh mango slices. Enjoy!