Truffles are an absolutely perfect treat when it comes to any occasion or simply for some self-indulgence on a bad day. I know I always go to chocolate when I am feeling a little blue because it always cheers up and brings my spirits up so quickly! And what goes perfectly well with chocolate- Oreos!
With the times being a little tough for everyone, we all need something to make us feel better. And for me, it has been working on creating recipes for you all to help make your day a little better and brighter. I hope this 3-ingredient oreo truffle is one such recipe that brings you and your loved ones some joy. It's so easy to make, it's truly delicious, and comes together in less than 10 minutes.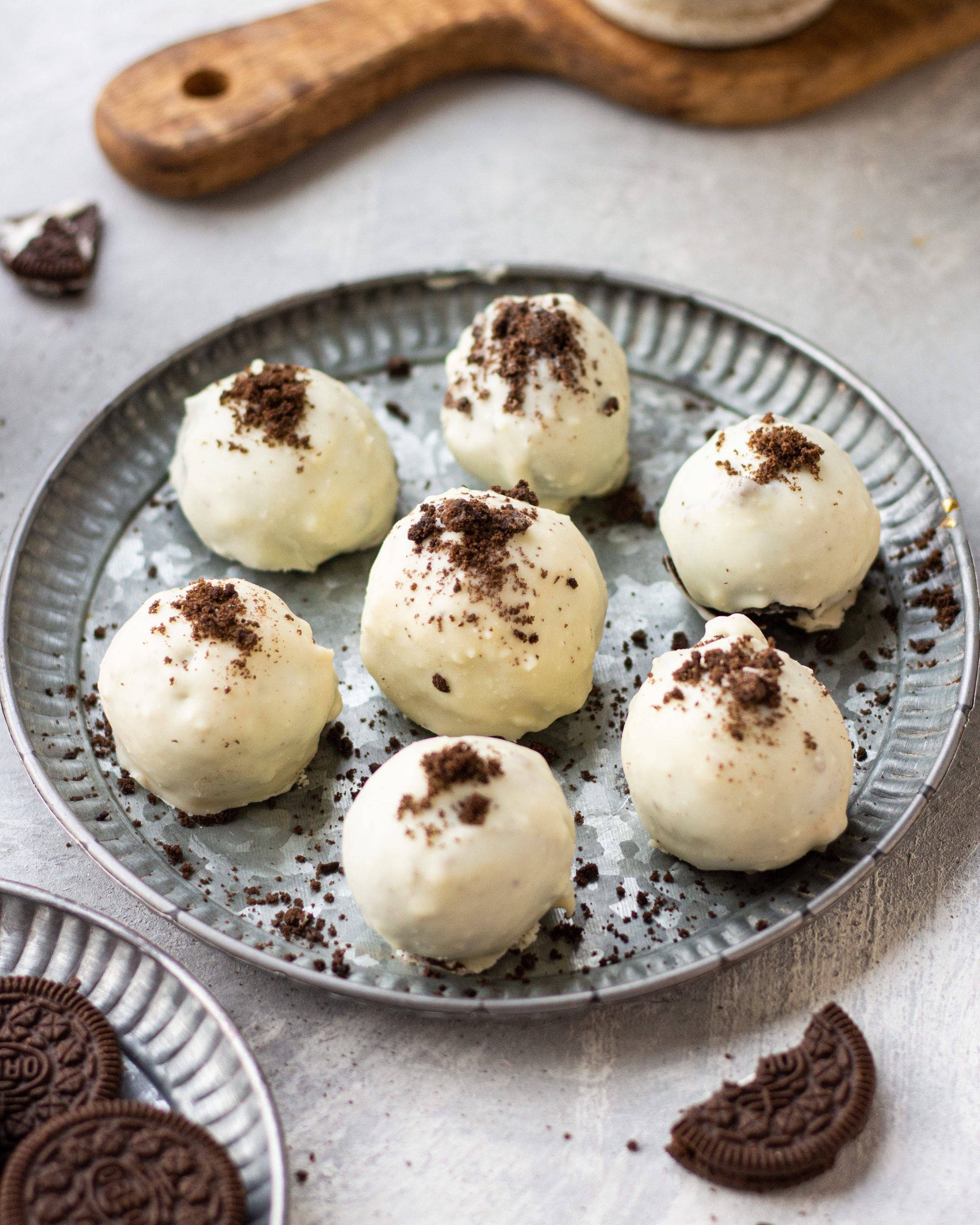 WHAT ARE TRUFFLES
Truffles are divine confections that are made out of chocolate ganache. Typically, truffles are rolled in cocoa powder or chopped nuts. One fun food fact is that the place of origin of these chocolate truffles is Chambery- an Alpine town in Southeast France.
A truffle typically follows a 1:3 ratio of ganache. This means it has 1 part of cream and three parts of chocolate. But these 3-ingredient oreo truffles are slightly different than usual truffles. I make these delicious 3-ingredient oreo truffles with just cream cheese, oreo, and white chocolate! Yes, it's that simple.
INGREDIENTS FOR OREO TRUFFLES
Truffles are mainly made of chocolate or cream. But these are not your usual truffles, these are made with oreo, cream cheese, and white chocolate. This is the part about making a truffle, you can make such an awesome dessert with the most simple ingredients.
As the name of the dessert suggests, I used oreo for these truffles. You can use any other biscuit you like or have access to, but that would change the texture of the dessert and I absolutely love the flavor of oreo in these truffles. I use only the biscuit part of the Oreos and remove the cream. But if you want, you can mix the cream with the cream cheese!
The other ingredient is cream cheese. You don't need double cream or heavy cream for these oreo truffles. The cream cheese gives these truffles the creamiest mouth feel ever!
The third ingredient is white chocolate. I use white chocolate to coat my truffles. You can use any brand of white chocolate you prefer. Since white chocolate is slightly on the sweeter side, you can also use dark/ milk chocolate if you don't prefer sweetness.
I don't use any sugar for these Oreo truffles as both the Oreos and white chocolate are on the sweeter side and provide the truffles with the needed sweetness!
WHY I LOVE THESE 3-INGREDIENT OREO TRUFFLES
If you know me, I love anything and everything oreo. I have made so many oreo desserts in the past, including an awesome Oreo cold coffee. Second of all, I am a BIG fan of white chocolate! I know some people do not fancy it much but if you are here, and if you are reading this article then I am assuming you love white chocolate too. High five!
These 3-ingredient Oreo truffles have such a happy and wholesome flavor. So creamy and just pure yum.
Apart from combining three beautiful flavors, these 3-ingredient truffles are beyond easy to make. All you need are very limited ingredients and some patience for refrigeration. And we all know, good things come to those who wait.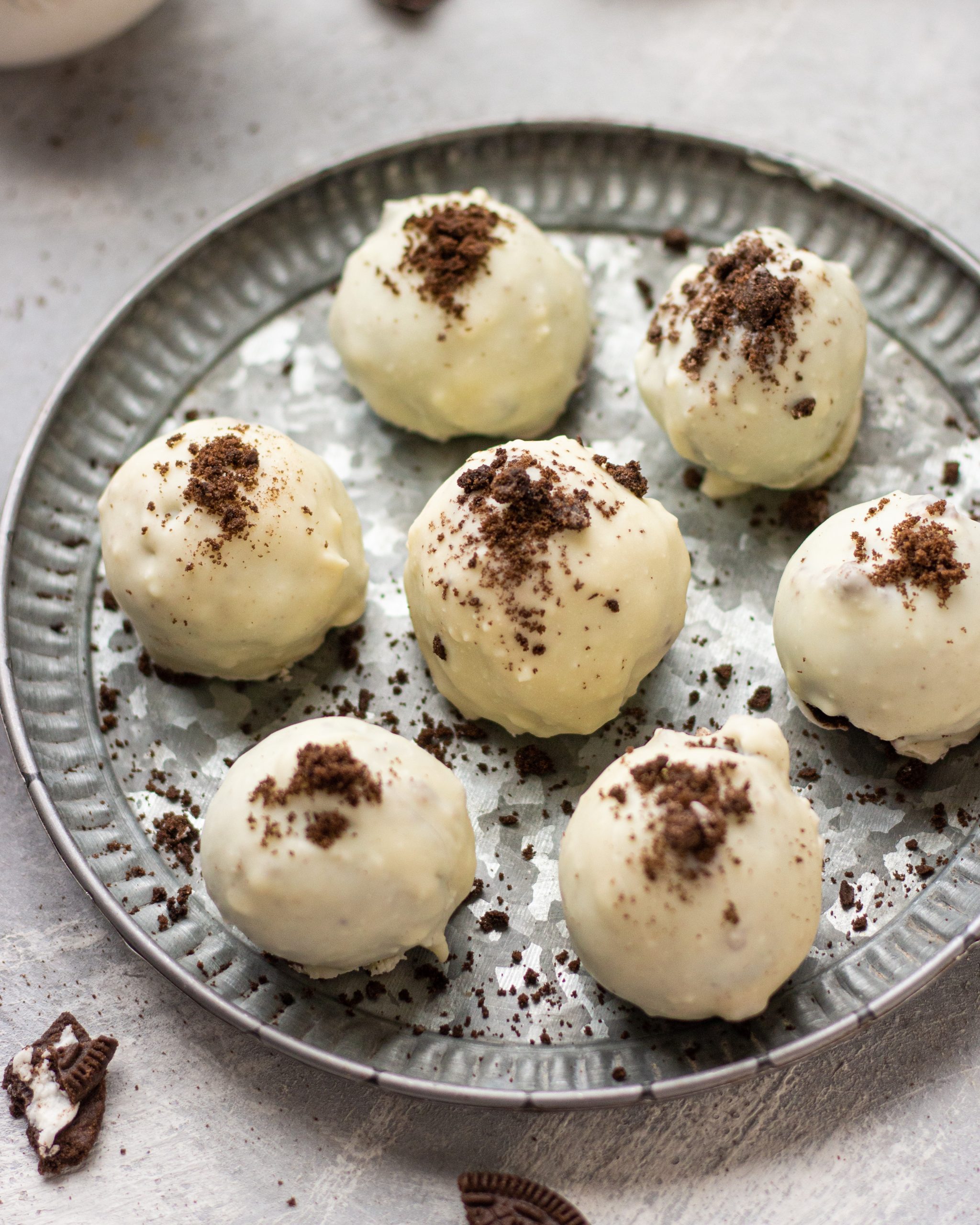 Tips on making the best 3-ingredient oreo truffles
Making these oreo truffles is beyond easy, but if you're still looking for some tips to up your truffle game, then here they are-
Like these 3-ingredient oreo truffles, most truffle recipes require cream cheese or butter, but if you don't prepare the ingredients in advance, these recipes will not work because you cannot use cold cream cheese for making these truffles. These oreo truffles need cream cheese to become completely soft. If you forget to take out your cream cheese on time, you can heat it in the microwave for 10-15 seconds to soften it but be very careful to not ruin the texture of the cream cheese!
Use good quality chocolate
If you want to make truffles, be it any kind, you need good-quality chocolate. Truffles not only taste better because you use high-quality chocolate, but you can also melt high-quality chocolate very easily without it becoming thick and lumpy, making dipping the truffles much easier.
Dipping truffles needs the right tools
I always prefer dipping my 3-ingredient oreo truffles into the white chocolate using a fork or a dipping tool. Since most of us don't have chocolate tools in hand, a fork is the easiest way of making sure you have properly coated truffles that don't fall in the chocolate again and again. It saves you a lot of mess!
My white chocolate seized while melting. How do I save it?
Trust me when I say this, everybody has seen burnt chocolate in a bowl while heating it in the microwave. It's not your fault, this may happen for a number of reasons. But let me tell you a quick hack for saving your white chocolate after it has seized!
When your chocolate seizes, try adding some unmelted chocolate to restore the texture. If this doesn't work, add a teaspoon of vegetable oil and stir. This helps restore the desired texture. But I'll always recommend you to be careful when melting chocolate to avoid these problems because prevention is always better than cure!
 Decoration options for 3-ingredient oreo truffles
Since these are oreo truffles and I absolutely love the flavor of oreo, I top these truffles with crushed oreo for that texture and beautiful oreo kinda look. But if you want, you can top it with chocolate sprinkles, chocolate chips, or even drizzle some melted dark/milk chocolate on top! It just depends on how you want your truffles to look and taste. For me, I want all the Oreos I can get!
After dipping my 3-ingredient oreo truffles in white chocolate and topping them with crushed Oreos, I make sure that I am patient and let them dry for 10 minutes so that it doesn't cause a mess! Patience is key when it comes to making good truffles and I hope you'll be as patient as me because the result is worth it!
More truffle recipes on the blog
I had so much fun making these delicious 3-ingredient Oreo Truffles. During these tough times, we all need a recipe that is heart, wholesome and can be enjoyed with loved ones. This is one such great recipe and let's not forget, it's so quick to make if you have these three very basic ingredients in your kitchen pantry! If you like this recipe and happen to make these delicious 3-ingredient truffles, do tag me on Instagram/Facebook and use #bakewithshivesh.
3-ingredient Oreo Truffles Recipe
3-ingredient Oreo Truffles
Ingredients
24 oreo cookies
150 g cream cheese, softened
180 g white chocolate
Instructions
In a food processor, pulse the oreos till you see fine crumbs.
In a separate bowl, take cream cheese and add in the crushed oreos. Mix until well combined.
Shape into 1 inch balls and refrigerate for 15-20 minutes.
Melt white chocolate in the microwave/ double boiler.
Dip the refrigerated truffles in the white chocolate, and allow excess chocolate to run off.
Top with some more crushed oreos and allow it to set for 10 minutes.
Store in an airtight container in refrigerator.