I know all of you are celebrating your birthdays and festivals at home this year and making the best of this time.Well now it is time for another celebration – it is Independence Day! And each celebration calls for an epic dessert. Sharing with you today, a very simple recipe for some insanely decadent tricolor white chocolate truffles. 
It has been 73 years since our country gained independence and each independence day is a reminder to be grateful for having the opportunity and freedom to live our lives the way we do. Every year on independence day I try to make a dessert that is inspired by the flavors of India and this time I want to make coconut flavor shine. 
If you love coconut flavor then you have got to try these recipes – Carrot Coconut Cake, Peach Coconut Cooler, and Gluten Free Mango Bread with Coconut. I am sure you will love them as much as I do. 
What are chocolate truffles 
Chocolate truffles are divine confections that are made out of chocolate ganache. Typically, truffles are rolled in cocoa powder or chopped nuts. One fun food fact is that the place of origin of these chocolate truffles is Chamery- an Alpine town in Southeast France. 
As just mentioned, truffles are made from chocolate ganache. And a truffle typically follows a 1:3 ratio of ganache. This means it has 1 part of cream and three parts of chocolate. I know whenever I say chocolate ganache, a lot of you start getting multiple questions and doubts. Check out this video on my Youtube channel which talks all about chocolate ganache – the ingredients you need, different ratios of a chocolate ganache, what can be made with it, how to store it, and how to fix some major chocolate ganache mishaps. 
Why I love these white chocolate truffles 
Okay first of all, I love anything and everything that is chocolate. Second of all, I am a BIG fan of white chocolate! I know some people do not fancy it much but if you are here, and if you are reading this article then I am assuming you love white chocolate too. High five! 
Another thing I love are coconuts. They have such a refreshing and earthy flavor. So light and just pure yum. Coconut is also super healthy so can I call these truffles a healthy dessert? Haha, just kidding. 
Apart from combining two beautiful flavors, these white chocolate truffles are beyond easy to make. All you need are very limited ingredients and some patience for refrigeration. And we all know, good things come to those who wait. 
Ingredients for chocolate truffles 
Truffles are mainly made of chocolate or cream. This is why they are like bites of ultra decadence. To get such a killer dessert by using 2-3 ingredients is honestly the best thing ever. 
As the name of the dessert suggests, I used white chocolate for these truffles. You can use any brand of white chocolate you like or have access to.
The other ingredient is fresh cream. You don't need double cream or heavy cream for these white chocolate truffles. Everyday fresh cream works perfectly fine. 
Third ingredient is shredded coconut. I often get asked about the difference between shredded coconut and desiccated coconut. It is just about the size of the coconut flakes. Shredded coconut is much finer and thinner whereas desiccated coconut is usually longer flakes and thicker flakes. Also, whether you are buying shredded or desiccated coconut, you need to be aware of its sweetness. In the market you find both, sweetened and unsweetened coconut. Depending on what you have, you might want to add more or less sweetness into your desserts.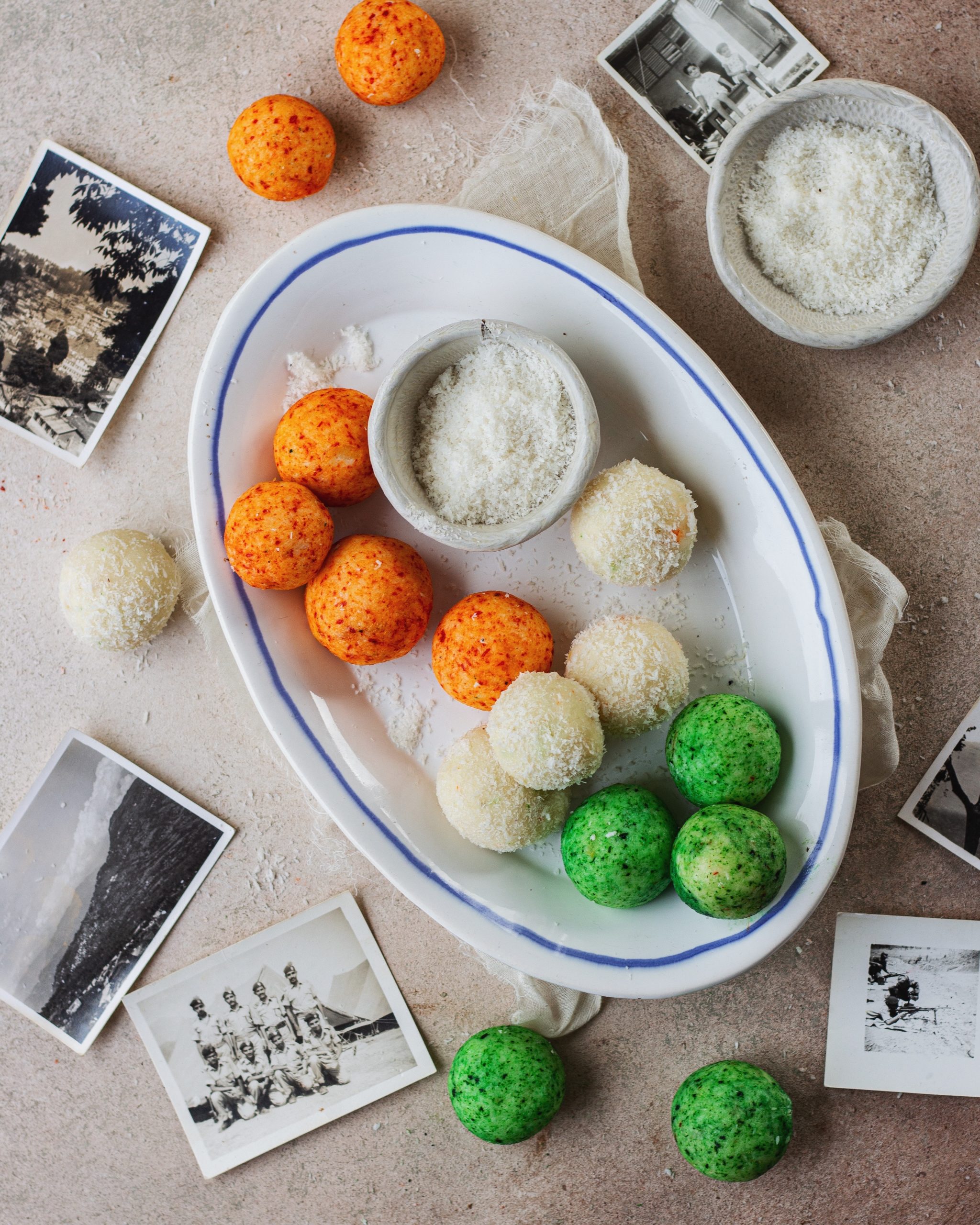 Process of making chocolate truffles 
The process is as basic as the ingredients used. All you need to do is chop your chocolate and melt it. Then add in warm fresh cream and mix everything together. This is all the preparation that this recipe requires. After this, you just need to chill the chocolate and cream mix (called ganache). Once chilled completely, you form balls from this mixture and then roll them into shredded coconut. To make the ball making process faster, you can use an ice cream scoop to scoop out the mixture and then just shape it slightly more. If you don't have an ice cream scoop, just use a spoon to carve out some mix and then shape it into a truffle ball. 
For the special occasion of Independence day, I decided to dress up my white chocolate truffles to fit the theme. I wanted to add the tricolor of our country's flag so I divided my shredded coconut into three portions. In one portion I added a few drops of green gel food coloring and orange in another. The third portion was kept as is- white. 
Once these truffles come together, they look so cute and make celebrating Independence day more fun and festive! 
I absolutely love seeing what you guys make, so if you follow this recipe and make white chocolate truffles, share your pictures with me on my Instagram @shivesh17. Happy baking and a very happy Independence Day! 

Tricolour white chocolate truffles- Indian Independence Day special
Ingredients
3 ½ cups white chocolate (chopped)
1 cup fresh cream (warm)
¾ cup shredded coconut
Orange food coloring
Green food coloring
Instructions
To melt your chocolate, add it to a microwaveable bowl and melt it in 30 second intervals till all is melted evenly or you can simply melt it in a saucepan on low heat. Keep a close eye and make sure to not burn your chocolate.
Once all chocolate is melted, add in warm cream and combine well. Your ganache is ready.
Cover the bowl and keep it in the refrigerator for 2-3 hours or until ganache is set.
Take three bowls and equally divide ¾ cup of shredded coconut in them. In one bowl add 2 drops of orange food coloring and mix well till most of the coconut shreds are orange. In another bowl add in 2-3 drops of green food coloring and repeat the same. Set these aside.
Once your ganache has set, use an ice cream scoop, scoop out portions of the ganache and form smooth spheres.
Equally divide the number of spheres between the three colors prepared and roll each sphere in the decided color.
Eat immediately or store in the refrigerator.