Everyone needs this banoffee pudding in their lives here and there! If you are an ardent fan of bananas and toffee- a match made in heaven- then you are absolutely going to love this Banoffee Pudding! This easier version of a banoffee pie is absolutely mind-blowing. Not only is the pudding easy to assemble, it also has all the essential components of a banoffee pie. I absolutely love creating such recipes which are easy to compile because not everyone has a thing for baking. Throughout this quarantine, I have vowed to create and post the simplest of desserts. Since we all are at home- trying to cope up with all kinds of stresses, a sweet treat really does help. Having a bite of anything sweet is really potent when it comes to uplifting moods. And this banoffee pudding, which is the most convenient of recipes is what we exactly need!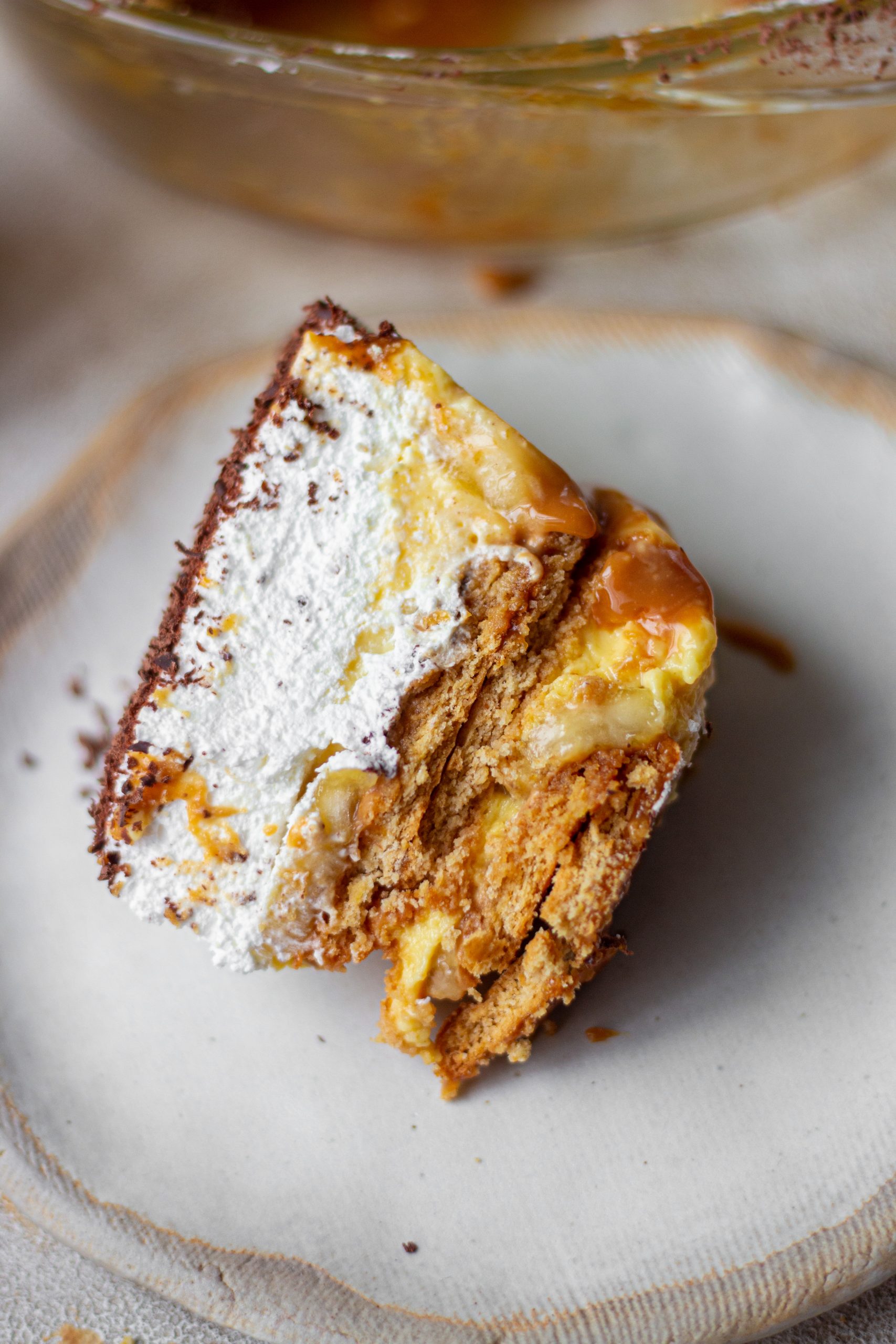 Now, the word 'Banoffee' is made from the combination of two words- banana and toffee. The wonderful and heart-warming flavor of toffee or caramel combines beautifully with soft bananas to give us this pudding. In this banoffee pudding, there is a biscuit crust to give a nice texture change. There is also a cream and a custard layer. One has to fall flat for dessert with multiple textures- I know I do. Part of the reason I will always look forward to this banoffee pudding as my comfort dessert is because of the layers. Imagine having buttery biscuits, bananas, layers of caramel, custard, and whipped cream in one dessert. God, this banofee pudding is a dessert made in heaven!
If you wish to check out more banoffee recipes, click here.
Layers of this banoffee pudding
Layer 1- the biscuit layer
For my banoffee pudding, I have used multigrain digestive biscuits because they give a very nice taste to the pudding. But, if you have biscuits like parle-g or marie biscuit, please do not hesitate to use them! The purpose of the biscuit layer is to serve as a sturdy base and also- every banoffee pie has a biscuit base. How can one possibly miss this layer out in a pudding? It also renders a very nice texture to the dessert. For best result, you should use digestive biscuits only!
Layer 2- the caramel/toffee layer
Every person has their own way of making the toffee layer in a banoffee pie. But, for this banoffee pudding, I am using my own caramel recipe that you can find here. In this recipe video, all your issues pertaining to caramel will be gone- trust me.
However, if you wish to make a sticky toffee, you can also use condensed milk to make dulce de leche. In a cooker (without whistle), place your condensed milk can upright and fill in water until half the can. Secure the lid and let the condensed milk turn into toffee. This will take 3 hours on medium-low heat.
Layer 3- The bananas
There is obviously nothing complicated at all about this layer. Just slice your bananas and place them well. Make sure you are not cutting thick slices or uneven slices because it will destroy the ratio of components when you take a bite.
Layer 4- the custard
I have made a simple custard using the instructions given on the back of the box. You can very easily use custard powder that is available in the market to make this custard layer for the banoffee pudding! Super simple and super easy. I have also explained the proper way to make it in the video, so do check that out!
Layer 5- the cream
Before we spread the cream, we are going to repeat the previous layers to build up the recipe! You can choose to do this or not- it is totally upto you. Top it off with some grated chocolate and you are good to go!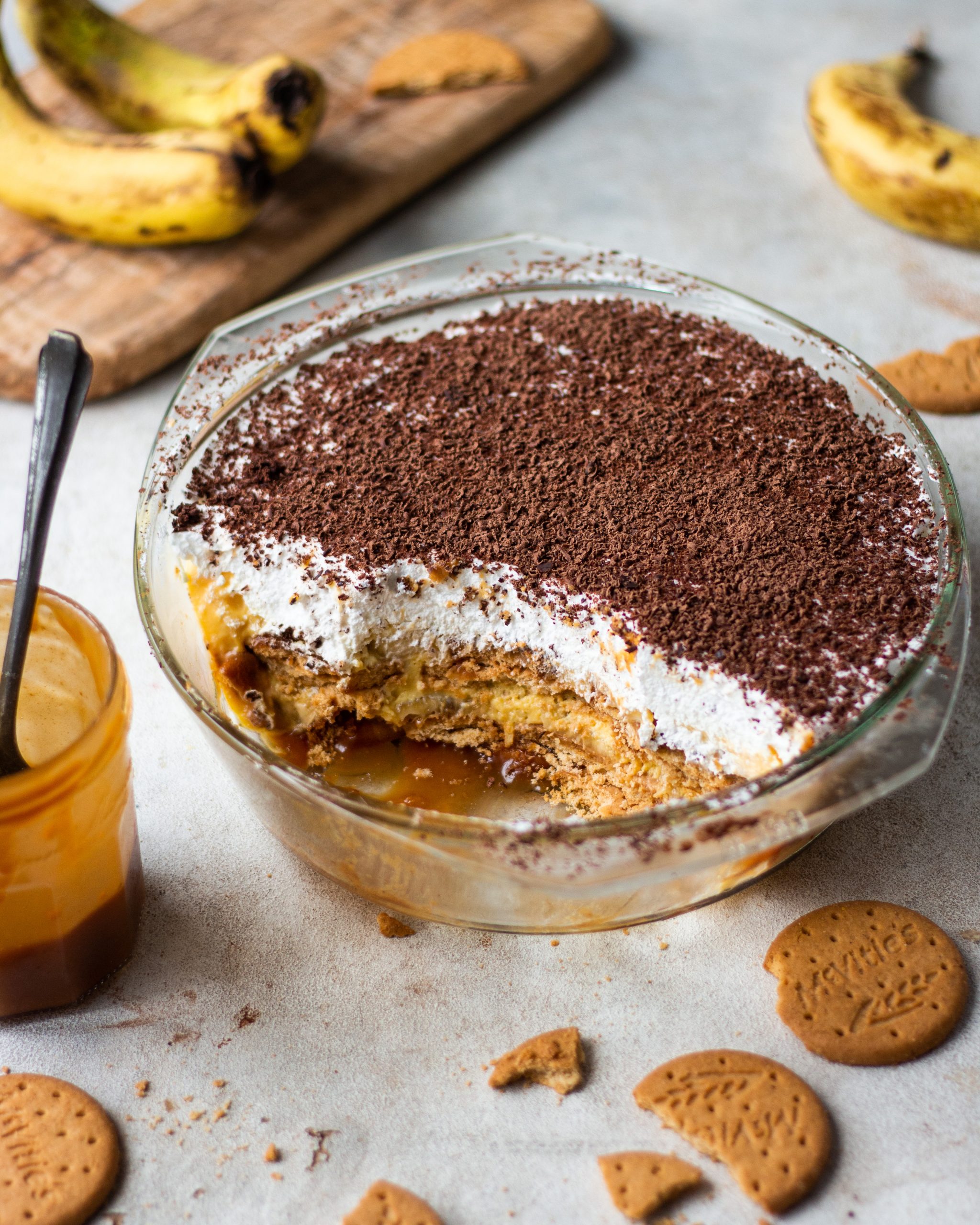 Tips for this banoffee pudding
1) I make this in a large dish but you can also assemble this pudding in dessert glasses to make individual portions! These Banoffee pudding glasses look super classy and also avoid wastage! You can also make it in a rectangular glass dish and show prominent and distinctive layers of the pudding!
2) It is imp to bring the custard to a boil after adding the custard powder. This helps in thickening the custard.
3) Notice how I have pressed the cling film down on the custard? Sticking the cling film onto the surface of the custard enables it to have a smooth top and no film develops.
4) If you want your custard to be extremely smooth, process it in the food processor once before adding. although it does't make a difference to the taste.
5) Please use fresh and perfectly rice bananas. Using squishy bananas will take away a lot of flavor and texture!
Brands for the various ingredients in this banoffee pudding
Biscuits- Mc Vities Digestive Biscuit/Marie Biscuit/Parle-G
Condensed Milk- Nestle
Custard Powder- Brown N Polson/Weikfield
Chocolate- Amul Dark Chocolate
Whipping Cream- Rich's Whip Cream

Recipe for this banoffee pudding
No-bake Easy Banoffee pudding
Ingredients
1) 15-20 biscuits
2) one cup caramel sauce
3) 2 bananas
4) 4 cups whole milk
5) ¾ cup milk + 6 tbsp custard powder
6) grated chocolate for top
Instructions
To start, place milk in a saucepan. While it simmers, make a custard powder slurry by mixing the ¾ cup milk and custard powder. Mix well so it resembles a slurry. Add the slurry to milk and allow it to come to a boil. Cover with a cling film and keep to chill.
In your dish of preference, place a neat layer of biscuits at the bottom.
Pour over half the caramel sauce.
Place bananas on top of the caramel sauce.
Add the chilled custard and spread well.
Repeat the above steps- biscuit- caramel- bananas- custard.
After the last layer of custard is done, whip your cream to stiff peaks and spread it generously over the custard layer.
Grate some dark chocolate on top and your banoffee pudding is ready to serve!