Every time I make a new chocolate cake, my goal is to always up the last one I made. Classics like a chocolate cake are here to stay forever and trying to come up with better versions of it is always fun. Today I am here to share the best eggless chocolate cake recipe ever! This cake is fully frosted and has the most airy chocolate sponge. 
I know what you're thinking. What is so special about this chocolate cake that makes it the best eggless chocolate cake? I have three words for you – chocolate fudge frosting. I mean, if you ever want to make a chocolate frosting, this is the one you need to make. It hits all the right notes and gives the word ''dreamy'' a new meaning. 
Components of the best eggless chocolate cake 
The best eggless chocolate cake has to have all of its components be up to mark. This doesn't mean that there needs to be multiple components and all complicated ones to make one of the best cakes. My eggless chocolate cake only has two components – devil's food sponge cake and chocolate fudge frosting. 
Devil's food cake sponge 
Devil's food cake is an extremely famous chocolate cake all over the world. It gets it's name from being decadent and beautifully sinful. 
The characteristic feature of a devil's food cake is that it has a light and airy cake sponge, and it always has a richer and darker color than other chocolate cakes. In all devil's food cake recipes you will see baking soda as one of the ingredients. This is what makes the sponge airy and light and also adds more color as baking soda reacts with cocoa powder. 
Another way to achieve the rich and dark chocolate color is by using a particular kind of cocoa powder. Cocoa powder is available in two forms- natural and dutch processed. Dutch processed cocoa powder is always more dense and has a definite deeper color than natural cocoa powder. A lot of locally sourced cocoa powder is actually dutch processed cocoa. But brands like hersheys, have a light colored cocoa powder and that indicates natural cocoa powder. 
Chocolate fudge frosting 
This is my favorite part. I made three layers of the devil's food cake and decided to frost my layered cake with the most decadent chocolate fudge frosting. This frosting is the perfect mix of a chocolate buttercream and chocolate ganache.

It is so luscious and so shiny, I always have the best time while making this frosting and everyone in my family is a sure shot fan of it! Personally, I love making this frosting with cocoa powder, to give it a deep chocolate flavor. That is why I add 3/4 cup cocoa powder here. However, if you want to keep the chocolate flavor more on the sweeter side, then you can reduce the quantity of cocoa powder and add 1/2 cup instead.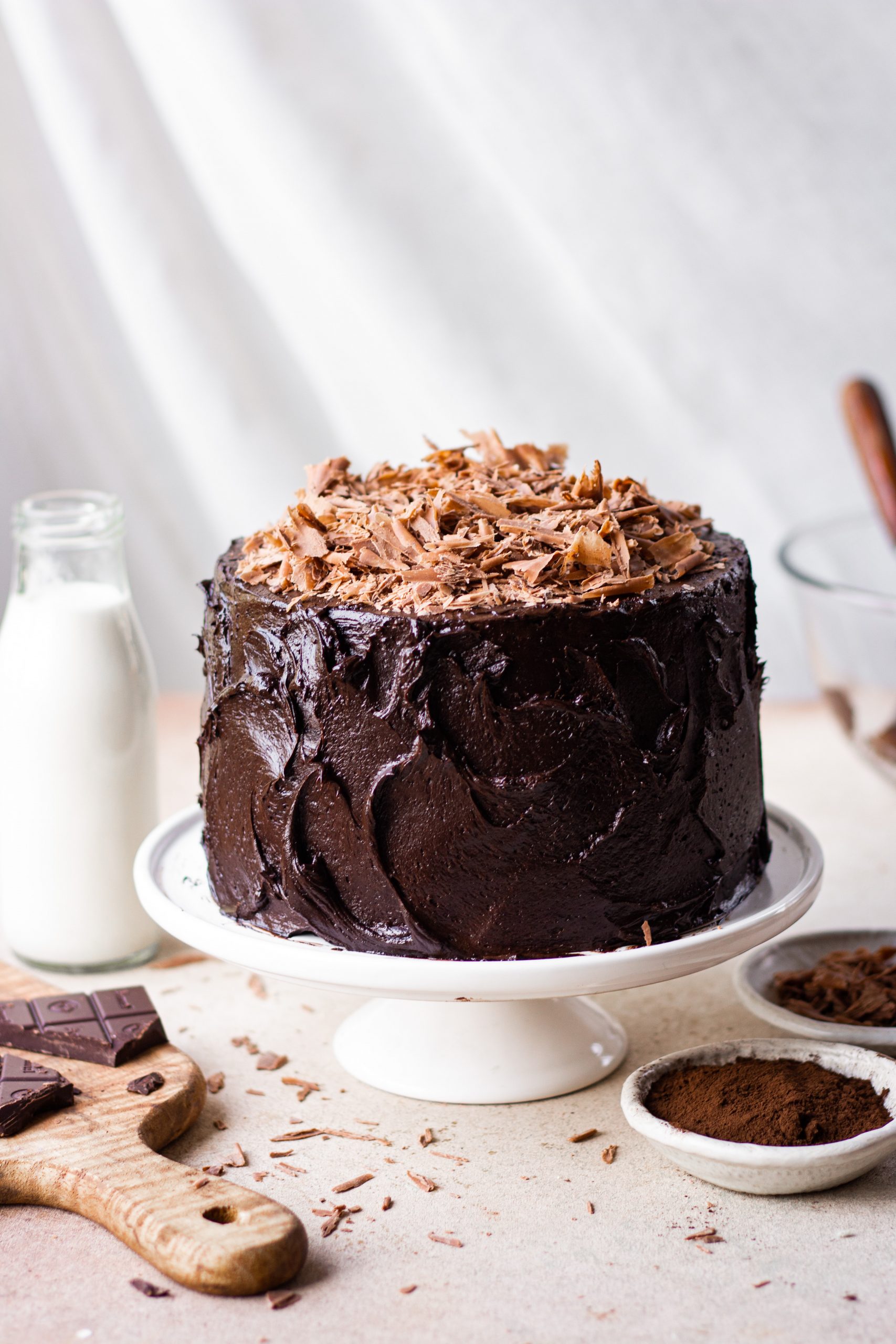 Tips to make the perfect chocolate fudge frosting
Always use softened butter
Whenever you are making frosting, it is extremely important to use softened butter. This ensures that your butter and sugar whip up easily and nicely, resulting in a stable frosting. If you use cold butter and try to whip that with your sugar, it will take you ages to reach the desired consistency. On the other hand, if you use melted butter, your butter and sugar will never whip up to a stable consistency and you will have an extremely runny frosting. 
Sift both, icing sugar and cocoa powder
Both icing sugar and cocoa powder have a high tendency to lump up. Sifting ensures that no lumps are getting added into our frosting and also adds a bit of air which can help with the structure of the final frosting
Do not use caster sugar
Please don't try to substitute icing sugar with caster sugar for this recipe. If you do not have icing sugar, you can simple blitz your caster sugar till it reaches a powdered consistency. Also, icing sugar does have cornflour in it which helps with the stabilisation of the frosting so ideally, you'd want to go and buy a packet while making frostings.
Let your chocolate come to room temperature before adding into the mix
Once you have melted your chocolate, make sure to keep it aside to cool down before you add it to the butter and cocoa mix. If you add hot melted chocolate, it will bring down the entire structure that you have created while whipping your butter, sugar, and cocoa powder and you will eventually end up with an unstable frosting. 
Warm your cream
If you add cold cream to your frosting mixture, it will be harder to mix it in. Warm temperature of the cream ensures that you can incorporate the cream evenly and smoothly. To make this frosting even more stable, you can add heavy cream instead of fresh cream, cool it in the fridge and then whip it up! 
Make sure to refrigerate the frosting 
Once your frosting is ready, make sure you cover it and store it in the refrigerator. This is a really important step that will make the frosting much more stable and pipeable. Refrigerating it will make sure the chocolate sets and when you are using it to top off your desserts, it will maintain its shape and consistency. Therefore, this makes a perfect frosting to layer cakes with. 
I have an entire article that talks about the chocolate fudge frosting, including these tips that I have just shared with you.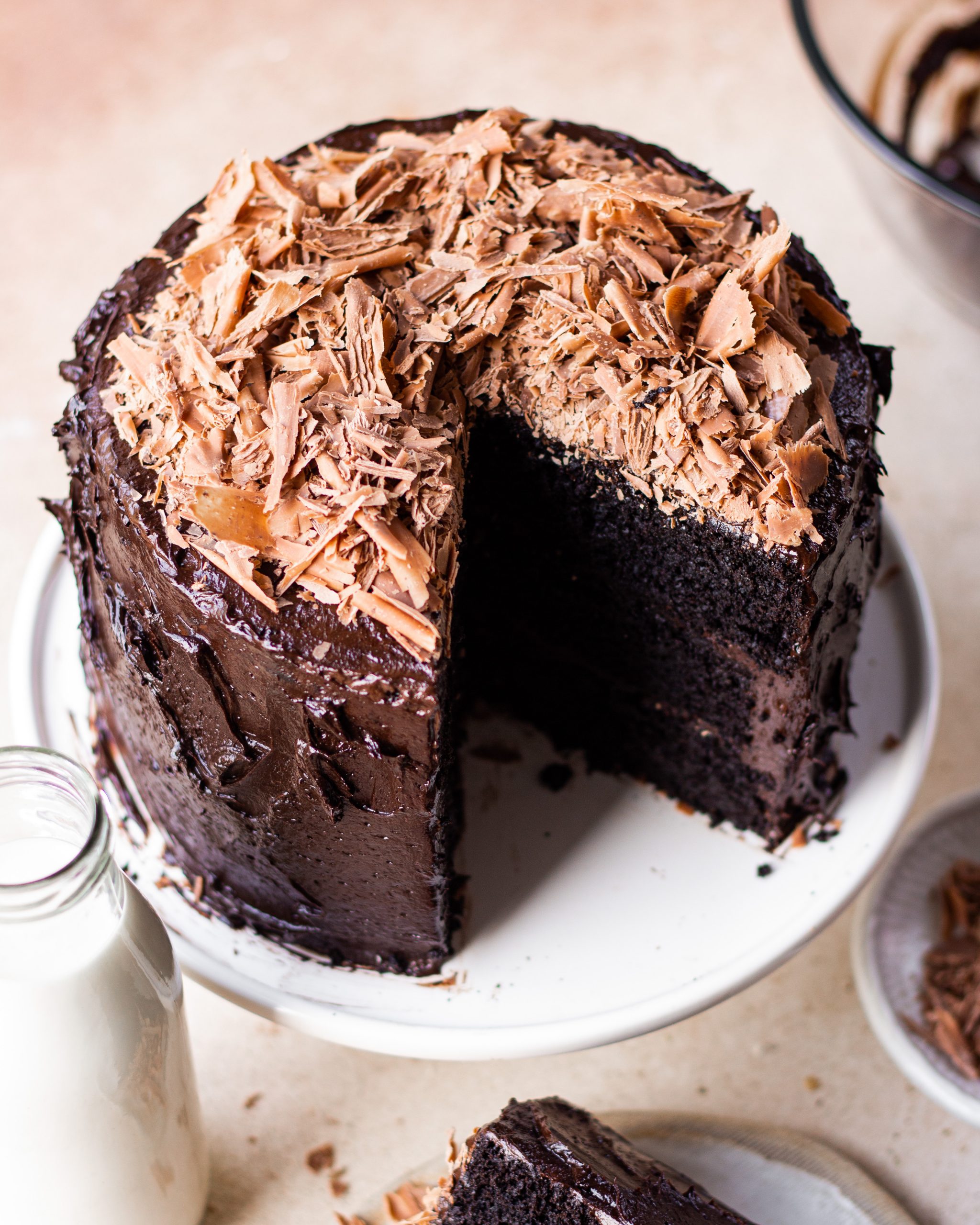 Use curd for the best eggless chocolate cake 
I love using homemade curd instead of egg in most of my eggless recipes. It is such a great egg substitute and the best part is that it is always readily available in our homes. While using homemade curd, you need to be careful about not adding the water content of it in your cake batter.

If you add too much of the water content, it will disturb the consistency of your batter and your cake can end up very crumbly and hard to work with when it comes to the layering stage. The thick part of the curd is what adds structure to our eggless cake. If your homemade curd doesn't turn out thick, you can always use greek yogurt from the market instead or in fact use hung curd. 
For hung curd all you need to do is put homemade curd in a muslin cloth and let it strain it away in the refrigerator overnight. The next morning you will see all the excess water has strained away and you are left with thick curd that you can now add in your cake. 
Also, make sure that your curd is fresh and sweet. If you use sour curd, it will definitely add that flavor to your chocolate cake as well and no one will enjoy that taste.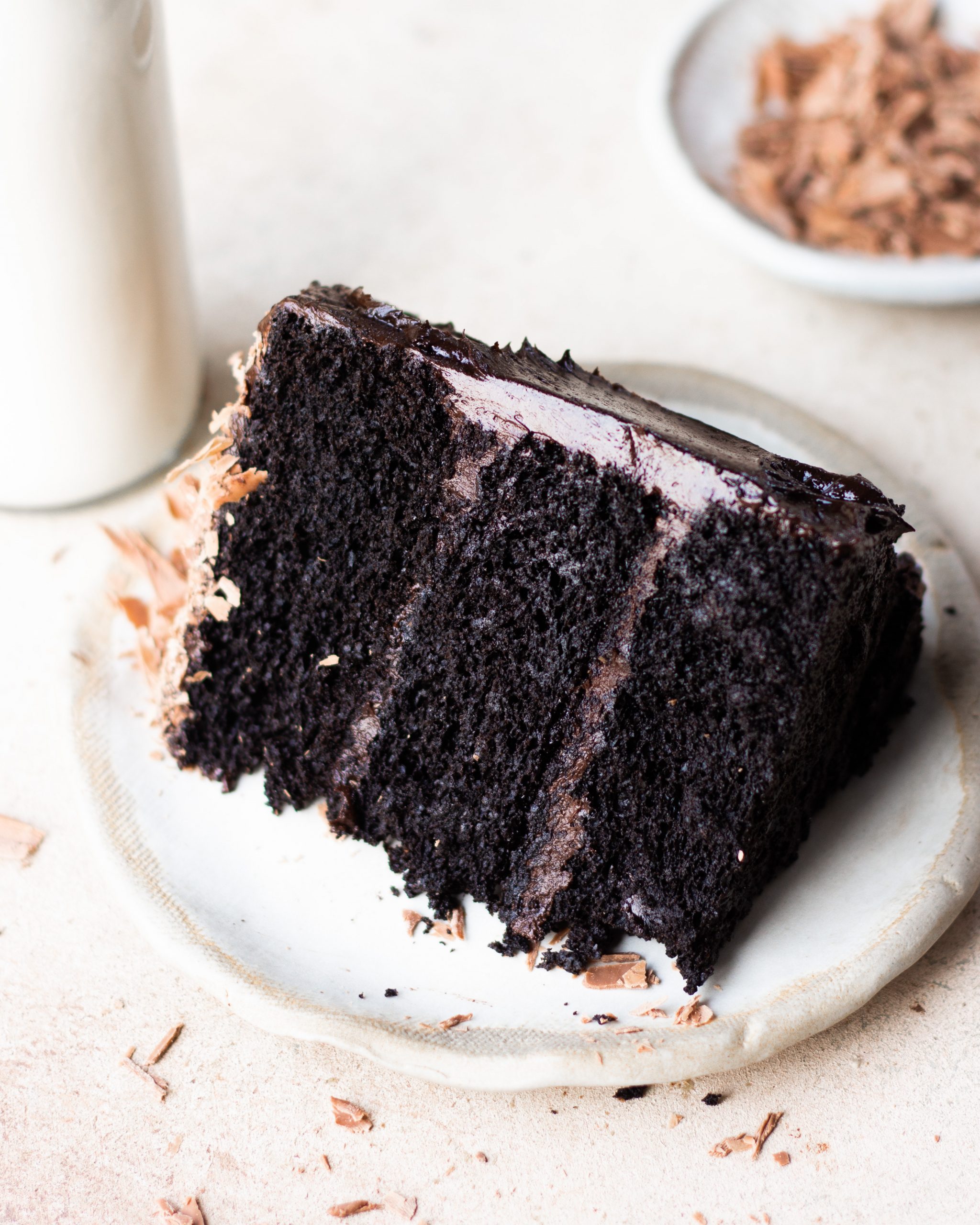 Layering the best eggless chocolate cake 
Like I said, my best eggless chocolate cake only has two components, the devil's food cake sponge and the chocolate fudge frosting. 
I went all out and made three 6'' layers of the chocolate sponge. The recipe that I am sharing with you will give you two layers. If you want to make three layers, you can multiply the recipe with 1.5 and make three epic layers.

While layering the cakes, make sure:
Your cakes are completely cooled before you frost and layer them. Frosting warm cakes will make the frosting melt and lead to an extremely unstable cake. 

Your frosting is also chilled. Chilled and smooth frosting is best for layering cakes with. It is all about maintaining a good structure of the cake so that you can cut into it beautifully and all layers stay intact. 

You are adding an adequate amount of frosting in each layer. If you add too less, cutting into the cake and eating it won't be as decadent. If you add too much, it is possible that your cake will collapse once all layers have been stacked. 

To use an offset spatula to make spreading the frosting all over the cake a very easy process. The curve of the offset spatula makes maneuvering the frosting a smoother process.

Once fully frosted, you can refrigerate the cake for half an hour before cutting into it. This makes sure that the frosting is set and your cake layers are stable and secure. 
How to decorate the best eggless chocolate cake 
This cake is absolutely stunning on its own. I wanted to let the frosting and height of the cake shine so I decided to keep the decor of this cake super simple and just add some chocolate shavings on the top. Chocolate shavings are honestly the easiest garnish one can make and they always end up looking so pretty. The process of making these shavings is also super simple and they come together in a matter of 10 minutes.

All you need are three things: silicone mat or parchment paper, melted chocolate, and chocolate or bench scraper. You start by melting some chocolate and spreading it very evenly and in a thin layer on your silicone mat.  Then just let it sit and get firm. Once set, use the chocolate scraper and run it lengthwise. The chocolate will automatically start to form rolls. Repeat this process till you have the desired amount of chocolate shavings.
I know you all will absolutely love this recipe. I can't wait to see your pictures! Tag me on Instagram using @shivesh17. Happy baking!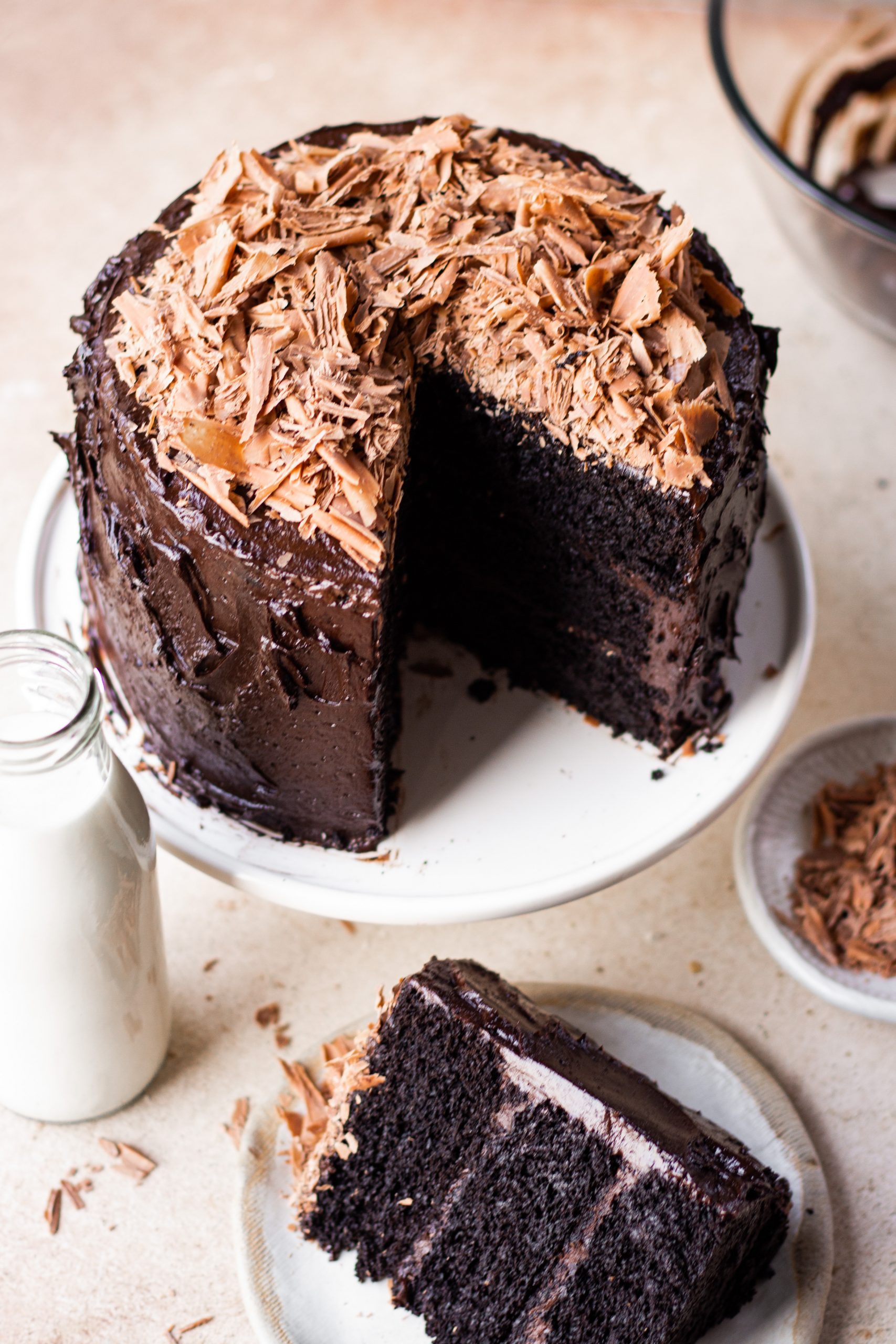 Best eggless chocolate cake
Ingredients
For the cake
1 ½ cup (180gms) maida
¾ cup (90gms) cocoa powder
½ tsp (3gms) baking soda
1 tsp (4gms) baking powder
¾ cup (180ml) vegetable oil
1 ½ cup (300gms) caster sugar
1 cup (285gms) curd
½ tsp (2.5ml) vanilla extract
½ cup (120ml) milk + 1tsp (5ml) vinegar
For chocolate fudge frosting
1 cup (226gms) butter
2 cups (260gms) icing sugar
½ - ¾ cup cocoa powder (depending on how chocolaty you want it to be)
1 cup (175gms) melted chocolate
1 cup (230ml) warm cream
To top
Instructions
Pre-heat the oven to 180*C. Line two 6" baking pans with parchment paper.
Mix in milk and vinegar in a small bowl and set aside.
In a bowl sift cocoa powder, flour, salt, baking soda and baking powder.
Take another bowl and beat together oil and sugar until the mixture is pale and light
Add yogurt and mix well.
Beat in vanilla using mixer at low.
Add the flour mixture to the wet ingredients alternating with milk and vinegar mixture, starting and ending with flour mixture. Mix only until well combined. Don't over mix.
Pour the batter into the pan and bake at 180*C for 30 minutes or until a toothpick inserted in the center comes out clean.
Let the cakes cool down.
For frosting
In a bowl add in butter and sift in icing sugar and cocoa powder.
Whip this mixture using a hand whisk or an electric mixer at high speed till you get a fluffy and light mixture.
Add in vanilla and beat it in as well. Once all of this is combined, warm your cream and mix that in as well.
Next, melt your chocolate and let it cool down slightly before you add it into the frosting mixture.
Once cooled down, just combine everything using your whisk. Give it a good mix and you will see your frosting be thick but slightly liquidy.
Refrigerate the frosting for 30-40 minutes.
Use it to layer up your cakes and decorate the cake with some chocolate shavings.
Enjoy!