In this post, we will tackle one of the most common problems faced when making our most favourite dessert; the problem of melting the chocolate right. Chocolate unfortunately cannot be made to melt like every other frozen liquid that we know of. With too much heat, we can end up burning it, or with too less heat it might only form clumps that will obviously spoil the texture of your cake. I'm sure a lot of us face this problem because I get asked a lot- how to melt chocolate properly?
There are several ways of getting your chocolate to melt in proportion and come out as smooth as possible. Here I talk of three such methods of melting your chocolate that could not go wrong. For this, all you need is your bar/bars of chocolate and a glass bowl with a spatula to accompany it.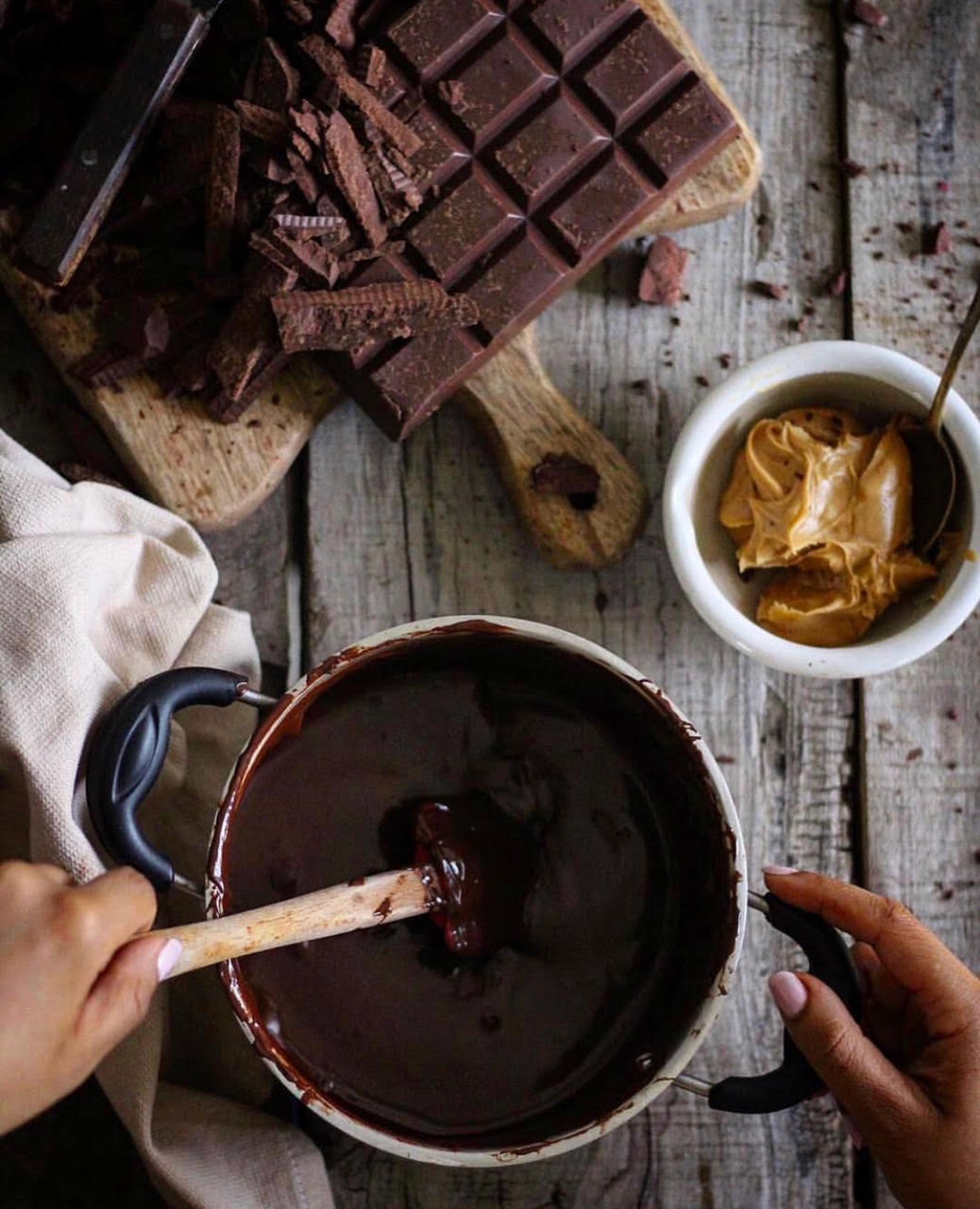 IMPORTANT POINTS:
 Make sure all your utensils are dry and do not have moisture on them. This mainly includes the bowl you use and your spatula that you stir with
Your glass bowl NEEDS to be heat-resistant, or else it is likely to crack and break with the pressure it is exposed to.
Wear your mittens or use enough caution while handling the heated bowl
Slice your chocolate bars neatly and evenly. Evenly cut chocolate is more convenient and melts consistently. Or use chocolate chips!
WAYS TO MELT CHOCOLATE PROPERLY-
Microwave it:
This takes a few repeated steps but is worth the effort. Take a heat resistant glass bowl with your sliced pieces of chocolate in it. Remember to slice your chocolate as small and neatly as possible to get it to melt quicker and more proportionately. Put the bowl in the microwave and heat it for 30 seconds.  Once you're done, get the bowl out and with a spatula, stir the melted chocolate for a while. Put it back into your microwave and heat it up again, this time probably for less than 30 seconds. Continue with the same process, microwave and stir, until you see your chocolate getting smoother like you wanted. This could take at least three rounds of heating and stirring depending on how much chocolate you are melting.
Use a double boiler:
This method is more common and traditional, and you might have already noticed a lot people using it. Fill a saucepan with an inch of water and put it on boil. Put it on  medium heat. Meanwhile, get your glass bowl filled with sliced chocolates and place it carefully on top of the saucepan. The steam from the boiling water in the bottom bowl will gradually heat the glass bowl enough to make your chocolate melt. Nevertheless, remember to keep stirring the melted chocolate in order to make the process quicker and get a satiny texture. Keep it on the stove until all the chocolate melts completely.
Heating it directly on the stove:
This takes a lot of careful supervision. Put your sliced chocolates directly into a steel / saucepan and heat it in in low-medium heat. Keep stirring continuously in order to avoid the chocolate from getting burnt. This method is not very advisable because chances of burning the chocolate are higher- be careful! 
CHOCOLATE RECIPES TO TRY FROM THE BLOG-