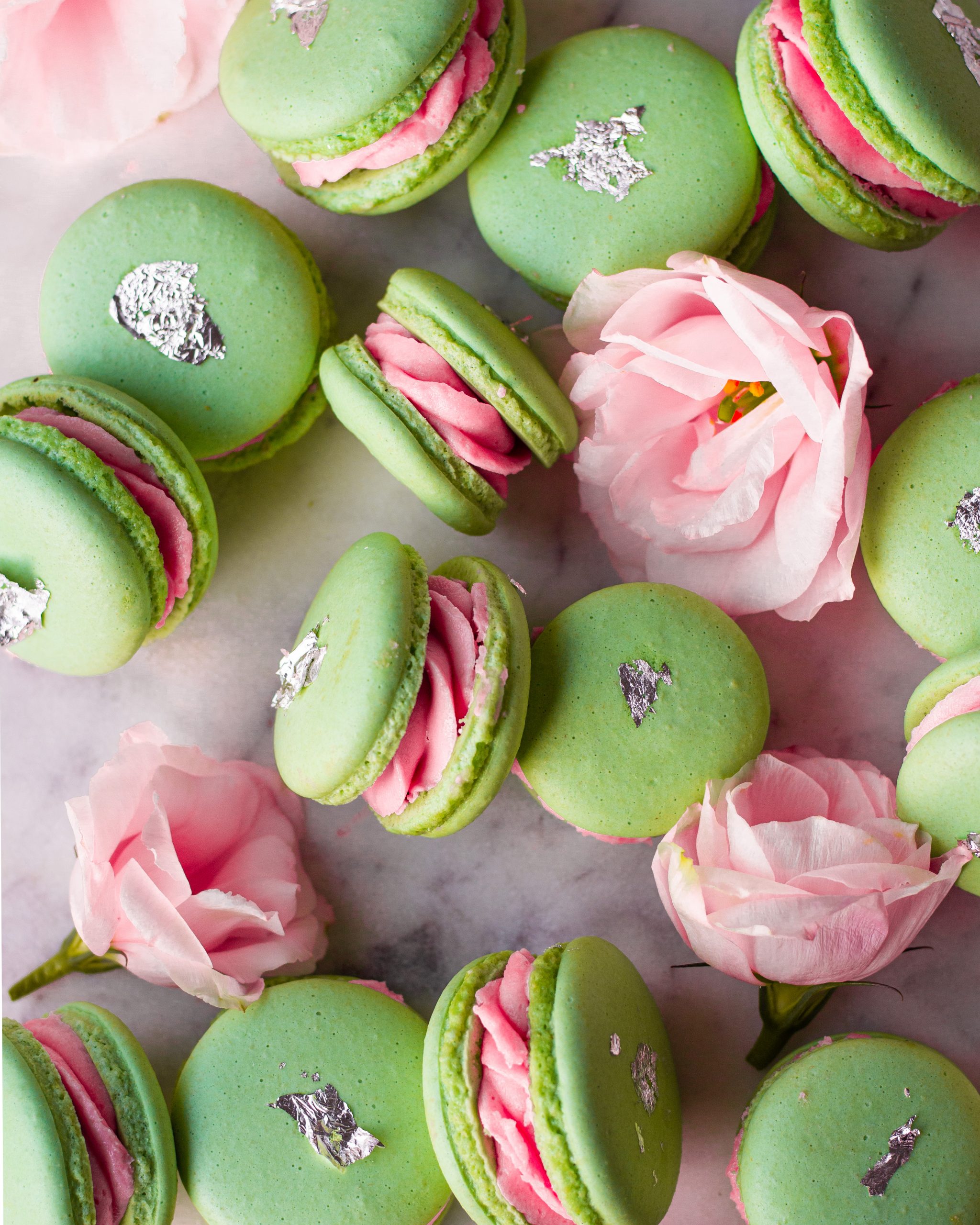 Diwali is just around the corner, it is finally that time. I get to do a massive clean up of the house and my studio, and then get it ready for the festivities. It is such a beautiful time, filled with family bonding and LOTS of sweet treats. Every year for diwali my mother would one of her special treats for all close knit relatives and friends. But this year to actually let her sit back and relax, I decided to whip macarons but definitely make them desi to fit our festive vibe. This eggless diwali macarons recipe has the smoothest rose flavoured buttercream and a delectable pistachio butter. 
Trust me when I say this, this is the perfect representation of diwali in one bite. The sweetness from the shell reminds me of mithai, the richness of the buttercream balanced with the nutty taste of the pistachio butter. It's not traditional but it is the spitting image of indian tradition and I love that! As we move into the season of festivities I just want to remind us all of the pandemic that is still upon us and still take precaution and take care of all of us!
About eggless diwali macarons
Macarons are meringue based pastries that are made out of almond flour, egg whites and sugar. These pastries are then sandwiched using various fillings. French macarons are one of the most popular confectionery items throughout the world. They are made with patience, precision and technique. Now because macarons are so sensitive to make, people almost always make them with egg whites. Egg whites whip up beautifully and can be used to make a stable meringue which is crucial to the structure of a macaron.
But just because so many of us do not consume eggs doesn't mean we can't enjoy this beloved pastry right? Eggless macarons are also made with patience, precision, and technique. The common replacement for egg whites in eggless macarons is aquafaba. 
Aquafaba is the water in which chickpeas have been cooked. It is a gelatinous liquid which whips up just as nicely as egg whites. If you have aquafaba then you are good to go to make eggless macarons.
How to make these macarons festive?
Even though the shell is the whole essence of a macaron, a filling can make or break it! I loveeee filling my macarons generously with buttercream. You can find my in depth guide to my buttercream recipe right here. Now to give my buttercream a super festive look and taste, I flavoured it with kewra water i.e. rose essence and a beautiful blush pink colour. I piped only the edges with the rose buttercream and filled the centre with another surprise element- pistachio butter. Mmm this was a game changer. It reminds me so so much of mithai and festivities. Pistachio is such a popular flavour when it comes to the indian desserts. So I had to incorporate this in my eggless diwali macaron. 
Now I have used a store bought pistachio butter here, you can also easily prepare this at home. It is practically the same as making any other nut butter at home. You can make the pistachio at home in 3 easy steps.
Roast the pistachios in a pan on a medium heat until nice and fragrant. Allow it to cool slightly.

Add it to a heavy duty blender/ food processor and blend in 30 second intervals until smooth. (takes about 6-7 minutes)

Season with a pinch of salt and ready!
Making aquafaba at home for eggless diwali macarons
Now you can get your hands on aquafaba in two ways: you can either buy canned chickpeas from your local store and just use the liquid part from the can or you can make aquafaba from scratch. 
Soak chickpeas in ample amounts of water. This needs to be done overnight. 

The next morning, strain all the excess water. Put the chickpeas in a pressure cooker, immersed in water and cook them until one whistle pops then lower the heat and cook for another 10-15 minutes. 

Once cooked transfer to a bowl and let it cool in the fridge for 10-12 hours so the aquafaba gets gelatinous. 

Then strain out the aquafaba and store it in an airtight container for 3-4 days.
Almond flour for the eggless diwali macarons
A staple ingredient for macarons is almond flour. It adds a great flavor to your macarons and also gives the macarons their unique texture and makes them nice and chewy. 
I know using almond flour is on the expensive side but trying to replace the flour will affect the consistency of your batter. The amount of moisture in each flour varies from the type of flour and also from brand to brand. Macaron shells are sensitive to the amount of moisture in them. Excess moisture will lead the macaron feet to spread and less moisture will lead your macaron shells to crack. 
But if you do not want to buy almond flour or can't find it in your local stores, you can very easily make it at home! These are the steps that you need to follow:
Soak almonds in water overnight and peel off the skin the next morning. Air dry for 1-2 hours. 

Blend the blanched almonds in a food processor till it reaches a fine powder consistency. 

Keep a close eye while blitzing the almonds. If you blitz too much, it can easily turn into paste.
However, I would recommend store bought almond flour because the moisture content in the packets is more reliable and the powder consistency is extremely fine.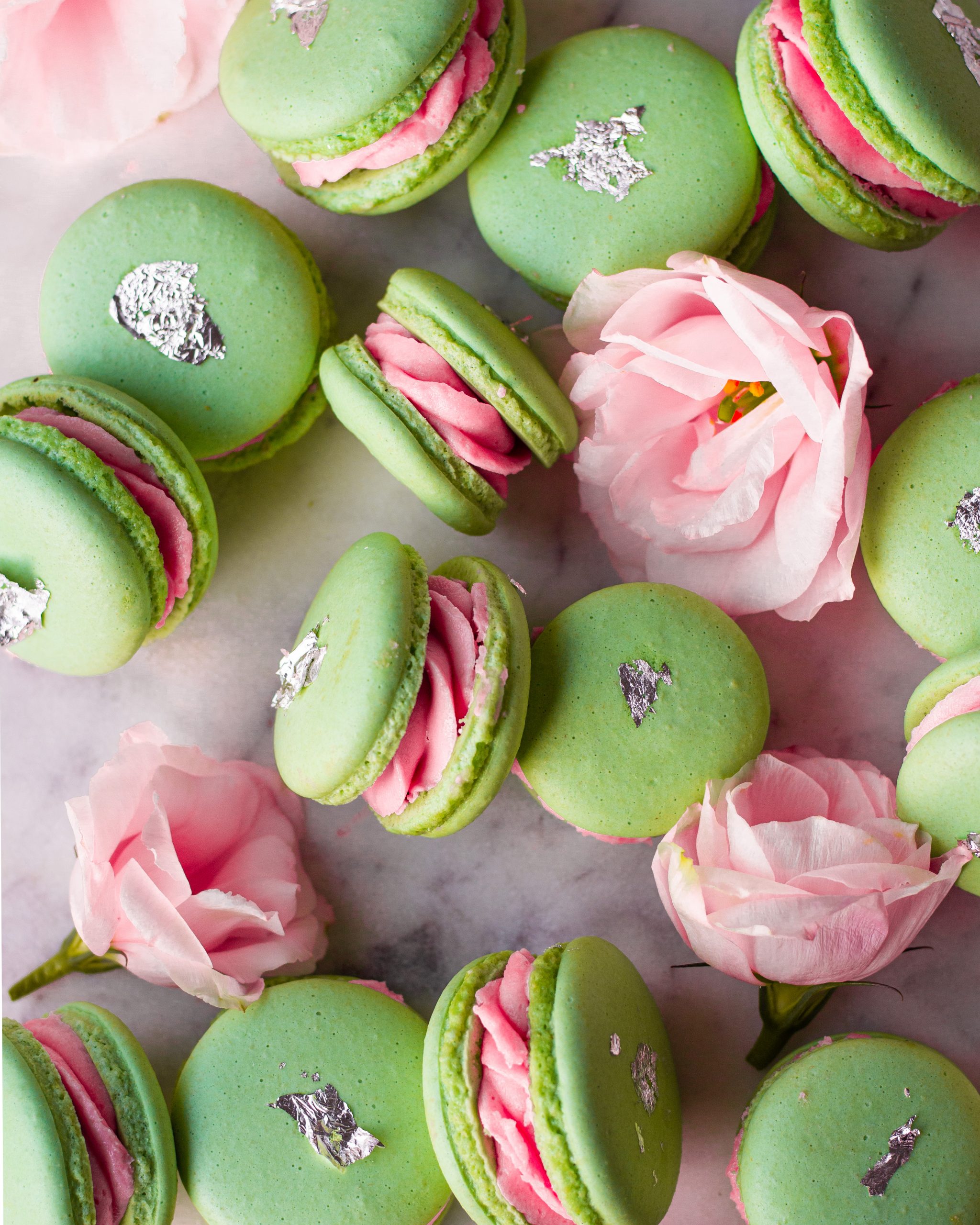 Tips to make the perfect eggless diwali macarons
Sifting is absolutely a must.
Always sift the icing sugar and almond flour so that there are no lumps in your batter: Ensuring that your macaron batter is as smooth as possible is crucial to having perfect macaron shells. Any lumps whatsoever will only give you a bumpy shell that might crack in the oven
Squeaky clean equipment
To make the eggless meringue (from aquafaba) ensure that the bowl is dry and grease free. Any water or any grease in your bowl, electric whisk, or even the spatula, will get in the way of the aquafaba and will definitely stop it from forming stiff peaks. If you don't reach stiff peaks, the macaron batter will never work.
Get rid of all the air bubbles
While transferring the macaron into a piping bag, make sure there are no air bubbles in it. Push down the macaron batter while filling the piping bag and pop out any air bubble you see before piping individual shells.  After piping all macaron shells, tap the baking tray on the table to take out air bubbles.
Keep these points in mind and I promise you'll be making perfect eggless macarons this diwali. Do not forget to share your images with me by tagging me on Instagram using @shivesh17. Happy diwali and happy baking!

Eggless diwali macarons
Ingredients
37.5 g aquafaba
55 g icing sugar
55g almond flour
33g caster sugar
Instructions
In a bowl sift in almond flour and icing sugar and set it aside.
In another clean bowl, add in aquafaba and start whipping at medium low speed. Once the aquafaba gets slightly foamy, increase the whipping speed to high and start adding caster sugar in small batches.
Once you reach soft peaks, add in a few drops of gel food color of your choice and continue to whip till you reach stiff peaks. This can take 7-8 minutes.
After reaching stiff peaks, carefully fold in the almond flour and icing sugar that was set aside before.
Use the cut and fold method and check the consistency of your batter after every two-three strokes of mixing.
Once you reach a consistency where your batter freely falls off the spatula, you can transfer the batter into a piping bag and pipe individual shells on your baking tray lined with silicone mat.
After piping, let shells rest for 15 minutes till they form a skin on top. Meanwhile, preheat your oven at 140 degree C.
Bake for 30-35 minutes.
Cool down completely and fill the edges with rose buttercream and pipe the centre with pistachio butter.