I know a lot of you struggle with buttercream and making it smooth, silky, thick and stable. Initially, when I started baking I used to have trouble with it too. In this article we will talk all about the do's and don'ts of buttercream and how to make the perfect buttercream.  
Not that a cake is any less delicious naked, but the perfect buttercream adds that oomph that will take your cake from an eight to a perfect ten! All you need to do is follow my tips and tricks and you will be saying bye to grainy, unstable buttercream.
What is buttercream 
Buttercream is essentially a type of frosting in which the main ingredients are butter, sugar and any other flavouring that one prefers. A perfect buttercream is rich, creamy and smooth with just the right amount of sweetness. 
Buttercream is made up of such basic ingredients and just two of them for the base – butter and sugar. This is why you need to make sure you are using these two ingredients in the correct manner. It is no complicated science, it is just about keeping a few things in mind. 
Butter consistency for the perfect buttercream 
All the richness, and yumminess of a buttercream comes from butter. I use normal Amul salted butter while making this frosting but you can also use unsalted butter. I like using salted butter because it balances out all the sweetness that the sugar will add and gives my buttercream a better flavor. If you are using unsalted butter, I would suggest adding a pinch of salt while whipping up your butter. 
In addition to which butter you are using, the consistency of the butter needs to be taken into account. This is extremely important. The consistency of your butter determines the structure of your buttercream. 
Softened butter, melted butter, and cold butter are the three butter consistencies used in baking. While making buttercream you want to ensure that you are using softened and only softened butter. This will make whipping up the butter much easier and once whipped, it will hold its shape. 
If you use cold butter, it will take much longer to whip up and you'll be standing in front of your mixer for a long time. Using cold butter would result in a buttercream frosting that is lumpy and not smooth at all. If you use melted butter, it will never whip up and hold its shape and your buttercream will be runny and unstable. 
You will know your butter is perfectly softened when you leave it at room temperature for 10 minutes.  When you make impression in softened butter, it will hold its shape and the impression will stay. 
Which sugar to use for the perfect buttercream 
Sugar is another crucial ingredient in making buttercream. When it comes to sugar, you need to focus on the size of the sugar granules that you are using. Based on the same, sugar is categorized as – powdered/icing, caster, and granulated. 
I am sure if you bake even a little, you must have heard of these categories. As the name suggests, powdered sugar is extremely fine, instead of sugar granules, you have powder and it is the easiest to dissolve. Caster sugar has very small sugar granules that can easily be dissolved into all batters. Granulated sugar is the one that is most commonly available sugars. It has big chunks that don't dissolve as easily into batters and mixes. 
I recommend you make all your frostings including buttercream using icing sugar instead of castor sugar. Since there is no cooking process, the sugar granules will not melt and you'll end up with an unwanted crunch in your frosting. It's important that you sift your icing sugar because it has a tendency to lump up. 
Other than butter and sugar, I like to add a bit of vanilla in my buttercream. It enhances the flavor and goes great with all desserts.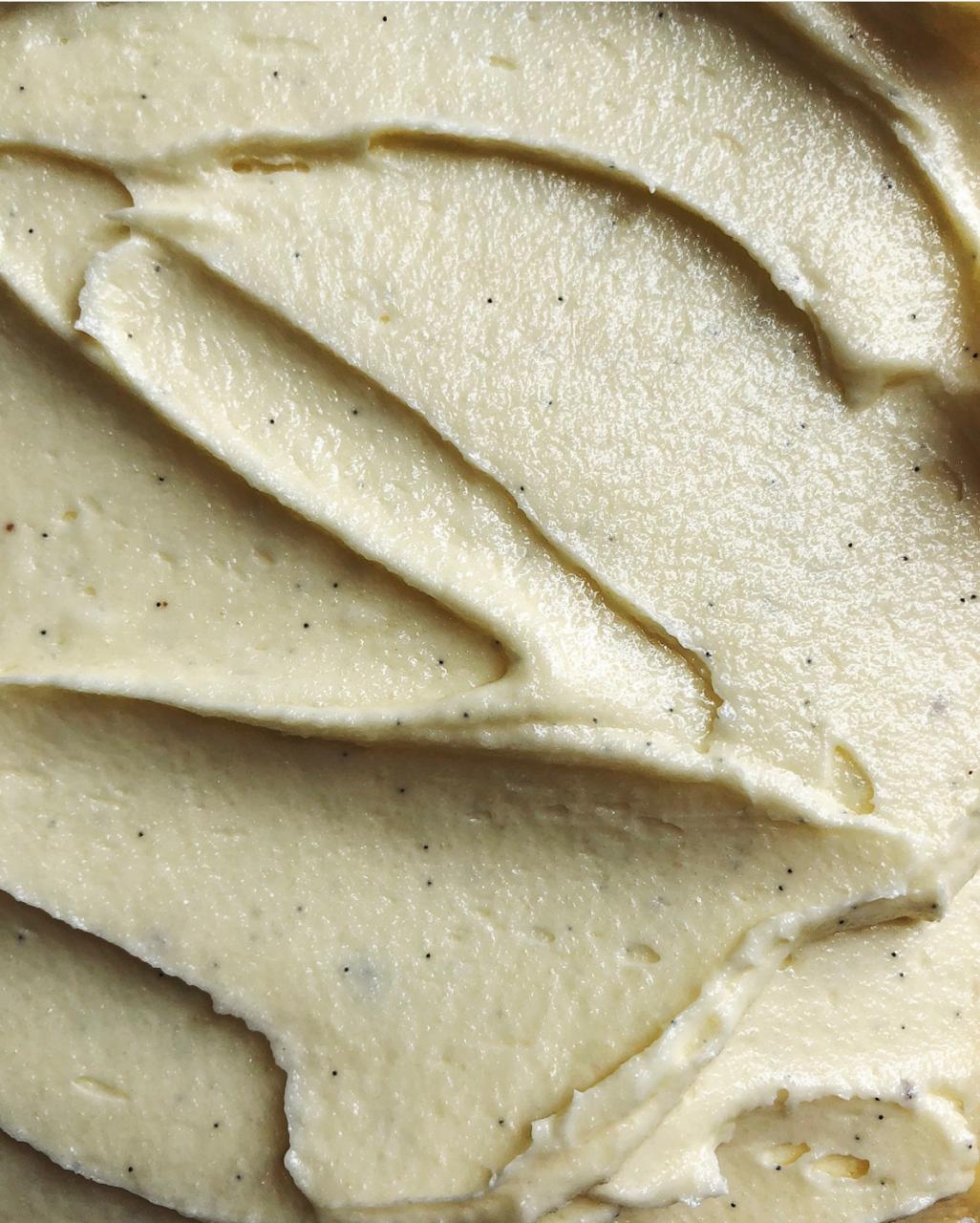 Process of making the perfect buttercream 
There are a few things you need to keep in mind while actually making the buttercream. 
You need to beat your softened butter for 4-5 minutes till it's light and fluffy. This will make the buttercream thick and stable. 

You can also add in vanilla while whipping up your butter. 

Once the butter is whipped and the volume has increased, it is time to add your sugar but you need to do this in batches. 

Adding sugar in batches is important because it does two things : first it lets the sugar get mixed in completely and second, it gives you enough time to incorporate more air and get the buttercream to the perfect consistency. 

Before you start the electric mixer,  do the initial mixing with a spatula so that you don't end up with sugar everywhere.

While you are mixing in your sugar, you will see that there is still some sugar on the sides of the bowl that hasn't been incorporated yet.  Take your spatula and scrape the bowl from the sides and the bottom and give it a final mix with your electric mixer. This will ensure 100% lump free buttercream. 
If your buttercream is a little stiff at this point, you could add a tablespoon of milk of heavy cream. On the other hand, if your buttercream is not holding its shape then you can put it in the fridge to chill for a few minutes and give it a final mix. Once you're happy with the consistency, you could add whatever flavouring you want like vanilla, fresh strawberries, chocolate, passion fruit etc. 
How to store the perfect buttercream 
The best way to store your buttercream is to transfer it to a clean bowl, and contact wrap it which means that your cling wrap is touching the surface of your buttercream. If you don't do this, once you place it in the fridge, your buttercream will end up with a film on top that will make the texture grainy. The buttercream can stay in the fridge for 5-7 days. In case you're left with extra buttercream, you can freeze it. Just thaw the frozen buttercream and give it a mix before you want to use it.
If you want to read more about how to make the perfect buttercream, I have written an article about it. Check out tips to make the perfect buttercream frosting. And if you're looking for any recipes with buttercream frosting, you can try out my Pistachio Cupcakes with Rose Buttercream Frosting.

How to make the perfect buttercream
Ingredients
½ cup softened butter
1 teaspoon vanilla
1 cup icing sugar (sifted)
Instructions
In a bowl add softened butter and beat it for 4-5 minutes at high speed until it becomes pale and fluffy.
In the same bowl, add in vanilla and mix this in as well.
Add in half of your sifted icing sugar. Turn the mixer on at low speed first and then beat it for a minute or so at high speed. Make sure all the sugar is nicely combined.
Add in the remaining icing sugar, and repeat the same process.
Scrape the sugar from the sides of the bowl and make sure everything is well incorporated.
Use the buttercream immediately or store it in the fridge in an airtight container for 5-7 days.