Yesterday was World Chocolate Day and for me, this week is all about indulging in my favorite chocolate bars. After all, there's no such thing as too much chocolate! I work with chocolate all the time in my kitchen and most often, it's a messy and unforgiving ingredient but it's also one that no baker can live without.
That being said, one of my favorite chocolate bars has to be a classic bounty bar. I absolutely love pairing chocolate with coconut and the result of one such recent recipe were these easy homemade bounty bars. Made with only three simple ingredients, I know that you'll be whipping up these delicious bounty bars every other day!
INGREDIENTS FOR THESE EASY HOMEMADE BOUNTY BARS
Let me tell you that these easy homemade bounty bars taste exactly like the real ones and considering that they need only three ingredients, they're an absolute steal! You'll need some shredded coconut for making these bars, make sure that you're using dried coconut powder for making these bounty bars. A good quality sweetened condensed milk works well with the shredded coconut. I use Milkmaid but you can use any condensed milk that you can find, as long as it's sweetened. And lastly, chocolate! Absolutely any milk/dark couverture chocolate works for coating these bounty bars. I used 70% dark chocolate Amul as that is easily available for me.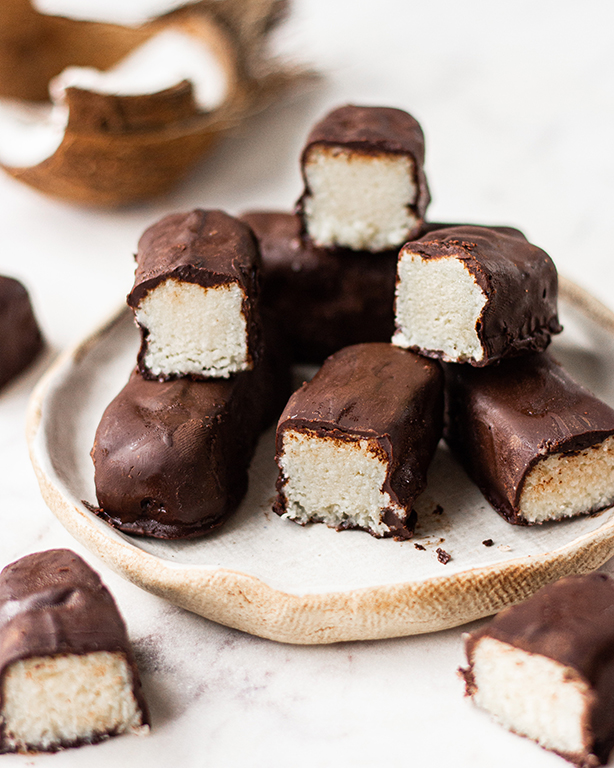 HOW TO MELT CHOCOLATE PROPERLY
Chocolate is kinda unforgiving in a way that if you heat it too much, it burns and if you don't heat it enough, it forms clumps and doesn't give you a smooth texture. I mostly melt my chocolate using a double boiler but there are many ways of doing the same and ensuring that you get perfectly silky melted chocolate every time! For starters, you need to use the best quality chocolate you can get your hands on. I used Amul 70% dark chocolate but you can use any milk/couverture chocolate that you like. For baking tips, tricks, and ways, you can check out my article on How to melt chocolate properly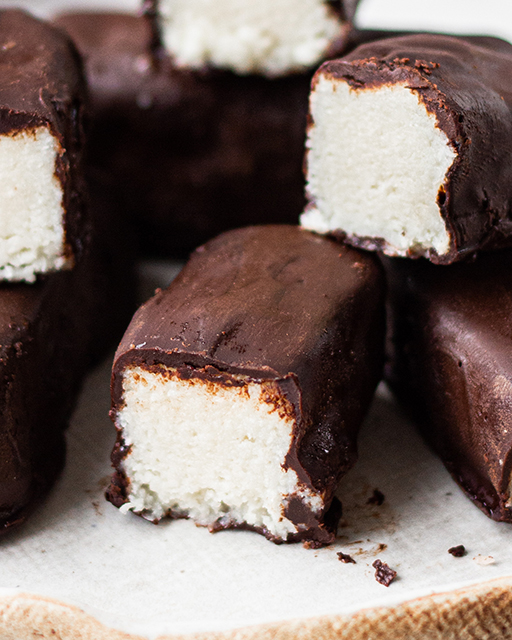 OTHER CHOCOLATE RECIPES ON THE BLOG
HOMEMADE BOUNTY BARS RECIPE
Easy Homemade Bounty Bars
Recipe gives 6 mini bars.
Ingredients
1 + ½ cup shredded coconut
½ cup condensed milk
2 cups melted chocolate
A pinch of salt
Instructions
In a clean bowl, take the shredded coconut and add condensed milk to it.
Using a spatula, mix both the ingredients till you get a sticky mixture.
Scoop some of this mixture out and shape them into bars using your hands.
After shaping, put the bars on a tray and refrigerate for an hour.
Chop the chocolate into fine pieces.
Melt your chocolate on a double boiler and add in a pinch of sea salt.
Dunk the bars in the melted chocolate, making sure it's coated properly on all sides. You can also put the bars on a wire rack and pour the melted chocolate on the bars.
Let the excess chocolate drip and place the bars on a tray lined with parchment paper.
Using an offset spatula, make three lines on top of the bounty bars.
Refrigerate for about an hour.
These bounty bars have now become my favorite chocolate to snack on! If you happen to make these bars, do not forget to tag me on
Instagram
, and use #Bakewithshivesh. Happy Baking!