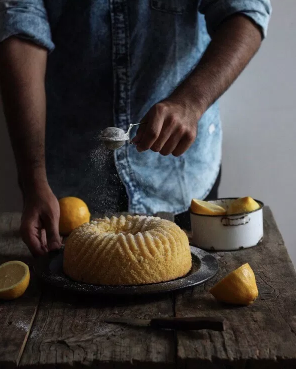 "Cooking and baking is both physical and mental therapy." I relate to this quote like nothing else. It's been a long time since I have been baking and despite my super hectic schedule, whenever I start whipping up a recipe, nothing gives me a greater adrenaline rush or an equal amount of happiness. I have been constantly asked by so many of you to come out with a post about baking tips for beginners and so, I am finally giving it my best shot!
I also started somewhere obviously and like everyone out there who is just beginning to test their baking skills, I have failed numerous times but all that matters today is how I got back up and didn't lose my patience or my whisk, haha!
Today, I am going to share some basic baking tips for beginners which will surely help you guys- especially if you're just beginning to try your hand at baking.
Stick to the Recipes


The first and foremost thing you should be remembering, besides the basic ingredients to your recipe, is to always and no matter what blindly following the given recipe. If it asks you to preheat your oven to a 180 degree Celsius, do that! If it asks you to sift your flour, do that! Follow each step and in the respective order the recipe is asking you to. Dessert recipes are actually simple to follow and they have been tried and tested before being posted, so trust that the order holds a lot of significance.




Sticking to recipes is a favor you'll be doing to your own self!


There are so many common mistakes that we anyway end up committing. Click here to know how to avoid them.


Set up ingredients before you start


I think that having all the ingredients in front of you before you start whipping up your recipe is such a comfort! Measure all ingredients properly by using the required instruments and have them laid down in front of you so you are not running berserk in the middle of your preparation.




Most culinary chefs swear by this tip and it ensures that your baking is a smooth and relaxing process and you don't end up sweating or stressing yourself out.

Investing in the right equipment


Trust me when I say this, the right equipment will not only make your preparation 5x easier, but they also end up ensuring that you're doing your recipe right. Like, silicone spatulas have taken the baking world by a storm and evidently to another level. Uniformly mixing your cake ingredients, ensuring that each drop of your batter has been transferred to the tin, to even cleaning out your final platter, silicone spatulas have become no less than a wish come true.




If you follow me on social media or attended any of my workshops, you would have noticed that I use a silicone spatula to fold my ingredients as well. Needless to say, it is my favorite baking instrument!




The first section of my upcoming book is all about right equipment and I am so sure it will interest you guys. The pre-order link is attached towards the end.

Room temperature is important


When a recipe asks you to use a certain room temperature ingredient, most common being butter, stick to it, so when you beat your butter and sugar, it results in a cake that is nice and fluffy.




Different temperatures of many ingredients give a different type of consistency- most often the consistency that you never wanted and it might also result in unavoidable lumps which means that all your hard work goes down the drain.


To know better about how to bake perfect cakes, click here.
Invest in a measuring equipment


There is a variety of measuring equipment in the market today! From measuring cups to weighing scales, from metal measuring sets to plastic measuring sets, you can find anything as of today to make your preparation super easy. Most recipes ask for measuring cups and it is best if you invest in a set- any that you feel comfortable with. The sets include tablespoons, teaspoons, and so on. They also help you in saving your time judiciously because you're not figuring out what or how to measure your ingredients!

Parchment paper all the way!


If you need to ensure to one hundred percent that your cake isn't sticking to the bottom of the pan, parchment paper is the answer to all your prayers! Indeed, there are other methods like oiling or dusting with flour, but there is nothing like a good ol' parchment paper that is allowing your cake to come out in the most beautiful way possible!




I stick to it and so do so many more chefs around the world.

Use an ice cream scooper for cookies


When baking cookies, ensure that your cookie dough is firm and cold and use an ice cream scooper to put it onto the baking tray. An ice cream scooper will ensure that most of your cookies are blossoming into one size only and will also save you from a lot of stress and dirty hands, haha.


For more tips about getting your cookies right, click here.
Always sift dry ingredients
Dry ingredients like flour, baking powder, baking soda, salt, sugar, cocoa powder, and so on, should always be sifted. Even if the recipes don't ask for it.


Sifting allows your ingredients to get lighter and it allows the involvement of air. Sifted dry ingredients which become lighter than unsifted dry ingredients are easier to mix in the batter or in the dough. Not only this, sifting ensures that all of your individual dry ingredients come together to give a uniform mixture before you start with the batter or dough.

Taking out sticky ingredients from measuring cups
I use sticky ingredients like honey and peanut butter in a lotttt of my recipes. But, measuring them is indeed a pain.


In order to get them out completely and without hassle, preferably spray or oil your measuring cup before proceeding with measuring such ingredients and always use a silicone spatula to completely take out all the remnants in the cup.

Don't give up


This is the most important tip that I'd like to share. Please embrace all the flaws and faults that made baking a failed attempt and be rest assured that the next time, you're only going to grow as a baker. Mistakes do not inhibit your growth, they're actually a milestone that you're almost there and you need to carry on and not give up and run. Understand the fact that things will go wrong and there are absolutely zero things wrong with this.