The festive season is finally here and lots of festive baking has been happening in my kitchen. Every day feels like bliss, working on delicious fusion recipes with my team for you guys to make in your homes and share with your loved ones!
That being said, making a good old Tres Leches cake has been on my to-do list for quite some time now and I came across something intriguing enough for me to try my hands on, which was the Rasmalai Tres Leches. Who doesn't love Rasmalai? Count me out because honestly, I can gobble up ten of them in one go. And making a Rasmalai flavored Tres Leches sounded like the perfect opportunity to try out something new and festive in the kitchen. This cake tastes very similar to our beloved Ras malai and that's exactly why you should be making it this Diwali!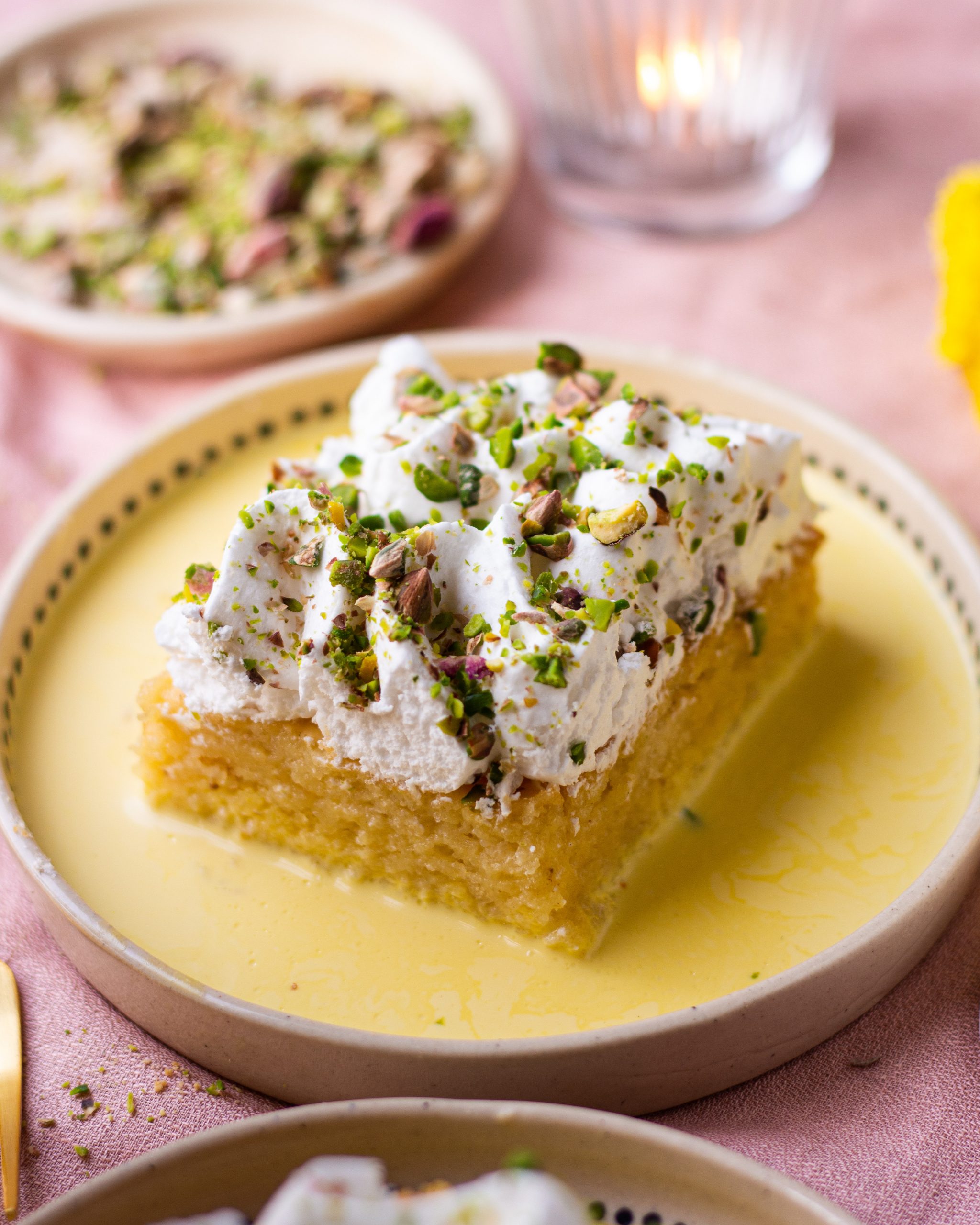 What is Tres Leches?
Tres Leches is a vanilla sponge cake soaked in three different types of milk- condensed milk evaporated milk and heavy cream. "Tres Leches" in itself means three kinds of milk. A tres leches cake is very light with many air bubbles. This distinct texture is why it does not have a soggy consistency, despite being soaked in a mixture of three types of milk.
If you are a lover of milk products and soft moist cakes, then I'm sure you'll absolutely love a Tres Leches Cake.
The flavors of Ras Malai
In India, these two words don't need a description! It's the utmost favorite dessert of every household and the heart of every festive season. Ras malai is nothing but spongy dumplings made out of paneer (ricotta) infused in some delicious saffron milk and topped with chopped pistachios! A dessert that has the heart so many, ras malai makes for the perfect fusion with this Tres Leches make.
Are you a big fan of desserts with an Indian twist? Then you should also check out my Pistachio Cupcakes with Rose buttercream.
Components of Rasmalai Tres Leches
For most people, this dessert might sound like a hefty affair and you must be thinking, would I be making a cake and also ras malai to go with it? But it's actually really simple once you understand how every component works-
The sponge
As it is the festive season and most of you won't be consuming eggs, I made a sponge for this rasmalai tres leches eggless! Traditionally, a Tres Leches is made with eggs that incorporate a lot of air and make the sponge more capable of absorbing the milk. But since it's the festive season and people in India usually don't consume eggs during this period, I've made an eggless version which is equally better! I make this sponge using yogurt and baking soda- which acts as a perfect substitute for eggs! It is light, fluffy, and is the base of this dessert, it takes the softness to another level!
     2. The milk mixture
This milk mixture is the essence of our Rasmalai Tres Leches. We infuse our sponge with three types of milk and the goodness of saffron and cardamom
Ingredients for making the milk mixture
The Rasmalai liquid is made with three types of milk- whole milk, condensed milk and heavy cream. This is what adds so much flavor to the cake and gives it the texture needed for a tres leches. I infuse the three milks with saffron and cardamom powder to give it all the festive feels and flavors of rasmalai. It's important to use warm milk while making this liquid. A good quality heavy cream and sweetened condensed milk are then added to this milk and whisked well. Now now! When you see recipe, you'll see that there's A LOT of liquid. Don't get intimidated by this and add all the liquid, I promise it'll be worth it.
Process of making Ras Malai Tres Leches
First, we bake our eggless sponge following the recipe.
While the cake is baking, we make our milk mixture.
After taking the cake out of the oven, we prick the cake with a fork and pour the milk mixture, making sure it covers the entire cake.
We set the cake in the pan for almost one hour.
After one hour, we demould the cake and garnish it with some whipping cream and chopped pistachios and serve!
Tips for making Ras Malai Tres Leches
Before making the eggless sponge cake, make sure you line your baking tin with parchment paper. If you don't have parchment paper, you can brush the pan generously with melted butter/ oil.
Make sure all your ingredients, are at room temperature when making the sponge. This is important because room temperature ingredients emulsify better.
The milk mixture needs to be added to the cake while it is still hot and don't forget to prick the cake before adding the liquid!
After pouring the milk mixture, make sure you tilt the tin from one side to another so that the entire cake is covered with the milk.
Don't be afraid of using all the milk mentioned in the recipe, that's what makes the cake taste divine!
Set the rasmalai tres leches in the fridge in the cake tin itself and it has to be demoulded only when it has set!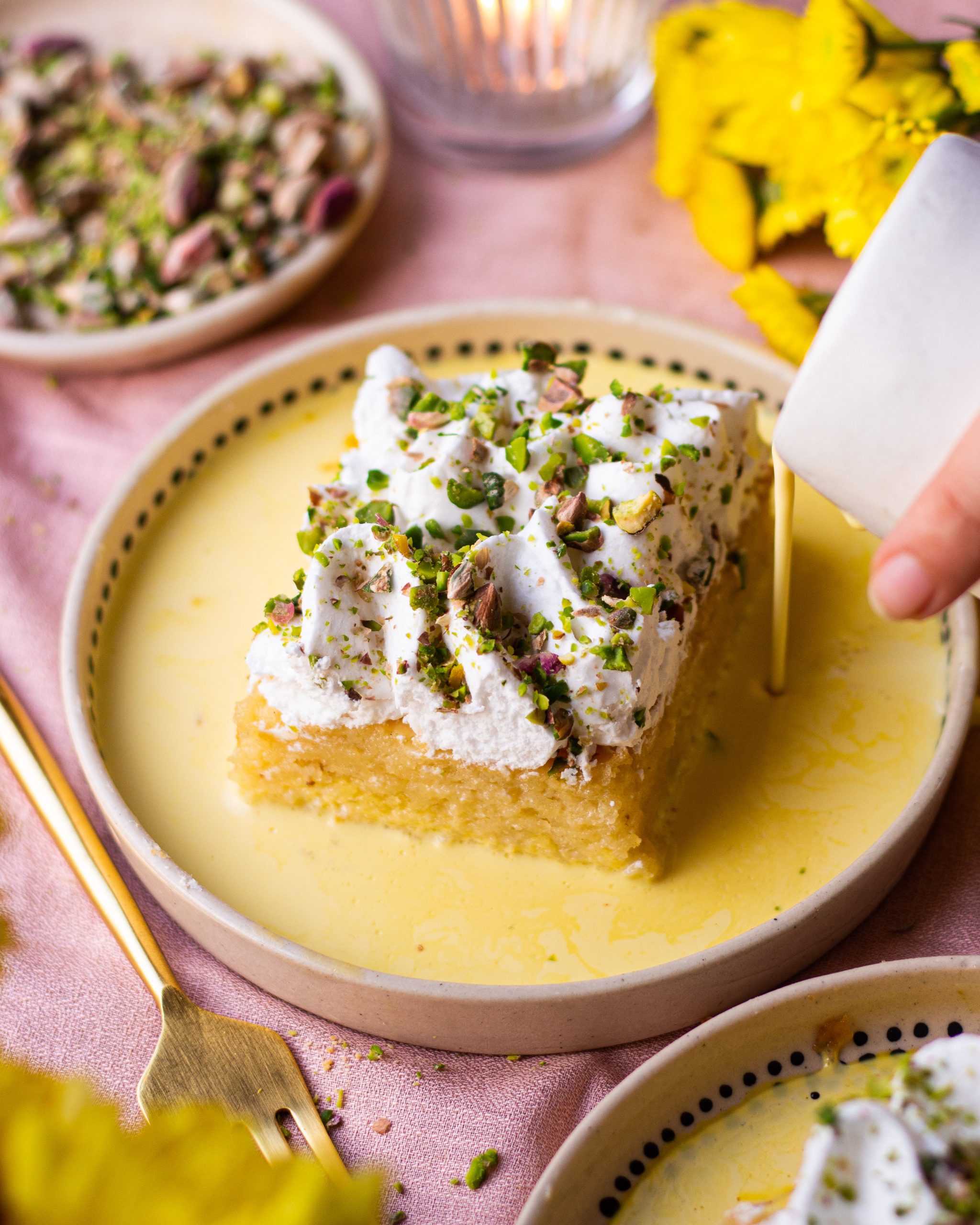 Rasmalai Tres Leches Recipe
Rasmalai Tres Leches
Ingredients
For the sponge
1 + ½ cups (180g) all purpose flour (maida)
1 teaspoon (4g) baking powder
1 cup (285g) yogurt
½ teaspoon (3g) baking soda
¾ cup (150g) castor sugar
½ cup (120mL) vegetable oil
1 teaspoon (5mL) vanilla extract
For milk mixture
1½ cups milk
½ cup condensed milk
¾ cup heavy cream
½ tsp cardamom
7-8 strands of saffron
For garnish
Whipped cream
Chopped pistachios
Instructions
Pre -heat the oven to 180 degree C and line an 8 inch square cake pan with parchment paper.
In a bowl whisk together flour and baking powder and set a side.
In a separate bowl add the yogurt and sprinkle baking soda over it and set it aside to foam up.
Whisk together castor sugar and oil in a separate bowl until pale and well combined.
Now pour the yogurt mixture to the oil and sugar mixture and mix well.
Add the vanilla extract.
Gently fold in the flour and mix until everything is well combined there are no large flour pockets in the batter. Do not over mix at this stage.
Transfer the batter to the prepared cake pan.
Bake at 180C for 30-35 minutes or only until a skewer inserted in the center comes out clean.
While the cake is baking, make the milk mixture by combing warm milk with saffron and cardamom powder.
Add the heavy cream and condensed milk to this milk mixture and whisk well.
After the cake is baked, prick it with a fork while it's still hot.
Pour the milk liquid on the cake and tilt the pan so that the milk covers the entire cake.
Let it set in the fridge for one hour.
After one hour, demould the cake from the pan.
Top with whipped cream, pistachios, some more liquid and serve!
Other festive recipes on the blog
This is one recipe which I've had the most fun making this festive season and I hope you do too! Do tag me on Instagram using the #Bakewithshivesh, I'd love to see you guys recreating this in your kitchens!