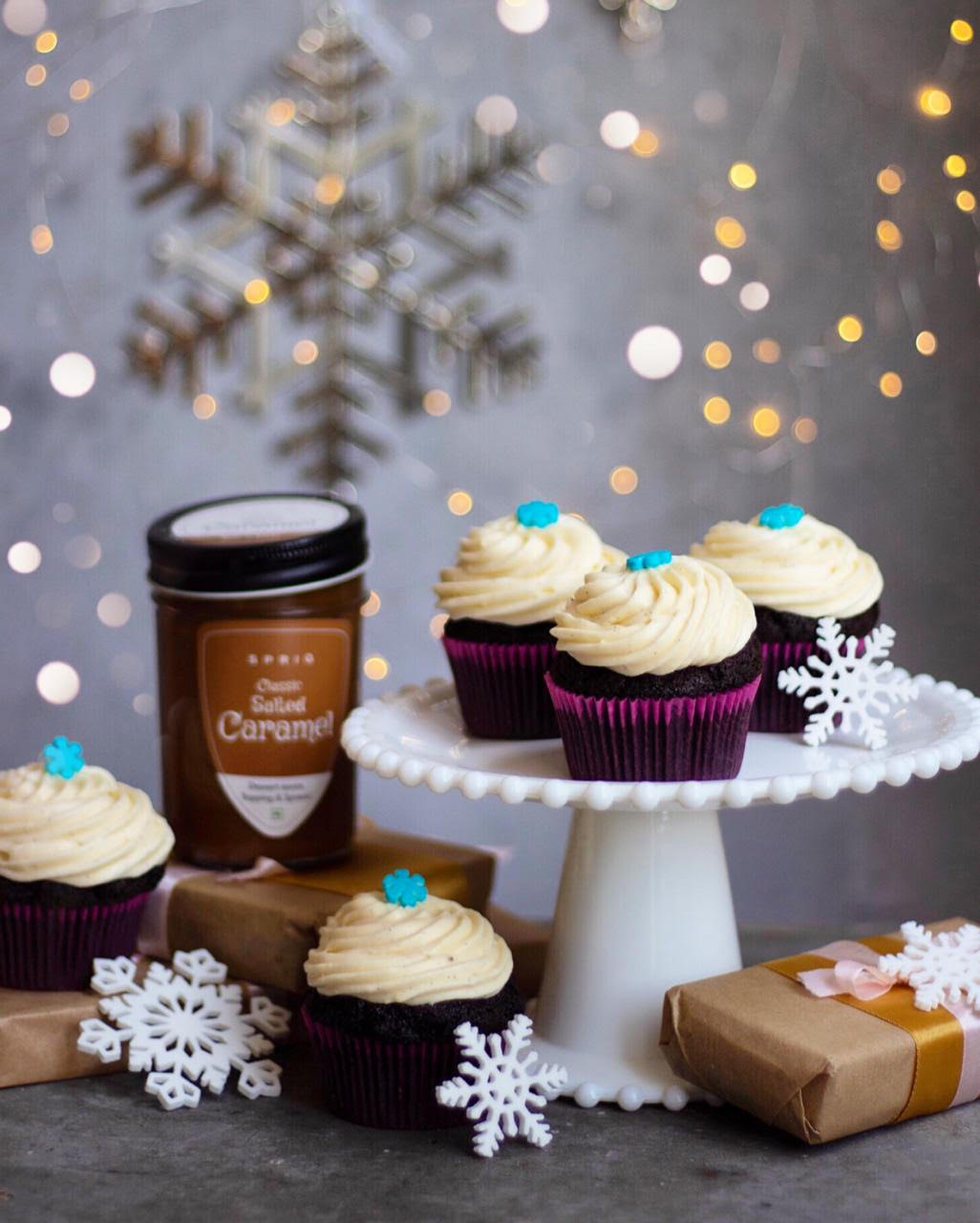 I probably have said it a zillion times and I'm going to say it once more that I am in love with winters and the season of Christmas. This season gives me an opportunity to cosy up with all the desserts that I bake and here's one more desert- Chocolate Caramel Cupcakes! I have also put together a list of
10 desserts to try this Christmas
that I'd love for you all to bake! I've been using SPRIG products for the longest time now and I'm always impressed by the quality of their ingredients. My favourite is their vanilla beans from Madagascar that I use in almost everything I bake. Their salted caramel has made my life easier and I make sure I have at least one jar in the fridge all the time I hope you guys like these Chocolate Caramel Cupcakes as much as I do! You could also try other cupcake recipes I have on the blog-
FESTIVE CHOCOLATE CARAMEL CUPCAKES
Ingredients
CAKE
1½ cups (180g) all purpose flour
¾ cups (75g) cocoa powder
½ tsp (3g) baking soda
1 tsp (4g) baking powder
¾ cup (180mL) vegetable oil
1½ cups (300g) sugar
1 cup (285g) greek yogurt or hung curd
2 tbsp (50g) Sprig Salted Caramel
½ tsp (2.5mL) vanilla extract
a pinch of salt
FROSTING
1 cup (225gm) cream cheese, softened
½ cup (100gm) butter, softened
seeds from half Sprig vanilla pod
1 + ½ cup (180g) icing sugar, sifted
Instructions
Pre-heat the oven to 170C. Line a cupcake tray with cupcake liners.
Whisk cocoa, flour, salt, baking soda and baking powder into a bowl
In a large bowl, beat oil with sugar.
Add curd, one at a time and mix well after each addition
Add Sprig Salted Caramel
Beat in vanilla using mixer at low
Add the flour mixture to the wet ingredients. Beat until smooth
Pour the batter into cupcake pans and bake until a toothpick inserted in the center comes out clean
To make the frosting, beat the butter, cream cheese and vanilla together until the mixture is light and fluffy.
While the mixture is still running, add the sugar in parts. Beat until the frosting is smooth and fluffy.
Generously top the cupcakes with frosting once they have cooled completely.