We all love chocolate cupcakes, don't we? These chocolate cupcakes with cream-cheese frosting are unbelievably good. I love the texture and richness of these cupcakes. It's such a simple recipe but the result is super yum. I hate to admit it but I did end up eating more than half of the batch I made. Either I have zero self control or these cupcakes are too good to be resisted. Make them in your kitchen and tell me what you think.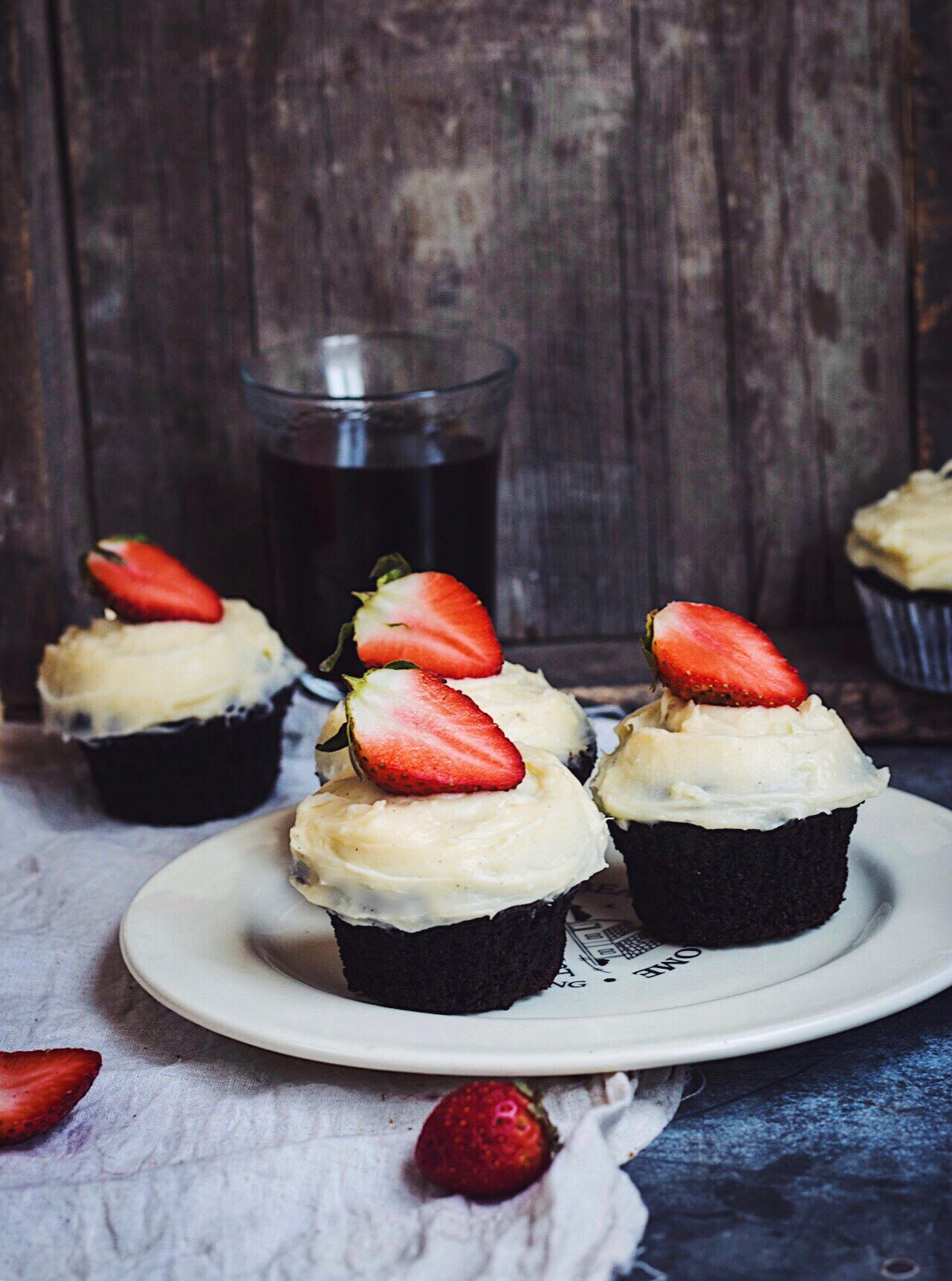 I think cupcakes make for perfect presents, especially when they're homemade. Since, we're in the valentine month, I though it'd be a good idea to share this recipe now. The recipe is easy to follow and I bet you can make the most delicious chocolate cupcakes, even if you're not a baking pro.
How to make Moist Chocolate cupcakes
These chocolate cupcakes are fairly easy to make. They're super moist and chocolatey, and an instant mood lifter! I use my basic chocolate cake recipe to make these, and top it with a simple cream cheese frosting. One thing you should keep in mind while making cupcakes is to not overfill the liners. Leave space for it to rise. Use good quality cupcake liners. Fill 2/3rd of each liner with batter. Equally distribute batter within each mould, I like to use an ice cream scoop for this.
Can I make these cupcakes without eggs?
You can make these cupcakes eggless by substituting eggs with Greek yogurt. I like using Greek yogurt instead of regular dahi because homemade curd is usually very watery. If you don't have Greek yogurt, you can use market bought curd or hung curd. Just get rid of all the extra water and use only thick curd for this recipe. Follow my recipe for the Easiest Eggless Chocolate Cake instead of this one, if you do not wish to use eggs.
Frosting the chocolate cupcakes
When it comes to frosting, there are several options but my favorite is the cream cheese frosting. I flavor it using seeds from a fresh and plump vanilla bean. I'd highly recommend using a vanilla bean but if you can't get your hands on it, you can also use pure vanilla extract. I use Britannia cream-cheese for this recipe. Philadelphia cream-cheese is also a great but a more expensive option.
Allow your cupcakes to cool completely before you start frosting them, you do not want the frosting to melt! You should also try to cover the top of the cupcake entirely with frosting. This locks in moisture in the cupcake, and it does not get dry! Besides, who doesn't like extra frosting, haha! You should also check out my post on Tips to get your cupcakes right, I'm sure it'll be helpful!
CHOCOLATE CUPCAKES WITH CREAM-CHEESE FROSTING
Ingredients
CAKE
1½ cups all purpose flour
¾ cups cocoa powder
½ tsp baking soda
1 tsp baking powder
¾ cup vegetable oil
1½ cups sugar
2 eggs
½ tsp vanilla extract
¾ cup milk + 1 tsp white vinegar, mixed together and rested for at least 5 minutes
a pinch of salt
FROSTING
1 cup (225gm) cream cheese, softened
½ cup (100gm) butter, softened
seeds from half vanilla pod
1 + ½ cup icing sugar, sifted
Instructions
Pre-heat the oven to 170C. Line a cupcake tray with cupcake liners.
Whisk cocoa, flour, salt, baking soda and baking powder into a bowl
In a large bowl, beat oil with sugar.
Add eggs, one at a time and mix well after each addition
Beat in vanilla using mixer at low
Add the flour mixture to the wet ingredients alternating with milk, starting and ending with flour mixture. Beat until smooth
Pour the batter into cupcake pans and bake until a toothpick inserted in the center comes out clean
To make the frosting, beat the butter, cream cheese and vanilla together until the mixture is light and fluffy.
While the mixture is still running, add the sugar in parts. Beat until the frosting is smooth and fluffy.
Generously top the cupcakes with frosting once they have cooled completely.