Chocolate cake is the first dessert that I got right when I started baking. It soon became my one of my favorite desserts to bake and continues to remain so. I love baking it because it is so simple and everyone enjoys eating it. However I'd not make an eggless one before. My readers have been asking me to share the recipe of the best homemade easiest eggless chocolate cake that is also easy to make. Trust me guys, eggless doesn't get yummier or easier than this! This chocolate cake is dark, decadent, moist, easy to bake and eggless- everything you want.
Chocolate cake is definitely a crowd-pleaser that everyone loves. No surprises here- the "Back to Basic Chocolate Cake" recipe is the most popular recipe on my blog. So many of you have made it in your kitchens and have loved the results. There is also a vegan chocolate cake recipe.
Ingredients for best homemade eggless chocolate cake
To make this delicious chocolate cake at home, you only need a few simple ingredients. I use maida to make this cake. I recommend using castor sugar instead of granulated sugar because granulated sugar does not melt completely in the oven. For this eggless cake, you also need vegetable oil. You can also use oilve oil. Do not use any strong oil like mustard oil. If you want to make this cake with butter, you can replace oil with equal quantity of softened butter. As simple as that! This is truly a very easy to bake chocolate cake. Using a good quality cocoa powder is very important. I personally really like using Hershey's but you can use any good dark cocoa powder.
Method to bake the perfect eggless chocolate cake at home
The egg substitute here is Greek yogurt. I like using Greek yogurt instead of regular dahi because homemade curd is usually very watery. If you don't have Greek yogurt, you can use market bought curd or hung curd. Just get rid of all the extra water and use only thick curd for this recipe. A lot of eggless chocolate sponge cake recipes call for condensed milk but I don't prefer using that as it makes the cakes very sweet.
Tip to bake easiest eggless chocolate cake in microwave
Want to bake an eggless chocolate cake recipe in microwave?  All you have to do while baking this cake in the microwave is to reduce the baking time by 25%. So in the microwave this will only take 22-25 minutes at 180*C. Everything else remains the same.
Baking tips
Before making this eggless chocolate cake, make sure you line your baking tin with parchment paper. If you don't have parchment paper, you can brush the pan generously with melted butter/ oil.
Make sure all your ingredients, including milk, are at room temperature. This is important because room temperature ingredients emulsify better.
While combining dry and wet ingredients, be sure to NOT over-mix. By over-mixing, you will knock out all the air and land up with a dense cake. Simply use an offset spatula and gently fold the dry ingredients into the wet ingredients.
I add vinegar to the milk before adding it to the batter because it makes the cake softer but if you don't have white vinegar you can skip that.
Let the cake cool completely before you start frosting it.
You can eat this cake as it is or top it with frosting. You can either use a vanilla bean buttercream frosting or cream-cheese frosting. If you bake this eggless chocolate cake at home, don't forget to share pictures with me by using #BAKEWITHSHIVESH. Happy Baking!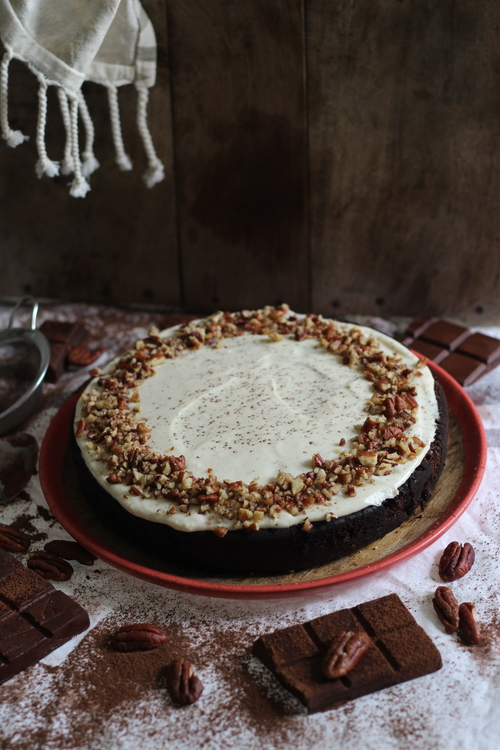 EASIEST EGG LESS CHOCOLATE CAKE
Ingredients
1 + ½ cups maida (all purpose flour)- 180g
¾ cups cocoa powder- 75g
½ tsp baking soda -3g
1 tsp baking powder- 4g
¾ cup vegetable oil- 180mL
1 + ½ cups castor sugar -300g
1 cup Greek yogurt ( or curd hung over night)- 285g
½ tsp vanilla extract- 2.5mL
½ cup milk + 1 tsp white vinegar, mixed and rested for 5 minutes -120mL + 5mL
a pinch of salt
Instructions
Pre-heat the oven to 180*C. Line a 9" baking pan with parchment paper.
Whisk cocoa, flour, salt, baking soda and baking powder into a bowl
In a large bowl, beat together oil and sugar until the mixture is pale and light
Add yogurt and mix well.
Beat in vanilla using mixer at low.
Add the flour mixture to the wet ingredients alternating with milk, starting and ending with flour mixture. Mix only until well combined. Don't over mix.
Pour the batter into the pan and bake at 180*C for 30 minutes or until a toothpick inserted in the center comes out clean