The best way to start your day is with a yummy breakfast. Unfortunately, I end up missing my breakfast almost everyday, simply because I'm always late for college. But on weekends and on other days, when I don't have college, I make sure I treat myself to my favourite breakfast- pancakes!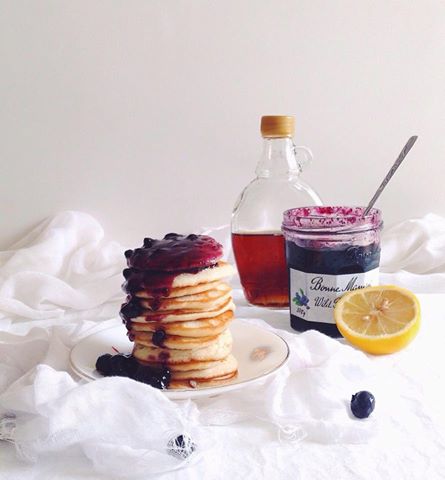 I keep posting pictures of pancakes on my Instagram and people keep telling me to share the recipe. I've finally decided to not be lazy any more and tell you everything I know about pancakes- how I make and serve them.
Here is a complete guide on how to make the perfect pancakes. Let's get pancaking!
Psst- If you enjoy reading this post, don't forget to hit the like button below the recipe and leave your feedback in the comments section. Thanks!
TIPS TO KEEP IN MIND WHILE MAKING PANCAKES
Make sure all your ingredients are at room temperature- do not use cold eggs, milk or butter.
Mix your dry ingredients and wet ingredients separately before combining. This allows you to combine all your ingredients evenly.
Do NOT over-mix while combining your dry and wet ingredients. Using a spatula, carefully fold your wet ingredients into your dry ingredients and mix only until you get rid of big flour pockets. Over mixing will lead to formation of gluten which will make your pancakes dense and chewy. Remember- lumps are okay but over-mixing is not!
Always use a heavy bottomed pan to make your pancakes. You don't want to burn 'em. Also, never turn your flame to high while making pancakes. Be patient and let your pancakes their own sweet time.
Flip your pancake only when the underside is browned and the bubbles on the top have popped. Remember to flip your pancake gently.
Pancakes taste the best when they're warm. Take your cooked pancake off the heat and serve. What are you waiting for?
RECIPE-
INGREDIENTS-
1 + 1/4 cup milk
1 tablespoon fresh lemon juice
1 + 1/2 cup all purpose flour
1 tablespoon baking powder
3 tablespoons white granulated sugar
a pinch of salt
2 large eggs
3 table spoons unsalted butter
1 teaspoon vanilla extract
PROCEDURE
Combine milk and lemon juice. Let the mixture rest.
In a small bowl, whisk together flour, sugar, salt and baking powder.
In another bowl, whisk the eggs and add in the milk and lemon mixture.
Stir in the vanilla extract
Melt the butter on the pan and add to the milk and eggs mixture.
Add wet ingredients to dry ingredients and carefully mix until a thick batter forms.
Keeping the pan on medium heat, ladle about 1/4 cup of the better on the pan to make the pancake.
Cook for about two minutes and gently flip. Cook on the other side for one minute. Make more pancakes by following the same instructions.
SERVING IDEAS
This is how I enjoy my pancakes
Go the classic way and serve with honey/ maple syrup
Serve with berry preserve and whipped cream
Chocolate syrup and chocolate chips
With fruits- oranges, kiwis, apples dipped in lemon juice and cinnamon.
With peanut butter and bananas
With Vanilla ice-cream.