I love baking cakes that remind me of why I started baking in the first place. And nothing fits the idea better than a basic eggless vanilla sponge cake that requires minimal ingredients and is perfect for all types of occasions! This has to be my favorite eggless recipes and definitely one of the best on the website.
For the longest time, eggless recipes have been the most frequently asked-for recipes on my Instagram as well as the blog and this back to basics eggless vanilla sponge cake recipe is one recipe that you should bookmark as it is simple, easy and super delicious. Making eggless cakes is a unique process because of the egg substitutes, but the results are equally tasty. Top it up with some fancy Vanilla Buttercream or keep it simple with a simple spread of chocolate ganache – this cake will surely be a delight!
This eggless vanilla sponge cake is
light
fluffy
simple to make
does not need condensed milk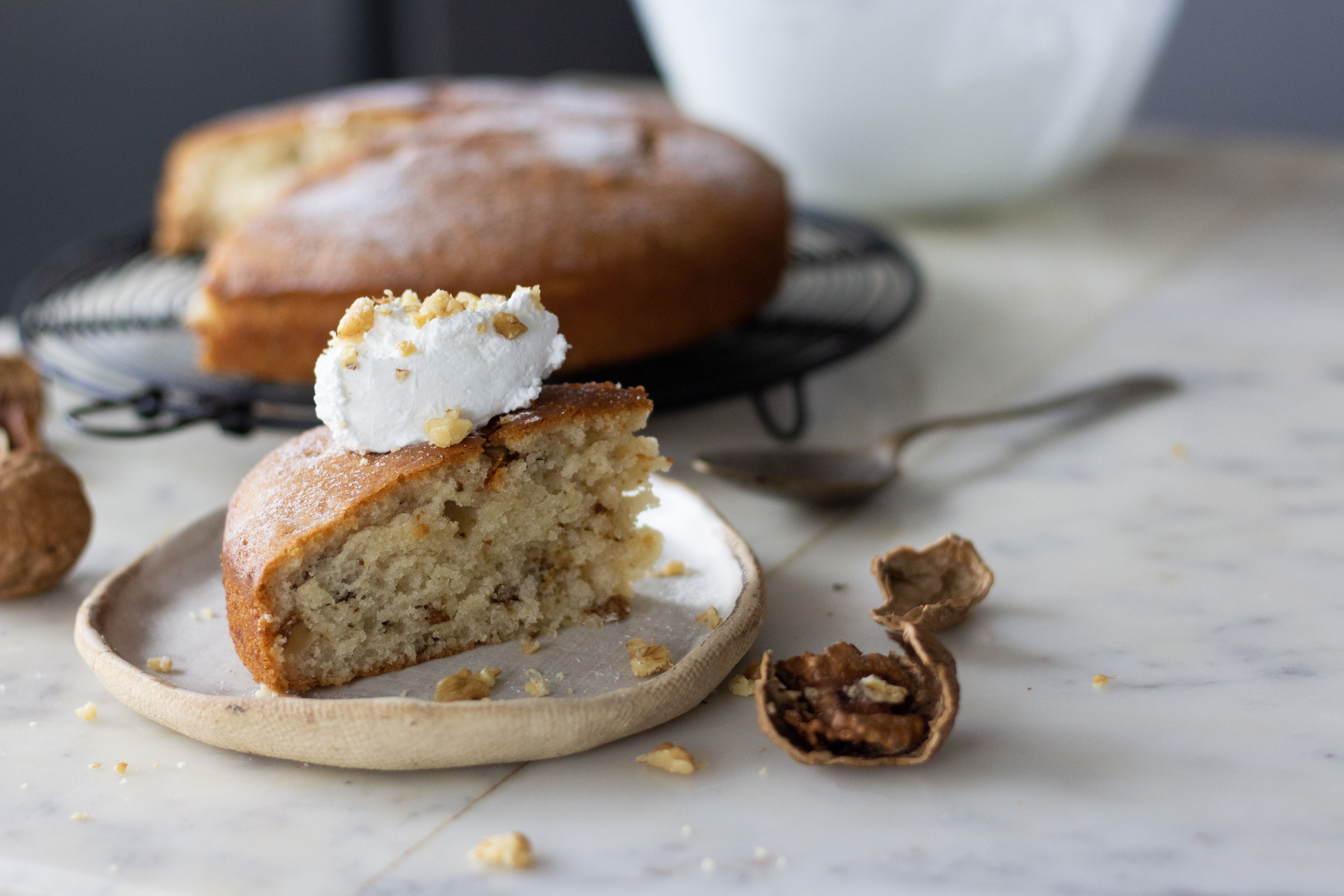 Ingredients for this Eggless Vanilla Sponge Cake
Traditionally, a sponge cake has both egg whites and egg yolks whipped in it separately. This is what makes a it airy and light. Since this is an eggless recipe, I used yogurt instead of eggs. Yogurt is a great alternative and one of the most common ingredients used as a substitute for eggs. It gives the cake a very similar texture and makes it fluffy and light.
Wondering about more egg substitutes? There is an entire blog post dedicated to that and I know it will give you a better understanding of the entire thing!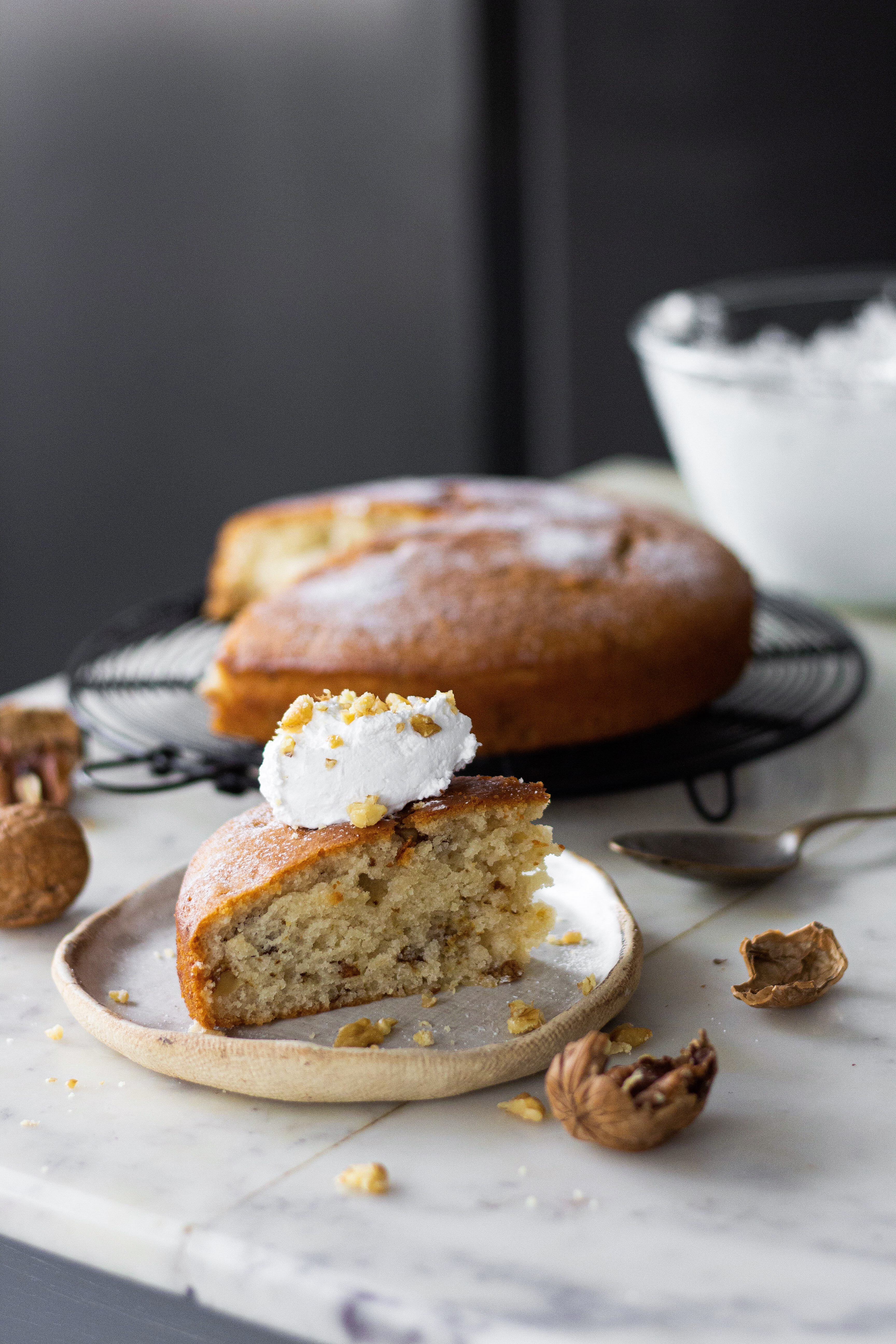 Baking tips to get your Eggless Vanilla Sponge Cake right
Before making this eggless vanilla sponge cake, make sure you line your baking tin with parchment paper. If you don't have parchment paper, you can brush the pan generously with melted butter/ oil.
Make sure all your ingredients, including yogurt, are at room temperature. This is important because room temperature ingredients emulsify better.
While combining dry and wet ingredients, be sure to NOT over-mix. By over-mixing, you will knock out all the air and land up with a dense cake. Simply use an offset spatula and gently fold the dry ingredients into the wet ingredients.
Let the cake cool completely before you start frosting it.
In case you are a beginner at baking, you can always check out the Baking tips for beginners article on the blog to know and understand concepts better.
Eggless Vanilla Sponge Cake Recipe
Eggless Vanilla Sponge Cake
Ingredients
1 + ½ cups (180g) all purpose flour (maida)
1 teaspoon (4g) baking powder
1 cup (285g) yogurt
½ teaspoon (3g) baking soda
¾ cup (150g) castor sugar
½ cup (120mL) vegetable 0il
1 teaspoon (5mL) Vanilla Extract or Vanilla beans
½ cup (63g) crushed walnuts
Instructions
Pre -heat the oven to 180 degree C and line an 8 inch round cake pan with parchment paper.
In a bowl whisk together flour and baking powder and set a side.
In a separate bowl add the yogurt and sprinkle baking soda over it and set it aside to foam up.
Whisk together castor sugar and oil in a separate bowl until pale and well combined.
Now pour the yogurt mixture to the oil and sugar mixture and mix well.
Add the vanilla extract.
Gently fold in the flour and mix until everything is well combined there are no large flour pockets in the batter. Do not over mix at this stage.
Fold the walnuts in the batter and transfer the batter to the prepared cake pan.
Bake at 180C for 30-35 minutes or only until a skewer inserted in the center comes out clean.
More eggless recipes on the blog
If you bake this eggless vanilla sponge cake at home, don't forget to share pictures with me by using #BAKEWITHSHIVESH. Happy Baking!