Eggless Vanilla Sponge Cake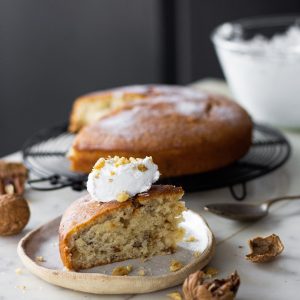 1 + ½ cups (180g) all purpose flour (maida)
1 teaspoon (4g) baking powder
1 cup (285g) yogurt
½ teaspoon (3g) baking soda
¾ cup (150g) castor sugar
½ cup (120mL) vegetable 0il
1 teaspoon (5mL) Vanilla Extract or Vanilla beans
½ cup (63g) crushed walnuts
Pre -heat the oven to 180 degree C and line an 8 inch round cake pan with parchment paper.
In a bowl whisk together flour and baking powder and set a side.
In a separate bowl add the yogurt and sprinkle baking soda over it and set it aside to foam up.
Whisk together castor sugar and oil in a separate bowl until pale and well combined.
Now pour the yogurt mixture to the oil and sugar mixture and mix well.
Add the vanilla extract.
Gently fold in the flour and mix until everything is well combined there are no large flour pockets in the batter. Do not over mix at this stage.
Fold the walnuts in the batter and transfer the batter to the prepared cake pan.
Bake at 180C for 30-35 minutes or only until a skewer inserted in the center comes out clean.
Recipe by
Bake with Shivesh
at https://bakewithshivesh.com/eggless-vanilla-sponge-cake-recipe/