This eggless banana chocolate upside down cake has a beautiful layer of bananas and a delicious eggless chocolate sponge. I have made an upside down banana cake but that didn't have any chocolate. Banana and chocolate cake form such an incredible combination and I love them together. Also, have you made my triple chocolate banana bread yet? If not, you should definitely check that out!
If you bake this cake at home, please don't forget to share a picture with me on my Instagram using #BakeWithShivesh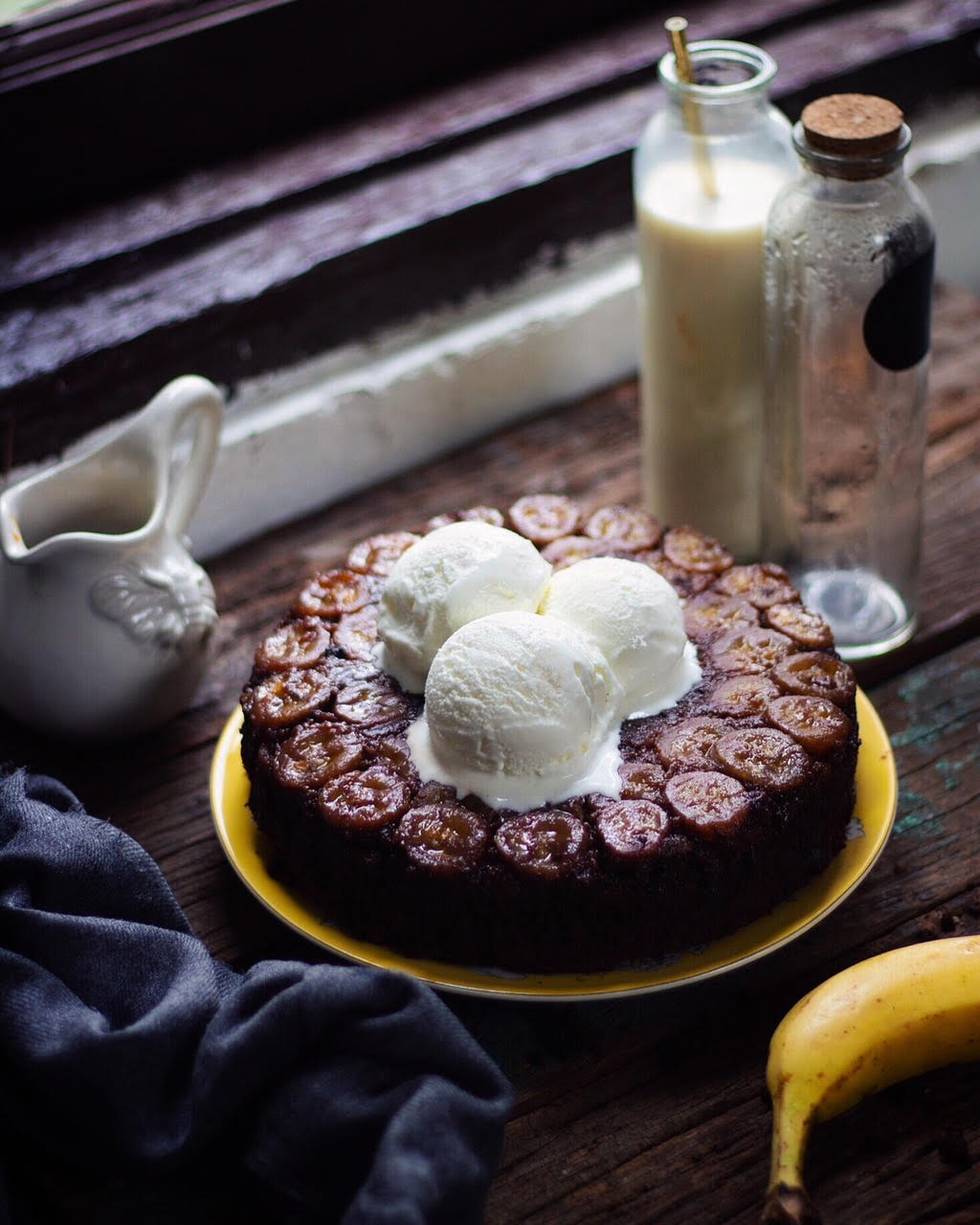 Eggless banana chocolate upside down cake ingredients
Both chocolate and banana are classic comfort ingredients. They go perfectly well together to create a cake that tastes as good as it looks! What is even better about this recipe is the fact that is it eggless! I have used greek yogurt in this recipe instead of eggs. The chocolate sponge is super moist and decadent. The sliced bananas drenched in golden syrup make the cake appear so stunning!
Easy eggless chocolate sponge from scratch
This eggless banana chocolate upside down cake has a rich and moist chocolate cake as its base. In order to make the sponge eggless, I use greek yogurt. I also use oil instead of butter, which makes the sponge extra soft. You should sift flour and cocoa powder together before adding to the wet ingredients. Not only does this get rid of any lumps that you would likely find in cocoa powder, it will also make the sponge light and airy.
Can I use curd instead of Greek yogurt?
The purpose of curd or greek yogurt in eggless cakes is to keep the texture of the final product moist, and provide an acidic medium to makes sure that baking soda has something to react with. Greek yogurt, in eggless baking, has a dual purpose of providing fat and the acidic medium. So if you can lay hands on Greek yogurt, try using that. Alternatively, you can use curd hung overnight, so that all excess water is drained from it and it reaches a thicker consistency.
Eggless banana chocolate upside down cake recipe
Eggless Banana Chocolate Upside Down Cake
Ingredients
¼ cup (90g) golden syrup
3 bananas sliced
1 + ½ cups (180g) all purpose flour
¾ cups (75g) cocoa powder
½ tsp (3g) baking soda
1 tsp (4g) baking powder
¾ cup (180ml) oil
1 + ½ cups (300g) castor sugar
1 cup (285g) Greek yogurt (or curd hung over night)
½ tsp (3ml) vanilla extract
½ cup (120ml) milk
Instructions
Pre-heat the oven to 180C. Line a 9″round cake pan with parchment paper.
Spread the golden syrup on the parchment paper in an even layer. Arrange the banana slices on the golden syrup.
To make the cake batter, whisk together cocoa, flour,  baking soda and baking powder.
In a large bowl, beat together oil and sugar until the mixture is pale and light
Add yogurt and mix well.
Beat in vanilla using mixer at low.
Add the flour mixture to the wet ingredients alternating with milk, starting and ending with flour mixture. Mix only until well combined. Don't over mix.
Pour the batter into the pan on the banana slices and bake at 180 C for 30 minutes or until a skewer inserted in the center comes out clean.
Once the cake has cooled completely, release it from the edges and flip it upside down onto a plate/ cake stand