Chocolate ganache is one of the most delicious and easiest things that you can whip up in absolutely no time! It's smooth, velvet-y consistency is dream like. The best part about chocolate ganache is it's versatility. You can use it to frost cakes and cupcakes. You can also use it as a filling for tarts or make truffles, the list goes as far as your imagination! Also, did I mention that it requires only two ingredients? Yes, you read it right! A combination of only chocolate and cream produces the most beautiful ganache that you wouldn't stop obsessing over! If you want to make the perfect chocolate ganache, I've got you covered!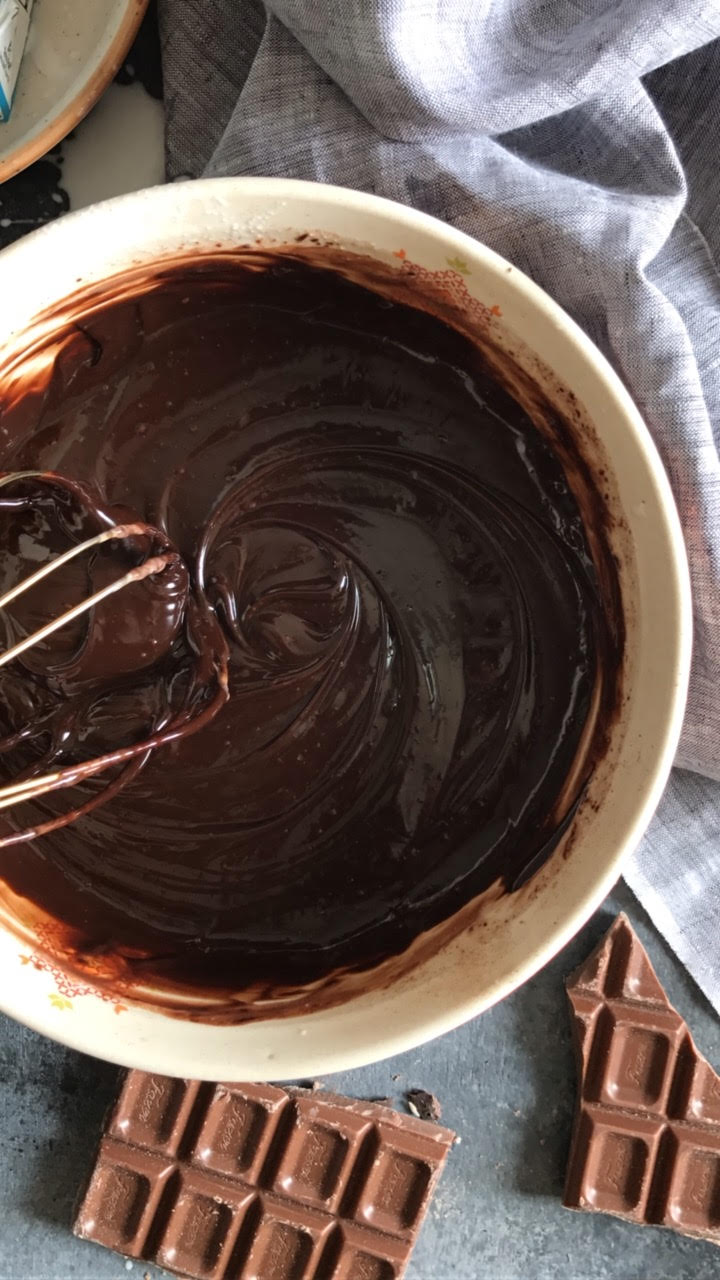 Ingredients for chocolate ganache
To make the perfect chocolate ganache, you only need good quality chocolate and cream. I suggest you use the best quality chocolate available to you to make this recipe. Since chocolate is the determining ingredient here, do not compromise on flavour and quality. I normally use a 57% dark chocolate to make my chocolate ganache. Use a chocolate whose taste you love, because that is how your ganache would taste. I have a post on Choosing the right chocolate on the blog that you should read before you proceed! 
The higher the fat content of the cream, the richer your ganache will be! You could use any cream, heavy or fresh! You could also try experimenting with both and see which one you like! I usually make my ganache with regular fresh cream. Now that we're sorted with the ingredients, lets move on and see how to make the perfect chocolate ganache!
How to make the perfect chocolate ganache
We follow a standard 1:1 ratio for making chocolate ganache. Please note that this ratio is with respect to quantity in grams and not in cups. The weight of chocolate in grams should be equal to the weight of the cream in grams. 
Ingredients-
200g roughly chopped chocolate
200g cream
Procedure-
Coarsely chop chocolate and transfer to a heatproof bowl.
Pour cream into a saucepan and set it over medium heat.
Bring cream to a simmer. It is important that you not let it boil.

 

Pour hot cream over roughly chopped chocolate and let sit undisturbed for 5 minutes.

 

Whisk the mixture until smooth and creamy.
Tools you need to make chocolate ganache
Haven't I emphasised enough upon how simple this recipe is? You do not need any fancy equipment to be able to make this ganache. A bowl and a whisk is all you need! The hot cream melts the chocolate partially, and all you need for it all to come together is a whisk! 
How to use Chocolate Ganache
The consistency of the ganache will be very soft and almost runny as soon as you prepare it. Let it rest on the counter for a while or refrigerate it for around 30 minutes. This would make the ganache firmer and of pipeable consistency. You can use chocolate ganache to frost cakes and cupcakes, fill tarts or make truffles! I have so many recipes on the blog that I use chocolate ganache in! The 4 Layer Chocolate Cake Tiramisu, Eggless Gluten-free Chocolate Pecan Tart and Chocolate Truffles are some of the most popular recipes that I'd love for you all to try out! 
General Tips to keep in mind while making chocolate ganache
Use the highest quality ingredients available.
Do not boil the cream. Pouring boiling cream over chocolate is likely to burn it, and we do not want that!
Try using a baking chocolate bar instead of chocolate chips. Chips have added ingredients that make them more resilient to higher temperatures and help them keep their shape.

 

It may initially seem that the chopped chocolate and cream do not want to come together, but keep on whisking. Trust me, it will all come together into a glorious, silky chocolate ganache!