Can't believe it's been 5 months since the release of my book, Bake With Shivesh. The response to the book has been incredible and I can't thank you enough for supporting me. BIG hug and lots of love to each one of you who picked a copy of the book.  For those who don't have a copy yet, I thought I'll share one of my favorite recipes from the book- eggless and gluten free orange tarts!
Also, I hope you have already subscribed to my new YouTube channel! I share a new video there every Friday. So if you prefer watching recipes, you know where to head.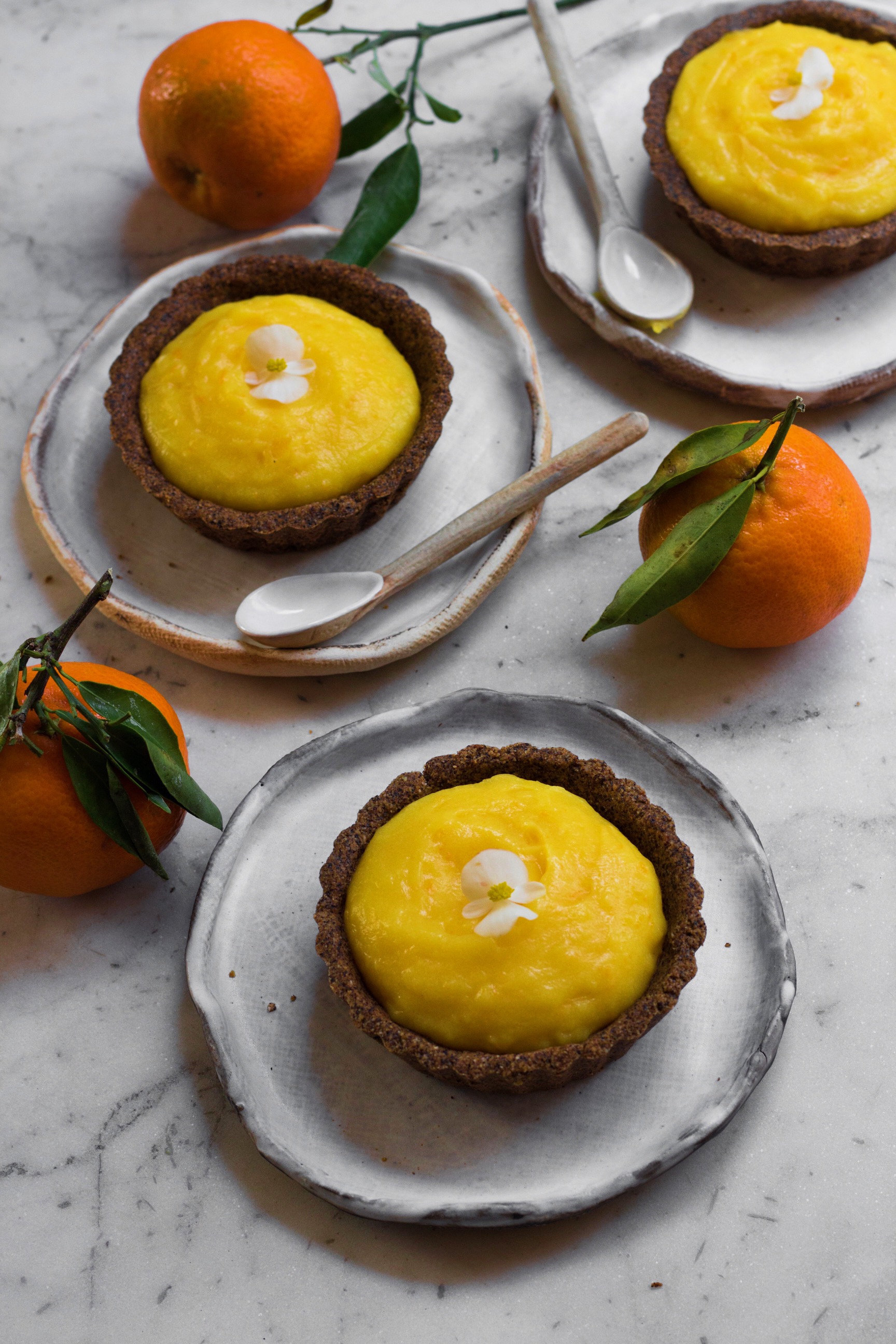 Shell of eggless and gluten free orange tarts:
I make the shell of these orange tarts with oats and quinoa. I use black quinoa but you can use white quinoa also. I also use maple syrup to sweeten the tart shell instead of using refined sugar entirely. So here you go, you have a refined flour free tart shell recipe, that is packed with the goodness of oats and quinoa. Oh, quinoa reminds me, have you tried my gluten free quinoa brownies yet? SO good! I simply process all the ingredients in a food processor. Super simple, guilt free and very delicious.
Filling of eggless and gluten free orange tarts:
This is the first time I made eggless orange curd and I was blown away by it's consistency and taste. It was perfectly thick and very flavorful. The fresh flavor comes from orange zest and orange juice. To thicken the filling, I use custard powder and corn flour. All the ingredients needed to make the filling of these eggless and gluten free orange tarts are basic and easily available.
If you end up making these tarts at home, don't forget to share a picture with me on my Instagram using #BakeWithShivesh
More tart recipes to try: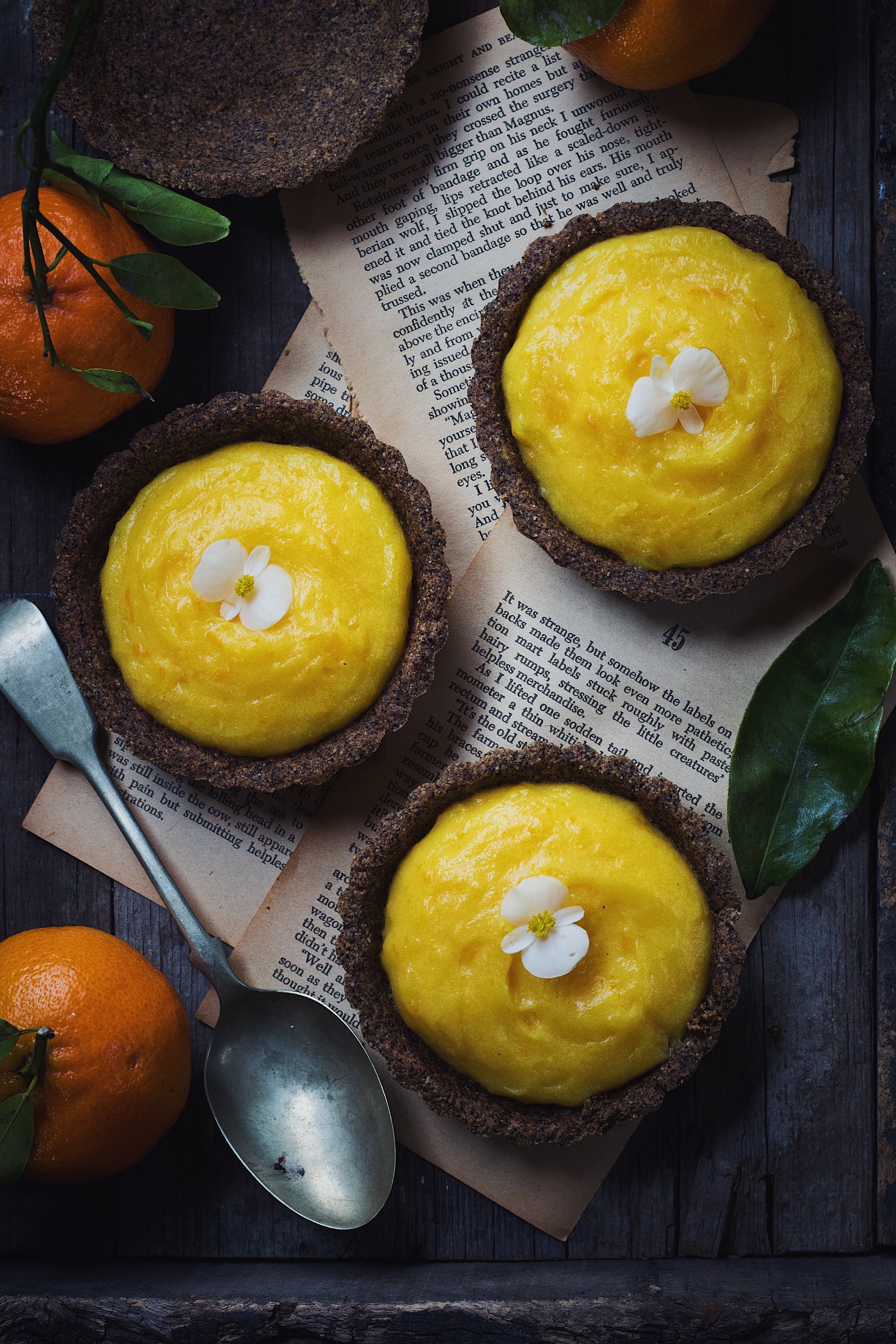 Eggless and Gluten-free Orange Tarts- recipe from my book
Ingredients
TART SHELL-
1 cup rolled oats
½ cup black quinoa
2 tablespoons brown sugar
4 tablespoons maple syrup
½ cup unsalted butter, melted
ORANGE CURD-
½ cup water
½ cup fresh orange juice
¼ cup granulated white sugar
2 tablespoons custard powder
1 tablespoon corn flour
1 tablespoon orange zest
2 tablespoons butter, softened
Instructions
Pre-heat the oven to 180C.
In a food processor, combine rolled oats, quinoa and brown sugar. Process until everything is finely ground
Add maple syrup and melted butter. Mix well until the dough begins to come together.
Press down the dough into four 2" tart pans or one 8" tart pan.
Let them rest in the refrigerator for 10-15 minutes.
Bake the tarts at 180 for 15 minutes.
Meanwhile, make the filling.
In a large sauce pan set over medium heat, cook orange juice, water and sugar until the sugar melts.
Add corn flour and custard powder. Mix vigorously to prevent lumps.
Bring the mixture to a boil It should be thick enough to coat the back of a spoon.
Turn off the heat and immediately add orange zest and butter. Mix well and make sure the butter is completely incorporated.
Let the filling cool at room temperature. Fill the tart shells with the orange curd.
Refrigerate for at least 30 minutes before serving