You guys love the fudgy chocolate brownies on the blog and some of you have also been asking for a healthier take on brownies. These healthy gluten-free quinoa brownies are equally delicious but do not call for refined flour. Instead, I use super grain- quinoa to make these yummy brownies. Quinoa is gluten-free, high in protein and high in fiber grain. From what I've read, as compared to other typical gluten-free ingredients like tapioca and rice flour, quinoa can increase the nutrient and antioxidant value significantly!
So using quinoa in these brownies not only make these brownies gluten-free but also healthier. What I also love about this recipe is that you only need one bowl to make it. You simply throw all the ingredients into one bowl and then 25 minutes later, you have the most delicious quinoa brownies. YES! These one-bowl healthy gluten free brownies are a dream come true, aren't they?
I love how these healthy gluten free quinoa brownies are-
dark
rich
decadent
one-bowl and easy to make
packed with quinoa
healthy
moist
fudgy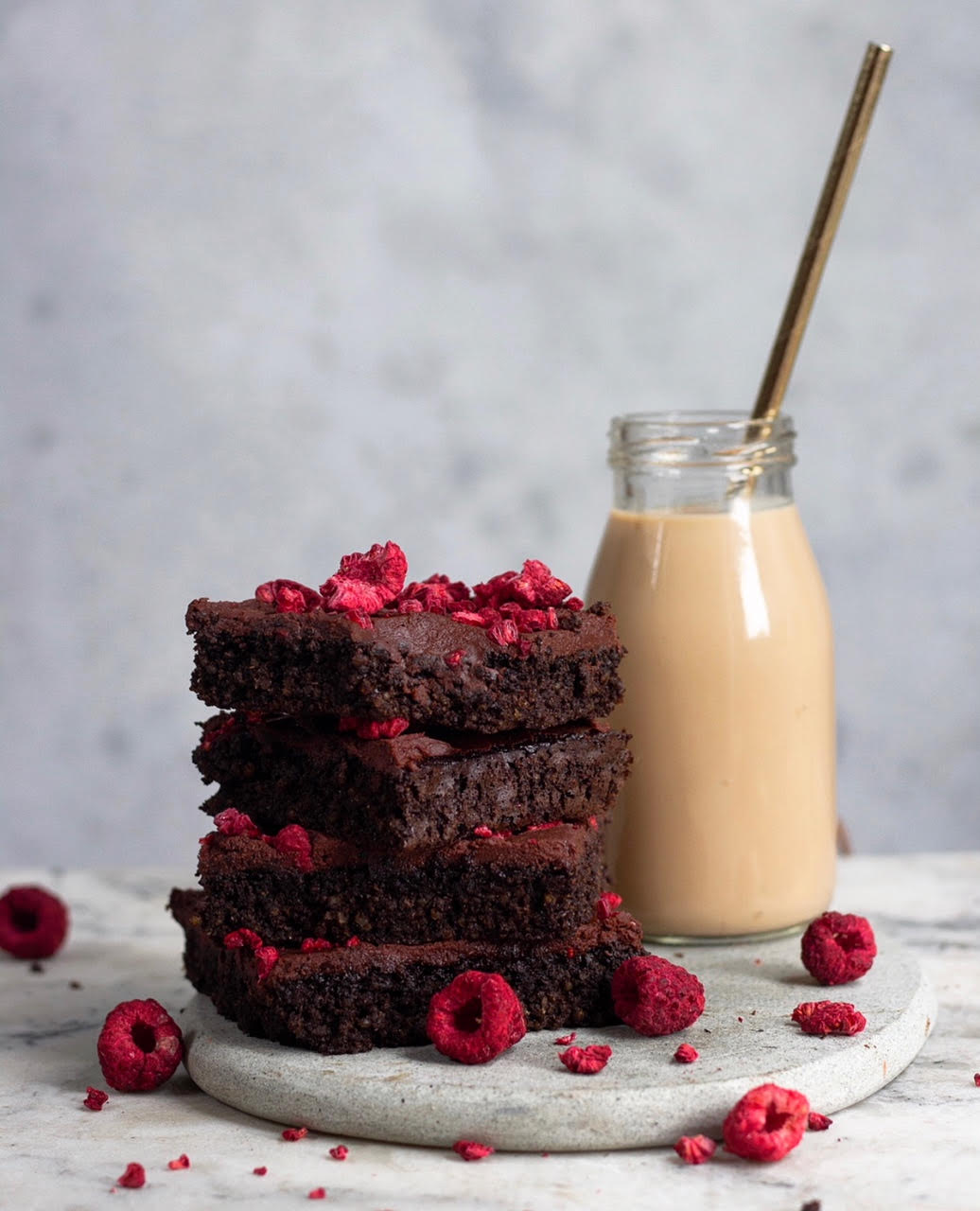 INGREDIENTS FOR HEALTHY GLUTEN FREE BROWNIES
The brownies do call for sugar, I agree but they are also packed with quinoa, which makes it acceptable to eat these brownies for breakfast ha ha. I usually use tapioca flour for my gluten free desserts, like for this gluten free banana bread but as I said, quinoa brings a lot of nutrition to this recipe. Boiled quinoa also gives these healthy brownies a very interesting melt in your mouth kind of texture, which I adore.
Please note that there is no substitute for egg in this recipe. You can also add half a teaspoon of coffee powder to lift the chocolaty flavor of these quinoa brownies.
 HOW TO MAKE GLUTEN FREE BROWNIES DAIRY FREE
If you are lactose intolerant, I'm happy to share that you can also make these gluten-free brownies dairy free by using soy milk instead of almond milk. Since you don't need to use butter for this recipe any way, it is very easy to make them dairy free with this one simple swap. So now you can also enjoy these healthy gluten free brownies without using any dairy.
I like to top these quinoa brownies with a generous layer of dark chocolate ganache because you can never have too much chocolate, right? If you make these brownies, don't forget to share the picture with me by using #BakeWithShivesh on social media channels.
HEALTHY GLUTEN FREE QUINOA BROWNIES
Ingredients
4 tablespoons (60mL) vegetable oil
¾ cup (150g) castor sugar
2 eggs
½ cup (93g) boiled Quinoa
½ cup (50g) cocoa powder
2 teaspoon (8g) baking powder
¼ cup (60mL) milk
Chocolate ganache
Freeze dried raspberries
Instructions
Preheat the oven to 180*C and line a 9X9 square pan with parchment paper. Leave extra on the edges to function as handles- that will help you pull out the brownies.
In a large bowl, combine oil and sugar. Best well for 2-3 minutes.
Add eggs and mix well so that everything is well incorporated.
Carefully fold in the boiled quinoa, cocoa powder, and baking powder.
Add in the milk and mix well until the batter comes together.
Pour the batter into the prepared pan and bake the brownies for 20-25 minutes until they are cooked through.
Once the brownies have cooled completely, cover it with dark chocolate ganache and top with freeze-dried raspberries.