I clearly love orange cakes. There are so many orange cake recipes on the blog and I really love them all. And now we have another addition to the long list of orange cake recipes on the blog. This orange cake with mascarpone frosting is fluffy, flavorful and very simple to make. The recipe uses orange juice and orange zest, both of which pack the cake with so much flavor. If you love easy to make orange desserts as much as I do, this orange cake with mascarpone frosting is for you!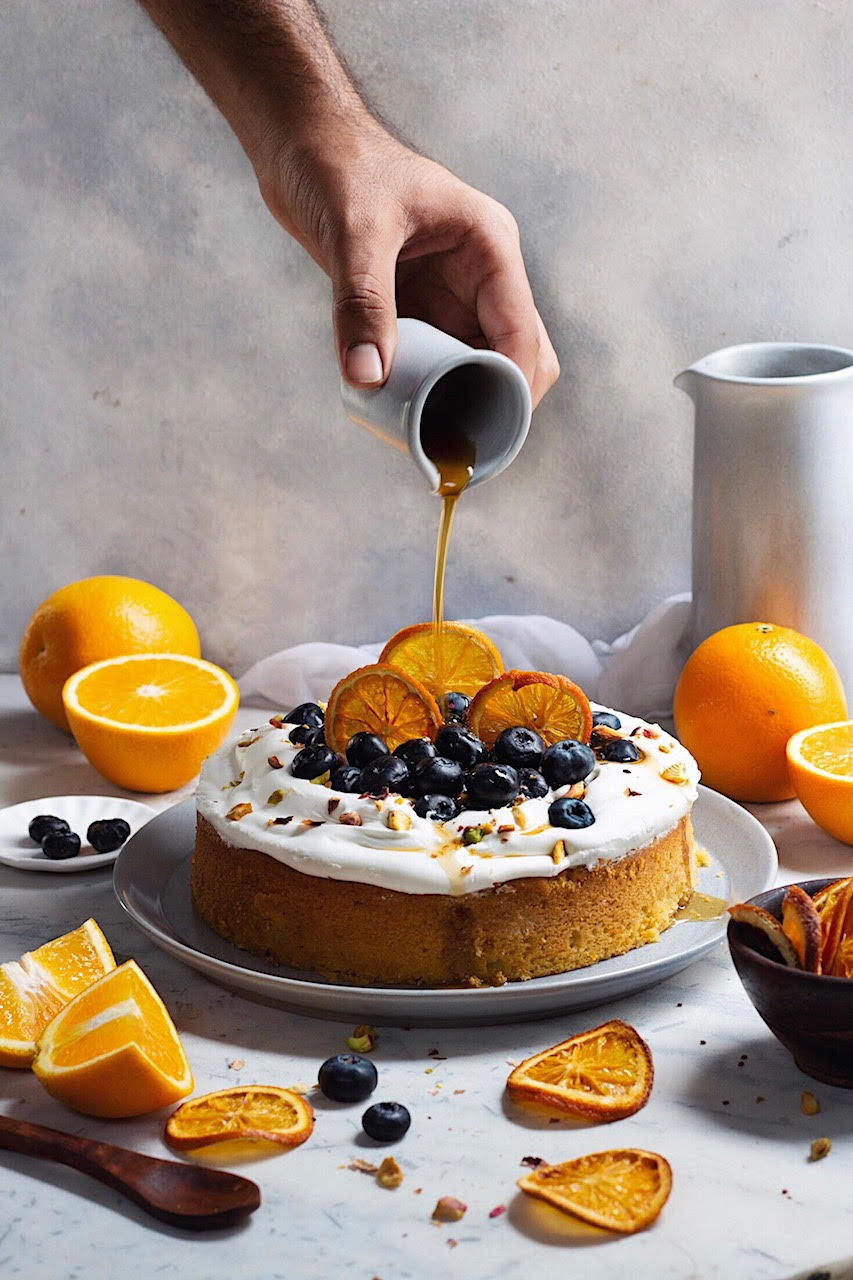 Looking for  more delicious orange desserts to try? Here is a list-
This orange cake with mascarpone frosting is light and fluffy and I'm sure you'd love the texture. I make this recipe using eggs and there is NO substitute here. However, you can use my vegan orange cake recipe if you're looking for an eggless orange cake.
Mascarpone cheese frosting for orange cake-
The frosting is simple but delicious- I fold in mascarpone cheese into some whipped cream for more flavor and creaminess. I absolutely love mascarpone cheese and recommend using Flanders brand. If you can not get your hands on mascarpone cheese, you can cover this gorgeous orange cake with cream cheese frosting ( click HERE for the recipe) or my vanilla bean butter cream frosting (click HERE for the recipe). By the way, this mascarpone cheese frosting would be so yum with my eggless carrot cake
Fluffy Orange cake recipe-
To make sure that your orange cake with mascarpone frosting is light and fluffy, make sure you do not over-mix the batter while combining the dry and wet ingredients. It is very important to simply use a spatula to gently fold in the dry ingredients and mix only until there are no big flour pockets. Over-mixing the batter at this stage will knock out all the air resulting in a dense and heavy cake.
If you end up making this orange cake with mascarpone frosting, don't forget to share pictures with me on my Instagram by using #BakeWithShivesh. I'd love to hear how the recipe turned out for you. Let's get started now!

ORANGE CAKE WITH MASCARPONE FROSTING
Ingredients
2 cups (240g) all purpose flour (maida)
2 teaspoons (8g) baking powder
½ teaspoon (3g) baking soda
1 tablespoon (6g) fresh orange zest
¾ cup (180mL) vegetable oil
1 cup (200g) castor sugar
4 eggs
¾ cup (180mL) fresh orange juice
FOR THE FROSTING-
½ cup (113g) lightly beaten mascarpone cheese
1 cup (225g) whipped cream
1 teaspoon (5mL) vanilla extract
Instructions
Pre- heat the oven to 180 degrees. Line a 9″ round cake pan with parchment.
In a  medium bowl, whisk flour, baking powder, baking soda and orange zest.
In a large bowl, using an electric mixer, beat oil and sugar until light and pale. With mixer on low, beat in eggs one at a time.
Alternately,  fold in flour mixture and orange juice, beginning and ending with flour mixture. Mix just until combined and do not over mix.
Pour the batter into the cake pan.
Smooth top using a spatula. Bake at 180C until an inserted toothpick comes out clean. It should take about 30-40 minutes.
For the frosting, fold in the mascarpone cheese and vanilla extract in the whipped cream. Once the cake has cooled completely, cover it with frosting. Decorate the cake with dehydrated orange slices and blueberries.
Your orange cake with mascarpone frosting is now ready!