I'm being shameless and calling this cake the best orange almond cake because it is the best cake I've baked in a while. I've been wanting to bake an orange almond cake for the longest time now. I baked one almost a year back. It was delicious but I never wrote down the recipe. Since then, an orange almond cake keeps popping up in my head. I finally made another one and guess what? This one is even better! And I even have the recipe this time for you guys. YAY!
INGREDIENTS FOR HOMEMADE ORANGE ALMOND CAKE
Orange and almonds are a great combination. I work with these flavors a lot. Remember my orange tarts with almond cream? The flavors of this cake is equally good and the texture is to die for. I use orange zest and orange juice in the batter for the flavour. I use maida/ all-purpose flour to make this orange almond cake but I also add ground almonds in the recipe for a very interesting texture. Simply throw in whole almonds, with their skin on, in the food processor and process them until I get finely ground almonds.
Make sure you do not process the almonds for too long otherwise you will land up with almond butter! Grounding almonds only takes a few seconds. I also top the cake with flaked almonds. If you do not have flaked almonds, you can top the cake with almond slivers. As you can tell by now, this cake is packed with orange and almond flavors! What is not to love?
HOW TO MAKE EGGLESS ORANGE ALMOND CAKE
I made the best ever orange almond cake using eggs but you can make an eggless version of the cake. You can use 2 cups greek yogurt as egg substitute in this recipe to make eggless orange almond cake. A lot of my readers have made the egg free version of this cake and absolutely loved it.
I like using Greek yogurt instead of regular dahi because homemade curd is usually very watery. If you don't have Greek yogurt, you can use market bought curd or hung curd. Just get rid of all the extra water and use only thick curd for this recipe. A lot of eggless sponge cake recipes call for condensed milk but I don't prefer using that as it makes the cakes very sweet.
HOW TO BAKE ORANGE ALMOND CAKE IN MICROWAVE
Looking for an eggless orange-almond cake recipe for microwave?  All you have to do while baking this cake in the microwave is to reduce the baking time by 25%. So in the microwave this will only take 22-25 minutes at 180*C. Everything else remains the same.
HOW LONG DOES ORANGE CAKE LAST
You can store the orange-almond cake in the refrigerator for up to 3 days. It is very important to ensure that you store the cake correctly. I have written a post on how to keep your cakes fresh. Make sure you keep these tips in mind while storing your orange almond cake.
CAN I FREEZE ORANGE ALMOND CAKE
You can plastic wrap the cake and store it in the freezer for up to one month. While you can freeze this orange almond cake and consume it later, nothing tastes better than a fresh cake. Make sure that before freezing the cake, you wrap it tightly in plastic wrap. You can defrost it and heat the orange almond cake before consuming it.
More orange desserts to try-
I'll also be sharing step by step making of this cake on my Instagram stories, so don't forget to follow me there. If you make this orange almond cake at home, don't forget to share a picture with me on my Instagram and use #BakeWithShivesh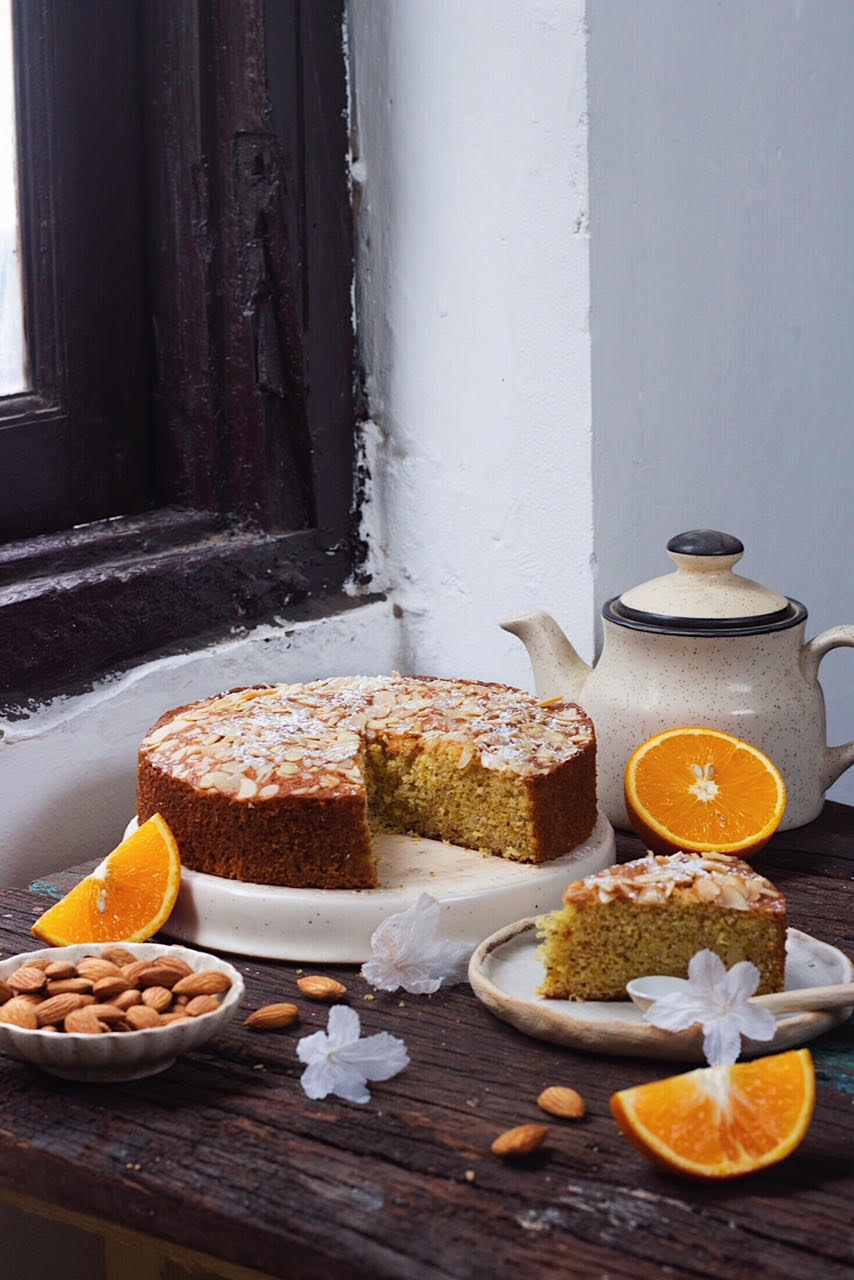 BEST EVER ORANGE ALMOND CAKE
Ingredients
1 + ½ cup (180gm) all-purpose flour
¾ cup ground almonds ( I ground them with the skin on)
2 teaspoons (8gm) baking powder
1 teaspoon (6gm) baking soda
1 teaspoon (2gm) fresh orange zest
½ cup (113gm) butter, softened
1 cup (200gm) caster sugar
4 eggs or 2 cups (570gm) Greek yogurt
1 teaspoon (5mL)vanilla extract/ 2 drops almond essence
½ cup (120 mL) fresh orange juice
½ cu (43g) flaked almonds
Instructions
Pre-heat the oven to 180*C. Line a 8" round cake pan with parchment paper.
In a bowl, whisk together flour, ground almonds, baking powder, baking soda and orange zest.
In a separate bowl, beat the butter with sugar until it is light and creamy.
Add the eggs- one at a time. Beat well after each addition.
Mix in the vanilla and the orange juice.
In batches, carefully fold the dry ingredients into the wet ingredients. Do not over mix. Mix only until everything is well combined.
Transfer the batter into the prepared pan. Top with flaked almonds.
Bake at 180C for 30-35 minutes or until a skewer inserted into the center comes out clean. Your best orange almond cake is now ready!