If you've been following my blog for a while, you would know I love making upside down cakes. They're just so much fun to make and really helps the fruit shine through- and I love that! This orange upside down cake is my new favorite. I love baking with oranges and I've made orange cakes before but never an upside down cake with them. It was time to change that and I did it.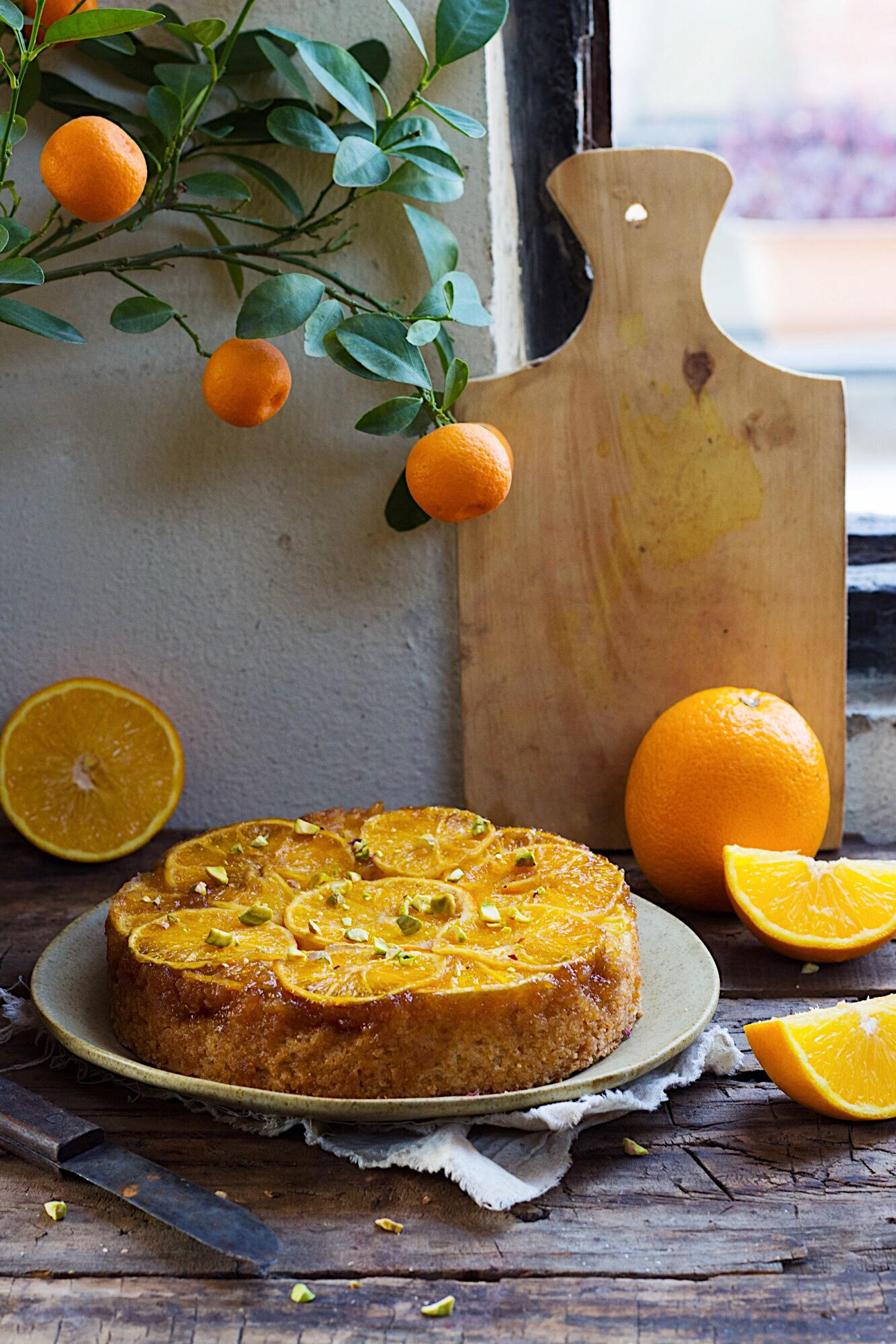 Before we talk about this orange upside down cake, here are some other recipes that I've shared on the blog in the past-
Now coming to today's dessert- this orange upside down cake is a delight. It's like sunshine in a cake pan. The only thing you need to make sure is to use an orange with thin skin like mandarian oranges or maltas. Also remember to slice it thinly and then get rid of the orange skin. I'd also recommend using a spring-form cake pan or a cake pan with separable bottom for this recipe.
INGREDIENTS-
melted butter, to brush
6-7 tablespoons soft brown sugar ( lightly packed brown sugar)
8-10 thin slices of orange ( get rid of the orange skin after slicing it)
2 cups all purpose flour
2 teaspoons baking powder
1 teaspoon baking soda
zest of one oange
3/4 cup vegetable oil
1 cup castor sugar
2 eggs
1/4 cup yogurt ( I used Epigamia's artisanal curd)
1/4 cup fresh orange juice
PROCEDURE-
Pre-heat the oven to 180C. Generously brush an 8″ spring form cake pan with butter
Evenly spread a thin layer of soft brown sugar at the bottom of the cake pan.
Arrange the orange slices on top of the brown sugar.
In a bowl, combine flour, baking powder, baking soda and orange zest.
In a separate bowl, beat vegetable oil with castor sugar.
Add eggs and mix well.
Mix in the yogurt.
Using a spatula, gently fold in the dry ingredients into the wet ingredients. Do not over mix but make sure there are no flour pockets.
Whisk in the fresh orange juice. Transfer the batter onto the orange slices carefully without disturbing them.
Bake at 180C for 40-45 minutes or until a skewer inserted into the center comes out clean.
Let the cake cool completely before releasing it from the cake pan and turning it upside down.