I love pineapple upside down cakes! It is easy to bake, super fun to whip up, and has so many textures and tastes to offer! While the cake is super moist and almost melts in your mouth, the pineapple has a different, more solid texture and it bursts in your mouth with the first bite. This is the third recipe variant of the pineapple upside down cake, haha! While this is the eggless recipe, you can also find the recipe with egg here.
Making an eggless pineapple upside down cake from scratch
I have substituted eggs with yogurt, which also offers the cake an extra smooth texture. Not only is yogurt an exceptional substitute because of the health benefits it offers, from boosting protein and calcium levels to limiting fat and calories as well. Yogurt also greatly helps in giving your cake a better body and structure and there are naturally present stabilisers in yogurt that help in providing the desired height to your cake! To know more about egg subsitutes, click here.
The benefits of pineapple
Now, there are tons and tons of benefits of pineapples. Not only do they boost up your immune system, but they also impact bone strength, eye strength, contain antioxidants, help in digestion, and also have anti-inflammatory benefits. They make your desserts super delicious because they are naturally sweet and their juice, soaked up wonderfull by the sponge of the cake is a beautiful combination. There are a lot of brands selling canned pineapples but if you get hands on fresh pineapples, don't waste a moment to grab them and bake this amazing pineapple upside down cake. The best months for pineapples happen to be from December to March and I am just imagining this cake, warmed up a little in the midst of cold Delhi winters and I already am in love with the idea!
Why this recipe is a one I love
I mostly try to whip up recipes that are easy, requiring little to no amount of extra efforts and this pineapple upside down cake is definitely one of them. There are myths about it being difficult or how you need to be precise with the arrangements, but trust me, baker, or not, just follow this recipe syllable to syllable and you are good to go!
Experimenting with the cake
Moreover, this fresh pineapple upside down cake is as old-fashioned as it can get! If you want to get a little experimental, you can make a double layered cake and add a thin layer of whipped cream spiced with cinnamon, and your normal pineapple upside down cake get updated within a jiffy! You can also add maraschino cherries and this pineapple upside down cake then becomes perfect for all kinds of parties- barbecues, birthdays, family events, and many more!
Tip to bake pineapple upside down cake in Microwave
Looking for an eggless pineapple upside down cake recipe for the microwave? All you have to do while baking this cake in the microwave is to reduce the baking time by 25%.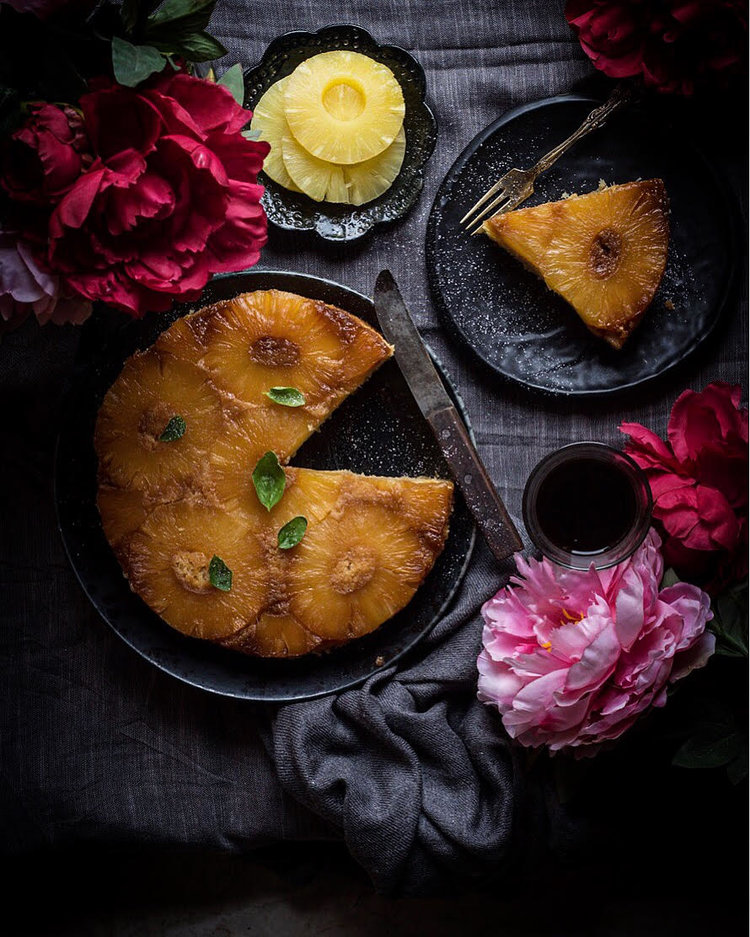 EGGLESS PINEAPPLE UPSIDE DOWN CAKE
Ingredients
For the topping-
butter for tin
5-6 tablespoons brown sugar
6-7 Delmonte pineapple slices
For the cake
2 cups all purpose flour ( 256 g)
4 tea-spoons baking powder
zest of one large lemon
¾ cup white granulated sugar (150g)
½ cup oil ( 120 ml)
1 cup yogurt
¾ cup milk/buttermilk
Instructions
Pre-heat your oven to 180C. Grease the pan with the butter and sprinkle the brown sugar evenly in the base. Arrange the fruit in an even layer on top of the sugar.
In a medium bowl, whisk flour, baking powder and lemon zest.
In a large bowl, using an electric mixer, beat oil and sugar until light and fluffy. With mixer on low, beat in the yogurt.
Add the flour mixture to the wet ingredients alternating with butter milk, starting and ending with flour mixture. Beat until smooth
Carefully pour the batter over the arranged fruit and bake at 180C for 30-40 minutes until the top is golden-brown.
Let the cake rest in the tin for 10-15 minutes before taking it out.