EGGLESS PINEAPPLE UPSIDE DOWN CAKE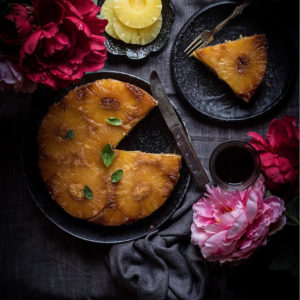 butter for tin
5-6 tablespoons brown sugar
6-7 Delmonte pineapple slices
2 cups all purpose flour ( 256 g)
4 tea-spoons baking powder
zest of one large lemon
¾ cup white granulated sugar (150g)
½ cup oil ( 120 ml)
1 cup yogurt
¾ cup milk/buttermilk
Pre-heat your oven to 180C. Grease the pan with the butter and sprinkle the brown sugar evenly in the base. Arrange the fruit in an even layer on top of the sugar.
In a medium bowl, whisk flour, baking powder and lemon zest.
In a large bowl, using an electric mixer, beat oil and sugar until light and fluffy. With mixer on low, beat in the yogurt.
Add the flour mixture to the wet ingredients alternating with butter milk, starting and ending with flour mixture. Beat until smooth
Carefully pour the batter over the arranged fruit and bake at 180C for 30-40 minutes until the top is golden-brown.
Let the cake rest in the tin for 10-15 minutes before taking it out.
Recipe by
Bake with Shivesh
at https://bakewithshivesh.com/eggless-pineapple-upside-down-cake/