I am pretty sure you can tell by the name that this frosting recipe is going to be EPIC! It is my absolute favorite chocolate flavored frosting and if you have been on the search for the chocolate frosting of your dreams, then this chocolate fudge frosting is definitely going to be the perfect fit.

It is a perfect cross between chocolate ganache and chocolate buttercream frosting. I mean, just imagine, all the goodness from the butter and cream combined with the best chocolate flavor. This frosting truly defines decadence and I can't wait for all of you to make it for yourselves! 
Ingredients needed for chocolate fudge frosting

Honestly, I will never get over the fact that using simple ingredients can give you so many absolutely delicious things to munch on. This recipe is another testament of the same. All you need for the best chocolate fudge frosting includes:

Butter  
Now because this recipe is a mix of chocolate buttercream and chocolate ganache, we start by adding in butter in a bowl. Like always, I used regular salted amul butter for this frosting. If you want, you can also use unsalted butter. D'lecta is a common brand that you can find for the same. 
Cocoa Powder
Cocoa powder is what will add a major chunk of the decadent chocolate flavor to this frosting. While adding cocoa powder, you need to see which kind you are adding. Is it natural cocoa powder or dutch processed?
Dutch processed cocoa powder is much darker in color and is also neutral. Natural cocoa powder on the other hand is like a light brown color and is acidic. The kind of cocoa powder you add is important to be taken into consideration in recipes that have leavening agents. Cocoa powder reacts with them and effects the final texture and look of your baked goods. In recipes such as hot cocoa or frosting, you can use either and it will work out just fine. 
Icing sugar

In frostings, it is very important to use icing sugar. Its powdered consistency makes sure the sugar gets dissolved very easily and evenly throughout the frosting.
Vanilla
I always add vanilla extract in almost all of my recipes. It just adds such a great flavor to your desserts. If you don't have extract, you can also use essence. Vanilla beans ofcourse, are the best thing to use if you can get your hands on them.

Chocolate
Please make sure you are using chocolate and not compound, especially for recipes like these. I used dark chocolate here because I love the flavor. If you want, you can also use milk chocolate.

Whichever flavor of chocolate you are using, just make sure it is from a brand of good quality. Chocolate is the star ingredient and flavor here so if you use chocolate that doesn't taste the best, your frosting will automatically lose its charm. Read more about best baking chocolate.

Cream
For this chocolate fudge frosting I have used fresh cream but if you want, you can also use heavy cream. Just use the exact same quantity and your frosting will be just as beautiful.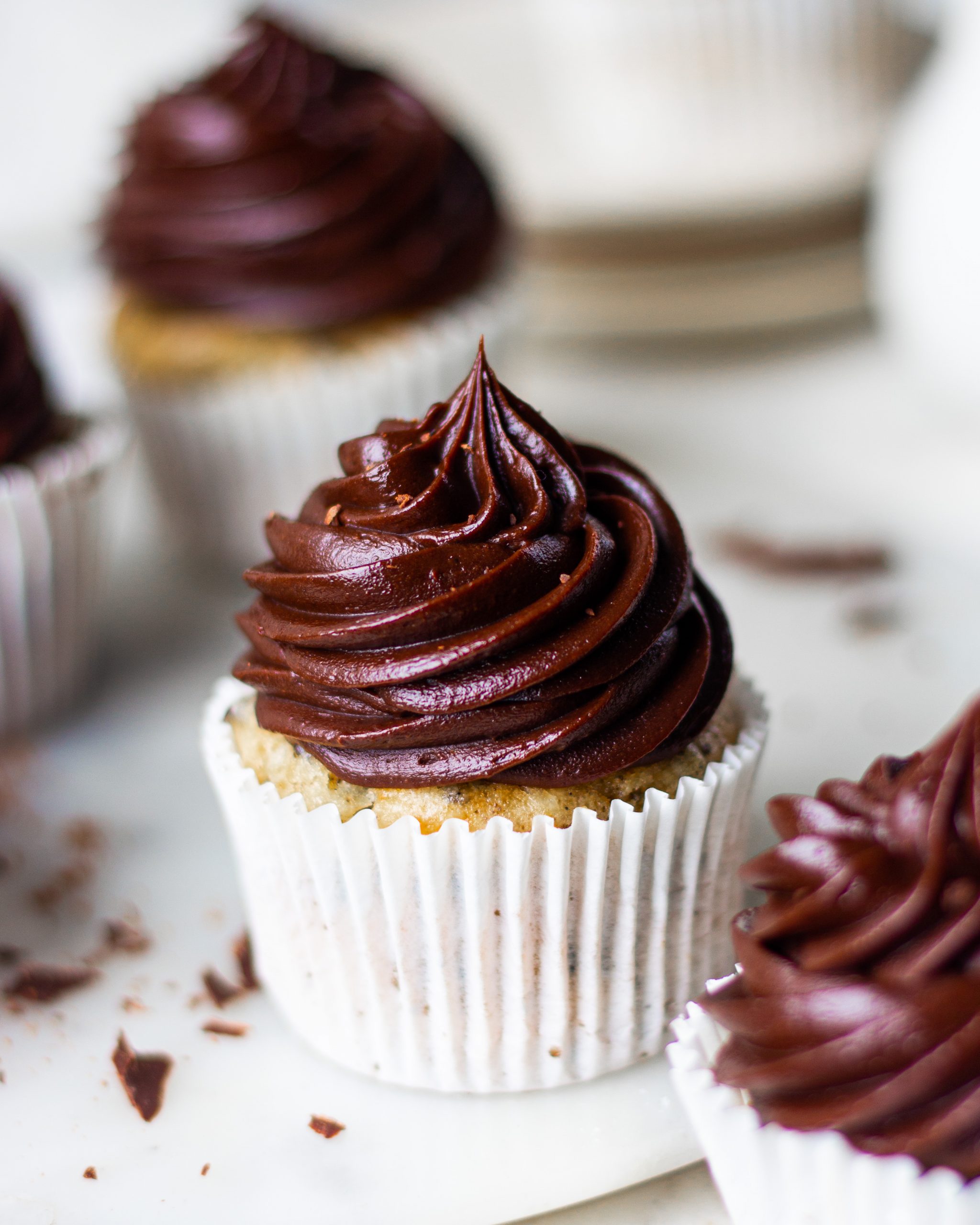 Tips to make the best chocolate fudge frosting
Always use softened butter
Whenever you are making frosting, it is extremely important to use softened butter. This ensures that your butter and sugar whip up easily and nicely, resulting in a stable frosting. If you use cold butter and try to whip that with your sugar, it will take you ages to reach the desired consistency. On the other hand, if you use melted butter, your butter and sugar will never whip up to a stable consistency and you will have an extremely runny frosting. 
Sift both, icing sugar and cocoa powder
Both icing sugar and cocoa powder have a high tendency to lump up. Sifting ensures that no lumps are getting added into our frosting and also adds a bit of air which can help with the structure of the final frosting

Do not use caster sugar
Please don't try to substitute icing sugar with caster sugar for this recipe. If you do not have icing sugar, you can simple blitz your caster sugar till it reaches a powdered consistency. Also, icing sugar does have cornflour in it which helps with the stabilisation of the frosting so ideally, you'd want to go and buy a packet while making frostings. 
Let your chocolate come to room temperature before adding into the mix
Once you have melted your chocolate, make sure to keep it aside to cool down before you add it to the butter and cocoa mix. If you add hot melted chocolate, it will bring down the entire structure that you have created while whipping your butter, sugar, and cocoa powder and you will eventually end up with an unstable frosting. 
Warm your cream
If you add cold cream to your frosting mixture, it will be harder to mix it in. Warm temperature of the cream ensures that you can incorporate the cream evenly and smoothly. To make this frosting even more stable, you can add heavy cream instead of fresh cream, cool it in the fridge and then whip it up! 
Make sure to refrigerate the frosting 
Once your frosting is ready, make sure you cover it and store it in the refrigerator. This is a really important step that will make the frosting much more stable and pipeable. Refrigerating it will make sure the chocolate sets and when you are using it to top off your desserts, it will maintain its shape and consistency. 
Honestly. It is so hard to keep taking spoonfuls of this frosting while making it. It is just so indulgent! I know some of you struggle with making frostings. I have detailed articles on my website to help you with your struggles. Make sure to check out Vanilla Bean Buttercream Frosting, Cream Cheese Frosting,  and Meringue Frosting. All of these articles have all the questions you could possibly have while making frostings. Go through them point by point and learn how to make perfect frostings, different kinds, each time. 
How to use chocolate fudge frosting
Honestly, you can use this amazing frosting for anything you want! I love piping these on top of my cupcakes. You can also use it to layer your cakes and make the most chocolatey celebration cake ever! I love putting a layer of this frosting on my brownies as well. My mouth is literally wearing right now and I know yours is too. Go and make this chocolate fudge frosting asap and don't forget to share your pictures with me on Instagram by tagging my page @shivesh17. Happy baking! 

Best Chocolate Fudge Frosting
Ingredients
½ cup butter (softened)
¼ cup cocoa powder
1 cup icing sugar
1 tsp vanilla
½ cup chocolate (melted)
½ cup cream (warm)
Instructions
In a bowl add in butter and sift in icing sugar and cocoa powder.
Whip this mixture using a hand whisk or an electric mixer at high speed till you get a fluffy and light mixture.
Add in vanilla and beat it in as well. Once all of this is combined, warm your cream and mix that in as well.
Next, melt your chocolate and let it cool down slightly before you add it into the frosting mixture.
Once cooled down, just combine everything using your whisk. Give it a good mix and you will see your frosting be thick but slightly liquidy.
Refrigerate the frosting for 30-40 minutes.
Use it as desired.