These days I have been thinking about trying new things in the kitchen and today I will finally share one of the things I have been experimenting with. I brought a savory ingredient into my sweet kitchen and made healthy chickpea brownies! 
That's right, I used chickpeas in a dessert. And you know what? I would do it again because these brownies turned out absolutely indulgent. You need to make these for yourself to believe it.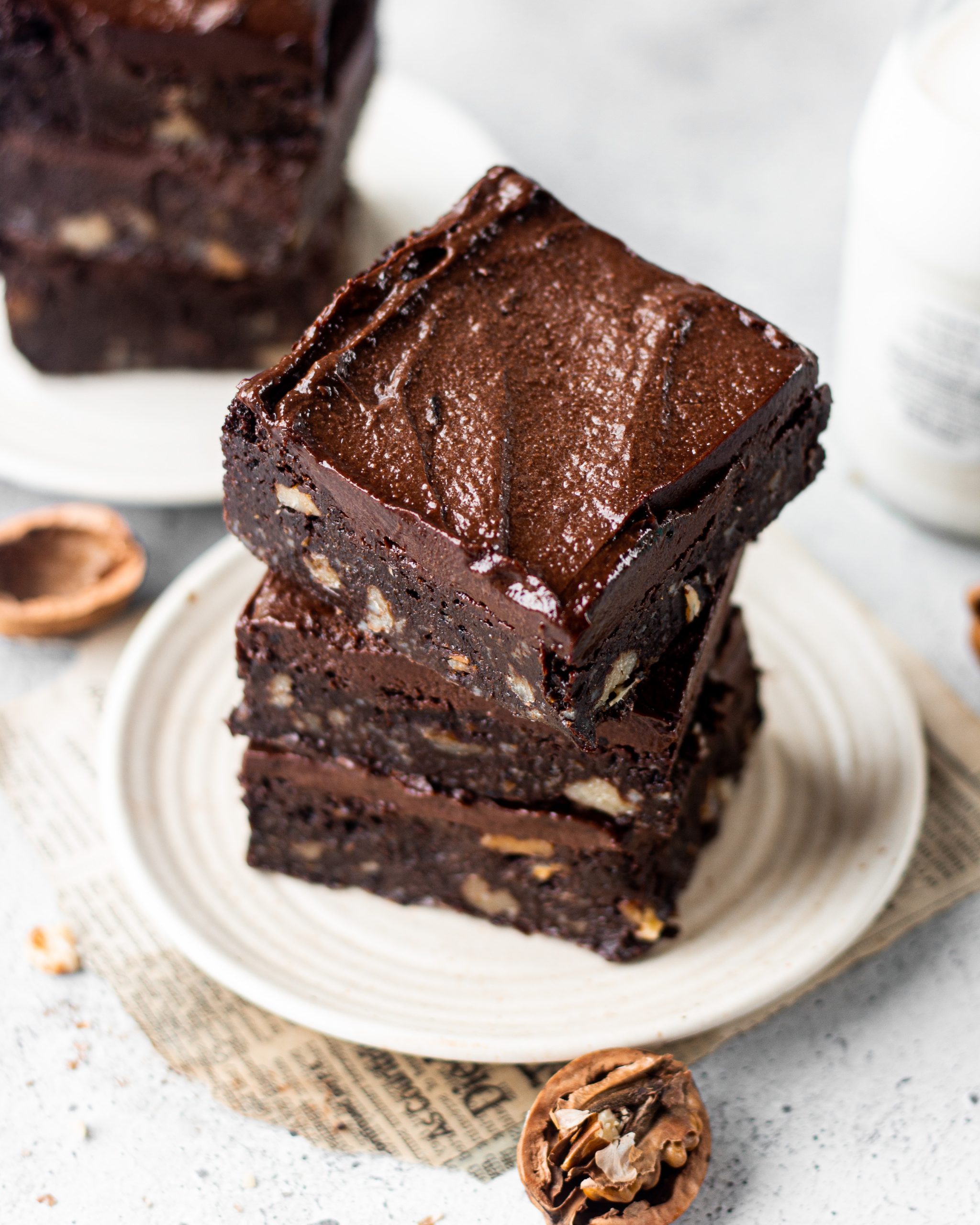 If you are always looking for healthy variations of classic desserts , then these brownies are a great place to start. You can also check out other healthy recipes from the blog like Healthy Chocolate Chip Cookies, Whole Wheat Banana Bread, and Mango Chia Pudding. 
Ingredients needed for these chickpea brownies 
Apart from the chickpeas, the ingredients that you need for these brownies include common ingredients like butter, jowar flour, baking powder, cocoa powder, flax eggs and walnuts. 
Sugar 
For sugar, instead of using refined sugar, I used coconut sugar. This is a great substitution for refined sugar in whatever you are baking. Coconut sugar has a ton of benefits. It contains healthy fats that help prevent high cholesterol and heart disease. It is great for your gut because it helps restore the good bacteria and also boosts your immunity. So if coconut sugar is not a part of your daily diet, I think now is a great time to try and start. 
Butter 
I have used normal salted butter for these brownies but if you want to do away with butter and make these brownies even more healthy, you can use coconut oil instead. Coconut oil has healthy fatty acids, it helps boost heart health and encourages burning of fat in the body. You could also use a tasteless oil like vegetable oil. 
Whether you use oil or butter, the process remains the exact same. You will melt your chocolate along with either butter or coconut oil and continue to the next steps from there. 
Flour 
Instead of using regular all purpose flour, I used jowar flour for these chickpea brownies. Jowar has such a slight nutty and earthy taste which I think goes perfectly well in desserts that are dominated by chocolate flavor. Jowar flour is gluten free and has a high amount of fibre. It also helps control blood sugar levels and boosts our immunity. 
Another great flour to use here is almond flour. If you are someone who does not like the taste of jowar at all, you can definitely add in almond flour here instead. 
Cocoa Powder 
I love adding cocoa powder to my brownies because it adds such a deep chocolate flavor. In addition to this, cocoa powder has many healthy benefits. It reduces the risk of high blood pressure and improves brain functioning and moods. 
Flax eggs 
You all absolutely love eggless recipes so I thought why not these chickpea  brownies a winner for all and make them healthy and eggless! 
The egg substitute that I use in this recipe is flax eggs. Making a flax egg is really simple. You take 3 tablespoons of normal room temperature water with 1 tbsp of ground flaxseed powder. You mix this well and refrigerate it for 15 minutes to speed up the process. This 3:1-water: ground flax seed ratio replaces one egg. Similarly, for two eggs, 6 tbsp of water, and 2 tbsp of ground flax seeds. 
I have written an entire article about flax eggs which answers all your questions and concerns about flax eggs. 
Star ingredient of the chickpea brownies : Chickpeas 
I understand that it is very hard to imagine something like chickpeas being a part of a decadent dessert like brownies. Bur trust me when I say, you cannot taste the chickpeas at all and they add a creamy texture to your brownies! 
Chickpeas are also called garbanzo beans and to add them into the brownie mixture, you need to soak them overnight and then pressure cook them. Once the chickpeas come out of the pressure cooker, you need to blend them till they reach a nice and smooth consistency. If you want, you can also use canned chickpeas to make chickpea brownies. 
Processing the chickpeas will ensure a smooth texture in our brownies, just mashing them will leave behind an unwanted taste. So make sure to process till you reach the desired consistency.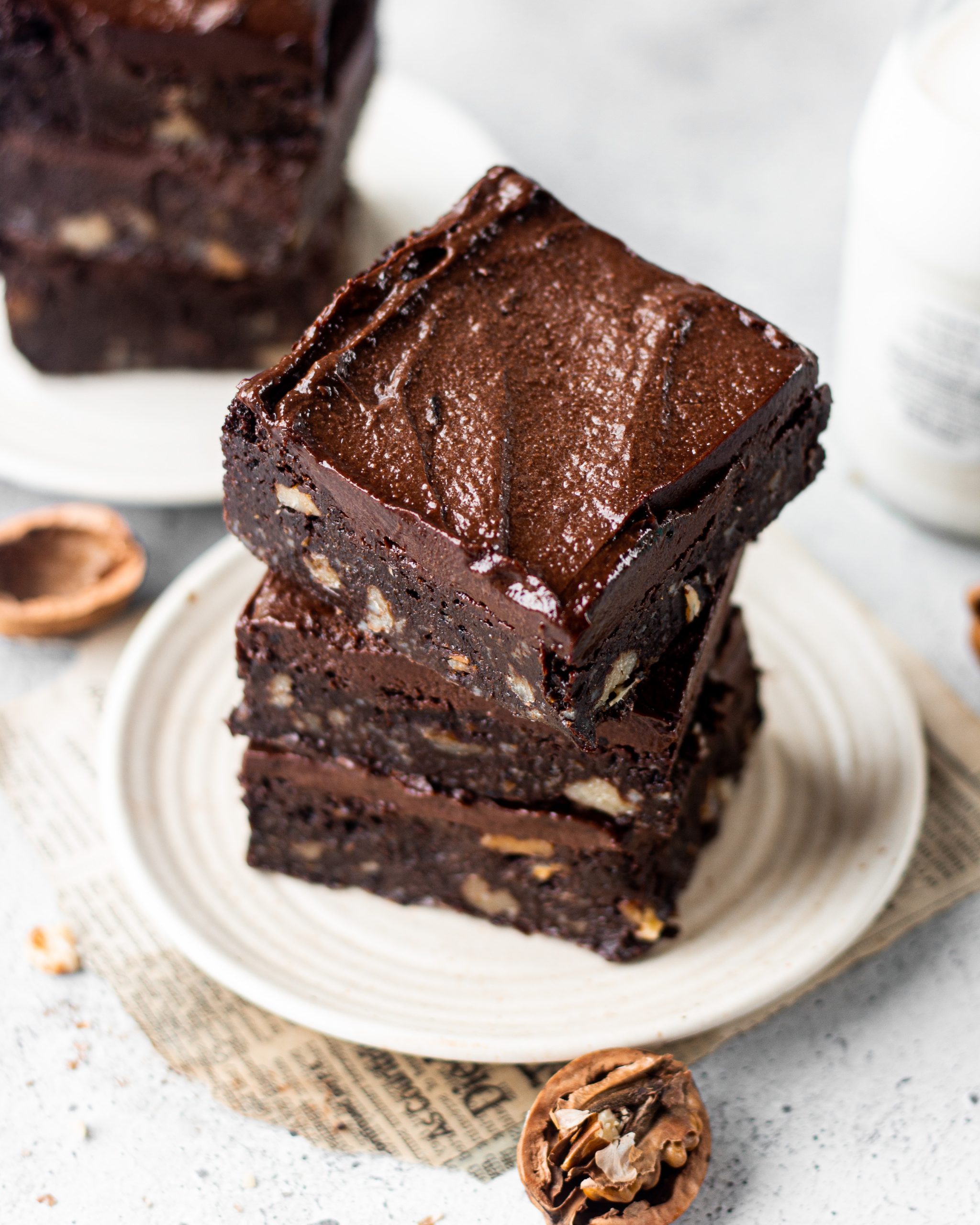 How are chickpeas healthy 
Chickpeas have a lot of health benefits. They are a rich source of vitamins, minerals, and fibres. They are also high in protein and make a great substitute for meat. Chickpeas help improve digestion and also reduce risk of several diseases such as cancer. With so many health benefits, it is a great idea to add these into your dessert and make it healthier.
I am a big brownie fan! It is such a comforting dessert and I absolutely loved experimenting with this recipe. Absolutely indulgent or healthy, I love kinds of brownies. Here are a few more brownie variations that you can try : No Bake Brownies, Gluten Free Brownies- Healthy Recipe, and Red Velvet Brownies- Gooey and Soft! 
I love seeing all your creations so I hope you will try these recipes and if you do, do not forget to share your images with me on Instagram and tag @shivesh17. Happy baking! 

Chickpea brownies - Healthy and eggless!
Ingredients
2 cups sugar-free dark chocolate, coarsely chopped
1 cup butter
2 cup coconut sugar
1 cup chickpeas (mashed)
2 tbsp jowar flour
2 tsp baking powder
6 tbsp cocoa powder
4 flax eggs (12tablespoons water + 4Tbsp powdered flax seeds)
1 cup crushed walnuts
Instructions
Preheat your oven at 180 degree Celsius and line an 8x8 inch baking pan with parchment paper.
In a saucepan over medium heat add in chocolate and butter. Melt these two together and be careful not to burn your chocolate.
Next, in a bowl add in coconut sugar and flax eggs. Whisk these two really well. Add in the melted chocolate and whisk that in as well.
Add in chickpeas, jowar flour, cocoa powder, and baking powder and mix everything till it is combined.
Lastly, add in chopped walnuts and fold them in.
Transfer your batter to the prepared baking dish and bake these brownies for 45 minutes.
Enjoy!