Don't we all love to divulge into gooey and fudgy chocolate brownies? But don't we all hate to get the calories the brownies promise? There are hardly any ways out of gaining calories when having desserts. Except for when you bake these delicious gluten-free brownies. If your favorite brownies are like-the-boxed mix chewy brownies with that crackly top, this is your new best recipe. Even though it is gluten-free and healthier than your normal brownies, the taste isn't compromised so much. God bless the ones who came up with healthy desserts.
These gluten-free brownies are amazing for your sweet cravings. They come in handy especially when you are trying to maintain a diet or if you are allergic to gluten. I understand that gluten allergies are the worst allergies one could have but it doesn't mean that you can't have desserts. With the advent of crazy scientific techniques in baking, we now have a million different types of recipes suiting everyone and all the allergies. Most of you have asked me to come up with more and more gluten-free desserts, and here I am with the best ever batch of gluten-free brownies.
Tips on baking gluten-free brownies
If you are new to the gluten-free baking world, or even if you're a veteran, one can actually always use some tips to make the perfect brownies. There are small intricacies one needs to take care of while doing a gluten-free dessert. These certain tips ensure you end up with the best ever baked product!
The Flour
We have used almost tasteless almond and oat flour for these gluteen-free brownies. But, most other recipes may use flavored flours. You get banana flour for your gluten-free desserts too. In order to balance the flavors of the flours, do not forget to add vanilla. Vanilla helps in toning down any additional tastes that flours may bring into the recipe.
Also, one can easily prepare almond flour at home. But remember that almond flour is different from almond meal. The former comes from finely grinding peeled almonds to render a more neutral flavor to your desserts. Keeping the skin on will get you the almond meal. Also, please keep in mind that grinding almonds for too long will get you almond butter. Keeping a sharp eye always helps.
Starting easy
If you are new to gluten-free baking, kickstarting your journey with these gluten-free brownies is a good idea. Don't straightaway jump at a complicated gluten-free recipe. It might end up making you feel helpless because you're introduced to new flavors and different results. You might end up liking one type of flour more than the other. Thus, it becomes important to start easy and small to know your likes and dislikes.
Follow the recipe ardently and measure correctly for the perfect gluten-free brownies
These two tips became the basis of getting all your desserts right. However, in gluten-free recipes like these gluten-free brownies, it becomes of the utmost importance. Especially when you are starting anew, it is not that good an idea to just 'wing it'. That's something even experienced bakers don't do. Since baking is an articulated process, you never know the addition of what will get you what. So, follow the recipe and measure correctly.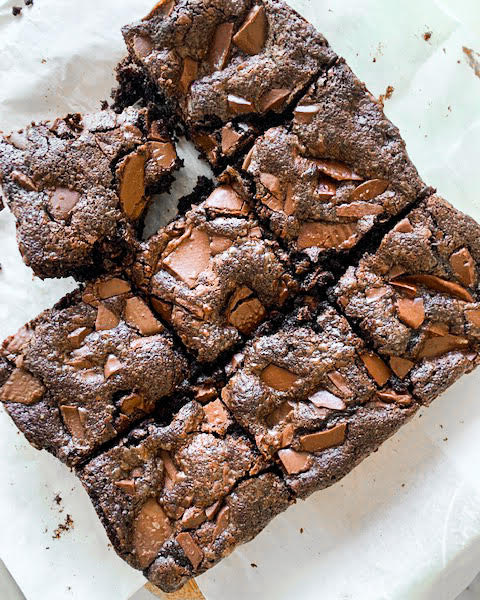 Ingredients of these gluten-free brownies
For the jaggery powder, put some jaggery in your grinder and just blitz it into a powder. You'll get better results if your jaggery is a bit chopped.
Use non-flavored vegetable oil. Using mustard oil really gets your disappointing results.
For the melted chocolate, do not go for Cadbury. You can always use Bournville or Amul dark chocolate. However, I do recommend using couverture chocolates like Morde, Van Houten, or Regal.
Oat flour can also be prepared at home. You just have to blitz some oats in a grinder.
For the cocoa powder, I recommend using Hershey's. It is not that expensive and gets the best results too.
I have used Vanilla from the Sprig company.
Gluten-free brownies recipe
Gluten-free brownies- healthy recipe!
Ingredients
¾ cup jaggery powder
½ cup vegetable oil
1 cup melted dark chocolate
2 eggs
½ cup oat flour
¼ cup ground almonds
¼ cup cocoa powder
¼tsp baking soda
¼ tap salt
1 tsp vanilla
½ cup chocolate chips
Instructions
Preheat the oven at 180 degrees and line a 4x4inch square pan with parchment paper.
In a large bowl beat together the jaggery powder and vegetable oil until well combined.
Add the melted chocolate to this and mix well.
Add the eggs and beat well.
Fold in the oat flour, ground almonds, cocoa powder, baking soda and salt and mix until there are no flour pockets.
Add the vanilla and mix well.
Fold half of the chocolate chips into the batter and top with the remaining chocolate chips.
Transfer the batter into the prepared pan and bake for 30-35 minutes.