I am going to go ahead and wish you guys a very happy Valentine's day. Why? Because you guys are my real Valentines. All the love you have showered on me all these years, it's beautiful and incomparable. And so, to repay you guys, though I really might not be able to, I present these amazing eggless red velvet cupcakes. Delicious, decadent, and eggless. You wish I was your Valentine, no? Haha!
These smooth and velvety eggless red velvet cupcakes don't only look beautiful, they taste wonderful too! They are rich and creamy chocolatey cupcakes and are truly a work of art! There is something extremely alluring about these eggless red velvet cupcakes. And trust me when I say this, they are going to be perfect for today. Actually, these Eggless red velvet cupcakes are perfect for any occasion whatsoever.
Ingredients of these eggless red velvet cupcakes
The castor sugar we have used in this recipe is from the brand Trust. Their sugar really has a very nice texture, ideal for baking. Using castor sugar ensures the best outcomes in your desserts.
We are generally not choosy about the cocoa powder. However, Hershey's is the best cocoa powder out there. It costs the same as Cadbury's. If you're not looking to be too invested, you can always use cocoa powder from Weikfield.
For desserts that require vegetable oil over butter, please ensure you're using flavorless oil. We use brands such as Fortune or Saffola. However, if you're going for a completely invested procedure, please go ahead and use extra virgin olive oil. Using oils like mustard oil really spoils the taste- thus, please avoid.
Food coloring quality really differs. You can use either water or gel-based coloring. However, be aware of the quality of your colouring. The best brands for the same are Kitchen Aid, CCDs, and Sprig.
Nailing these eggless red velvet cupcakes
I would go ahead and call these eggless red velvet cupcakes absolutely perfect because, well, they are delicious, they do not require any complex ingredients, and they are done and frosted within a span of only 30 minutes!
To get your cupcakes perfect (more perfect, haha), I would also like to suggest some tips. I assure you, you will fall in love with baking cupcakes once you realize how easy they are!
Use an ice cream scooper to get the perfect quantity of the batter in the cupcake liners.
Do not push two cupcake trays into your oven. Put one batch of your cupcakes in the center of the oven for even and uniform baking.
Never forget to pre-heat your oven.
To test whether your cupcakes are done or not, you can always use a toothpick. However, when you think your cupcakes are evenly baked, you can push the center with your finger. If it bounces back, they're completely baked. (Only try this with cupcakes that have cooled down a bit).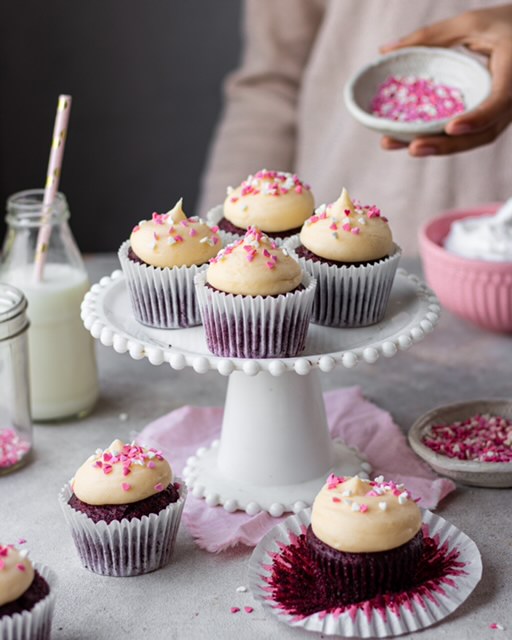 Eggless red velvet cupcakes recipe
Eggless red velvet cupcakes
Ingredients
½cup (100g) castor sugar
¼ cup (60mL) vegetable oil
2 tbsp (36g) yogurt
1 teaspoon (5ml) lemon juice
1 teaspoon (5ml) vanilla extract
1 tablespoon (20-ml) red food colour
¾cup (150g) milk
¾ cup (90gms) all purpose flour
1 tablespoon (7g)cocoa powder
½ teaspoon (3g)baking soda
Instructions
Preheat the oven at 180C and line a cupcake tray with cupcake liners.
In a large bowl add the sugar and vegetable oil and beat well until pale.
Add the yogurt,lemon juice,vanilla extract,red food colour and milk and mix well.
Fold in the flour, cocoa powder and the baking soda and mix until everything is well combined.
Transfer the batter into the prepared cupcake pan using and ice cream scoop.
Bake For 20-25 minutes or until a skewer inserted comes out clean.