In case you are wondering why I am back with another red velvet recipe, please know it's Valentine's tomorrow! We know nothing is better than fresh strawberries and love, right? So, this recipe is for all you cute love-birds out there who are too lazy to bake something uber cool. I believe mug cakes are THE dessert for us Millenials. Why? Because they're a handful of ingredients, take no time to bake, and are delicious. They're also literally meant for the microwave- which is perfect, no? Also, so quick and easy!What else do you want me from me? Now, this red velvet mug cake is not even 30 full minutes by the clock. It is also super delicious and decadent and is also perfect to get a smile on your sweetheart's face.
I find mug cakes to be THE solution to all your cravings. They're the best dessert fix. Plus, if you're not entertaining a lot of people or making cakes for the family, mug cakes are perfect for you. I am extremely against wasting food. Especially when your desserts take up so much time, money, and effort. Nothing amongst these things are free. This red velvet mug cake is not only the answer to your dessert prayers, but it's also super decadent too. There is nothing like a red velvet mug cake that spells a warm hug more accurately. Even though I am not a huge fan of the red velvet flavor, this red velvet mug cake won my heart too. Just whip it up and know the many hearts you'll be able to win (wink-wink).
Tips for the perfect Red velvet mug cake
Mug cakes do promise a warm, moist, and fluffy cake after a few minutes and with minimal work. However, sometimes, all you end up with is a chewy, rubbery mess that is flavorless. I do not want you guys thinking that you at least made some effort towards making something, and even that failed. This is something that will really hurt me. So, as always, I am going to give the perfect tips to nail this smooth and yum red velvet mug cake.
Tip #1- The type of your cup
Most of you have (and use) tall, lean cups for making mug cakes. The science of baking says, the larger the surface area of your pan, the more you ensure even and uniform baking. Your mug cake batters become too much for tall and lean cups. The heat of the microwave is not really able to penetrate that depth. This results in the cake being extremely under-cooked. And if you wanted to eat the batter, why throw it in the microwave in the first place? Thus, please use cups with a wide mouth, and which are shorter to get an evenly baked red velvet mug cake.
Tip #2- Letting the milk and vinegar rest
The first step of the recipe is making buttermilk- a combination of milk and vinegar. This is generally used in batters to kickstart reactions that make your cakes rise, as an egg substitute. Not allowing milk and vinegar to rest at least for five minutes prevents it from becoming a curdled mixture. This curdled texture of the mix is exactly what you need in your cakes. This is why it becomes the first step of this recipe for red velvet mug cakes.
Tip #3- Microwave settings differ
All microwaves, unlike ovens, are extremely different from each other. Stick to the time the recipe asks you to stick to. However, if a toothpick inserted in the middle comes out extremely wet, bake for more short intervals until you get a stable and baked red velvet mug cake.
Tip #4- Knowing when your red velvet mug cake is done
Once your microwave calls you with the incessant beeping, test if your cake is done or not in the following way. Since mug cakes are supposed to moist, place your two fingers lightly on the surface. The keyword here is 'lightly'. Do not attempt to push your fingers in or to touch the cup. Just lightly touch the surface. A finely baked red velvet mug cake surface will be a bit sticky. If it's too coarse, congratulations, your mug cake is pretty much inedible! However, if it is still wet, turn on the microwave for some more seconds until you know for sure that it is done!
Tip #5- Filling your batters only up to half the cup
Please give your red velvet mug cake batter some space to rise. Ideally, filling only half a cup or just slightly more is the perfect amount of batter. This truly does make the best red velvet mug cake.

Ingredients for this red velvet mug cake
The castor sugar we have used in this recipe is from the brand Trust. Their sugar really has a very nice texture, ideal for baking. Using castor sugar ensures the best outcomes in your desserts. Know more about types of baking sugar.
We are generally not choosy about the cocoa powder. However, Hershey's is the best cocoa powder out there. It costs the same as Cadbury's. If you're not looking to be too invested, you can always use cocoa powder from Weikfield.
For desserts that require vegetable oil over butter, please ensure you're using flavorless oil. We use brands such as Fortune or Saffola. However, if you're going for a completely invested procedure, please go ahead and use extra virgin olive oil. Using oils like mustard oil really spoils the taste- thus, please avoid.
Food coloring quality really differs. You can use either water or gel-based coloring. However, be aware of the quality of your coloring. The best brands for the same are Kitchen Aid, CCDs, and Sprig.
Lastly, the cream cheese is of Britannia. It is easily available and highly affordable. For the best results, you can always use D'lecta.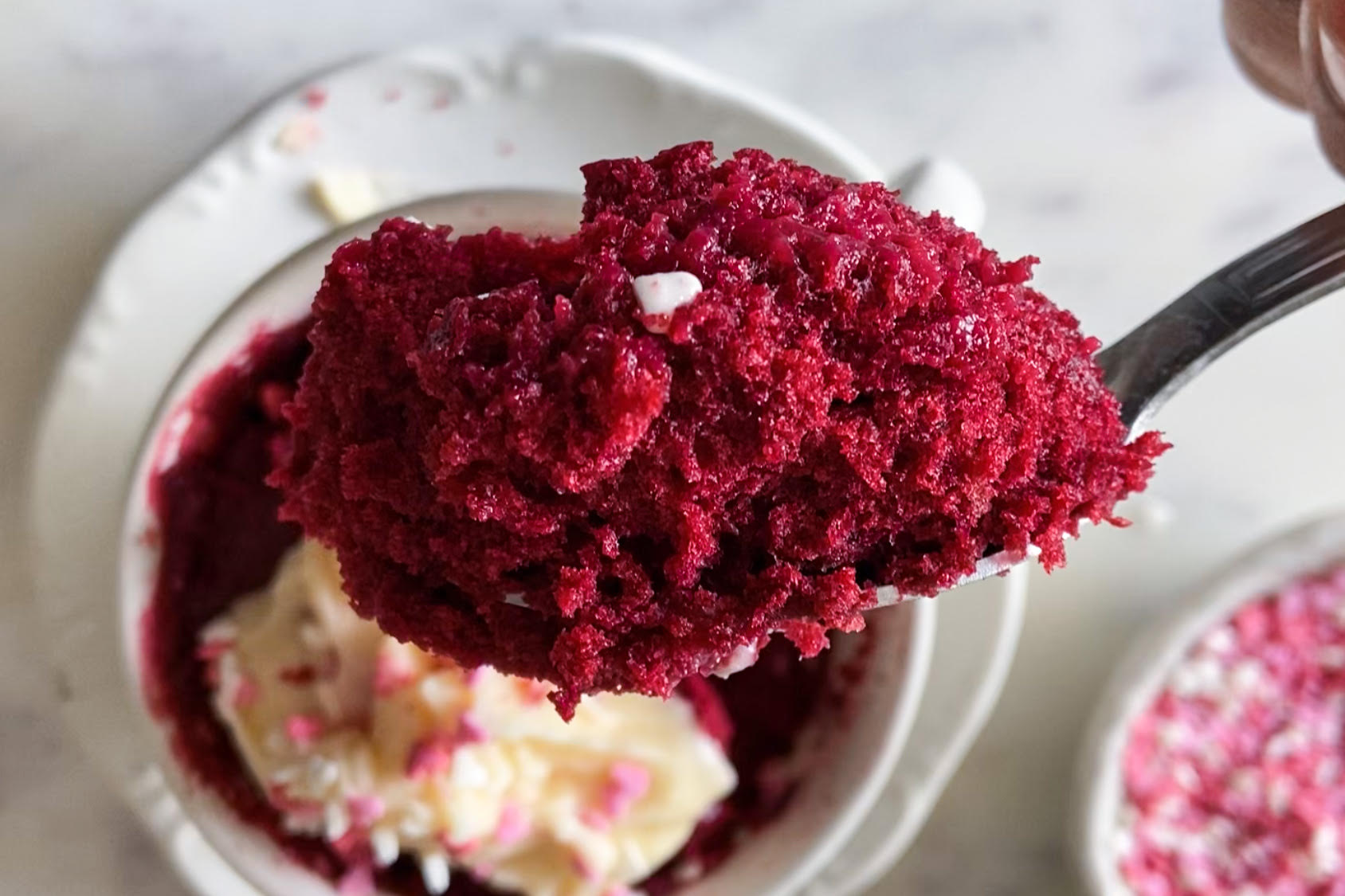 Red velvet mug cake recipe
Red velvet mug cake- Eggless!
Ingredients
3 tbsp milk
½ tsp vinegar
¼th cup flour
2 tbsp castor sugar
1 tsp cocoa powder
¼ tsp baking powder
1½ tbsp oil
1 tsp red food colour
½ tbsp cream cheese
Instructions
In a small bowl add the milk and vinegar and set aside.
In a microwave-safe bowl add the flour, castor sugar, cocoa powder and baking powder.
Add the oil, milk and vinegar mixture and red food colour to the dry ingredients and mix until everything is well combined.
Add the cream cheese in the center of the batter.
Heat in the microwave for 70 second.
More recipe for your Valentine
Check out more recipes for your Valentine here.
In case you bake any of these, please tag me on Instagram!