Valentine's day is just around the corner and instead of posting one recipe that you can whip up for your loved ones, I am going to introduce you to ten delicious Valentine's Day Desserts, haha! There is nothing more special on such a special day like Valentine's than baking something for the people you love. Answer this, what exactly can be sweeter than a delicious cake or a couple of yummy cupcakes? Also, if you're a novice at baking, it makes your efforts and hard-work all the more special!
I spend my Valentine's Day with the best of my friends. Gone are the days when you used to dedicate this day to one special person. This year, devote it to your family, your parents, your best friends. Catch up on some you-time and surround yourself with the best of the people around you and of course, with a lot of love and the following Valentine's Day Desserts as well!
These desserts, trust me, are the best for making this Valentine's Day so much more special. They're easy, they're effortless, they're absolute heaven at each bite! If you do decide to whip any of these up, do not forget to upload it on Instagram and absolutely do not forget to tag me and use the hashtag- #bakewithshivesh!
Happy Baking, Y'all!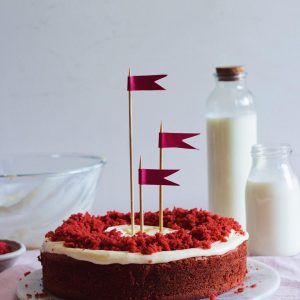 What better time to do a red velvet cake than Valentine's? I know a lot of you would love to bake this red velvet cake for your loved ones on Valentine's so here you go.
The frosting is my favorite cream cheese frosting. I absolutely love it and it goes so well with this red velvet cake. Red Velvet is amongst the most famous valentine's day desserts and this version of the same is super effortless!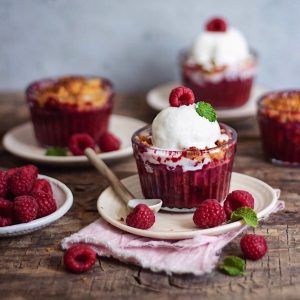 I love eating fruit crisps but for some reason I don't end up making them too often, which is odd because they're so simple and quick. I had shared the recipe of quinoa crisp and mango-peach crisp on the blog earlier. Those crisps are great too but this raspberry apple crisp is by far my favorite. You can use any combination of fruits that you like. That's the best part about crisps- they're so versatile and looks so pretty that makes it to the top of the pile for Best Valentine's Day Desserts!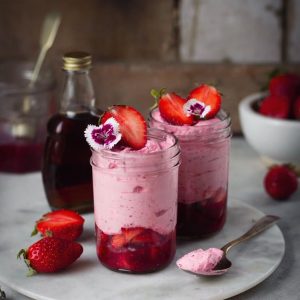 I have to admit, the mousse is my favorite dessert to make when I'm running short on time. You only need a few ingredients to put this together. The best part is that when served nicely, this eggless strawberry mousse makes for a very elegant and gorgeous dessert which qualifies it for Valentine's day. You can pipe the mousse into small cups and make pretty strawberry mousse cups. These make for a great simple dessert to serve at parties and to serve to your loved ones.
4. Eggless Chocolate Orange Cake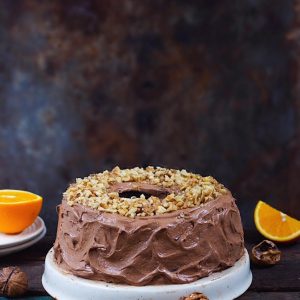 Orange and chocolate are one of my favorite combinations. Adding the zest of an entire orange into this cakes make is so flavorful and fun, and obviously delicious! The cream cheese frosting is an absolute favorite and just imagine adding chocolate to it which makes it ten times richer and tastier! It makes the eggless chocolate orange cake so much better than a normal un-frosted cake.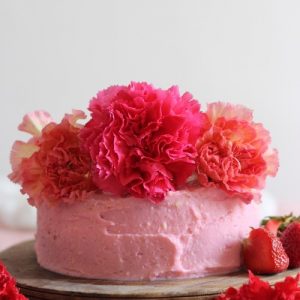 Have you been looking for a perfect Valentine's Day recipe? Look no further because this White and Pink Cake is pretty and so much more. I love how this recipe of White and Pink Cake is actually very basic (which means you won't mess up) but actually looks so fancy. I decorated this cake with pink carnations because hey, Valentine's Day!
6. Eggless Strawberry Cupcakes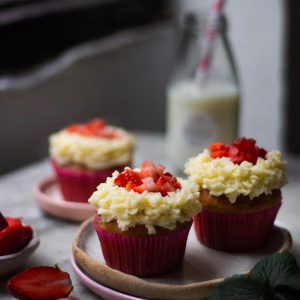 These fluffy, light and sweet eggless strawberry cupcakes with fresh strawberries are so good, you'll not believe I don't use any eggs to make them. This easy to bake eggless vanilla strawberry cupcakes need to go up on your Valentine's Day to-bake list now! I top these fluffy cupcakes with my vanilla bean buttercream frosting. You can also use cream-cheese frosting to decorate these cupcakes.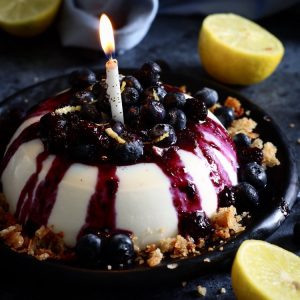 Vanilla Panna Cotta makes the perfect dessert for many, many reasons: it's super easy to put together, you hardly get negative feedbacks with this one, and it needs to set in the refrigerator so you can just whip it up, put it in there, and forget it! Since it's super easy to prepare a large batch, it also comes handy when you have to prepare desserts for a party or a cute occasion like Valentine's Day!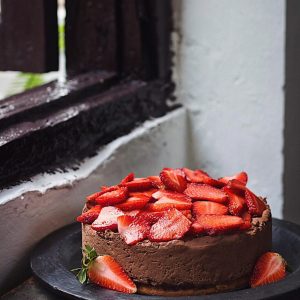 Chocolates and strawberries spell out love on the occasion of Valentine's Day and it takes somebody one glance at this cake to know that no other dessert can be more perfect than this. For all the chocolate lovers out there who like a good mouthful of decadent chocolate in their desserts, this Chocolate Mousse Cake is your best buddy. Plus, the strawberry season is about to end and you guys should definitely take full advantage of the remaining inventory!
9. Rose Scented Cake with Raspberry Frosting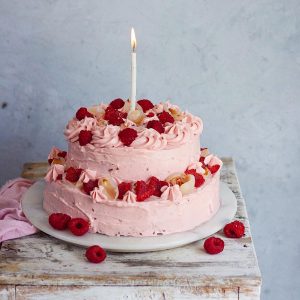 If you feel like going all out with for this Valentine's Day, let this pretty in pink cake save you. Even though I have topped this cake with a combination of fresh raspberries and lychees, you can certainly skip the lychees and stick with raspberries to give off the perfect Valentine's Day feeling. Each bite of this rose scented cake shouts out love which makes it perfect to bake for your loved ones!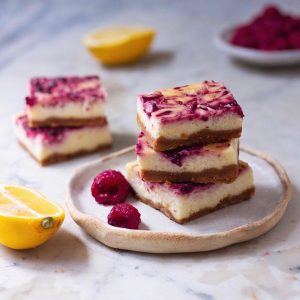 The flavors of lemon and raspberries and the texture of this very easy to make cheesecake bars will definitely coerce you into making these and literally will lead you to finish batch after batch. I add lemon zest in these raspberry cheesecake bars but you can play around and also add vanilla beans. You can also fold some lemon curd into the filling. The possibilities are endless and there is so much you can do with this recipe for your special day!