My blogger friends have started teasing me that the country's strawberry stock is running low because of me ha ha. I can see why- there are so many strawberry recipes going up this month like the eggless strawberry cupcakes and whole wheat strawberry cake. Let's add another easy, simple to make, hassle free eggless dessert to the list- this creamy and light eggless strawberry mousse!
My vegetarian readers who are searching for recipe for strawberry mousse dessert, this eggless strawberry mousse is perfect for you. It's not only egg free but also without gelatine. It's so incredibly easy to make and so creamy. For beginners in the kitchen, this recipe is great because this no-bake dessert only takes 15 minutes to prepare. It is so perfectly light and fluffy that you will fall in love.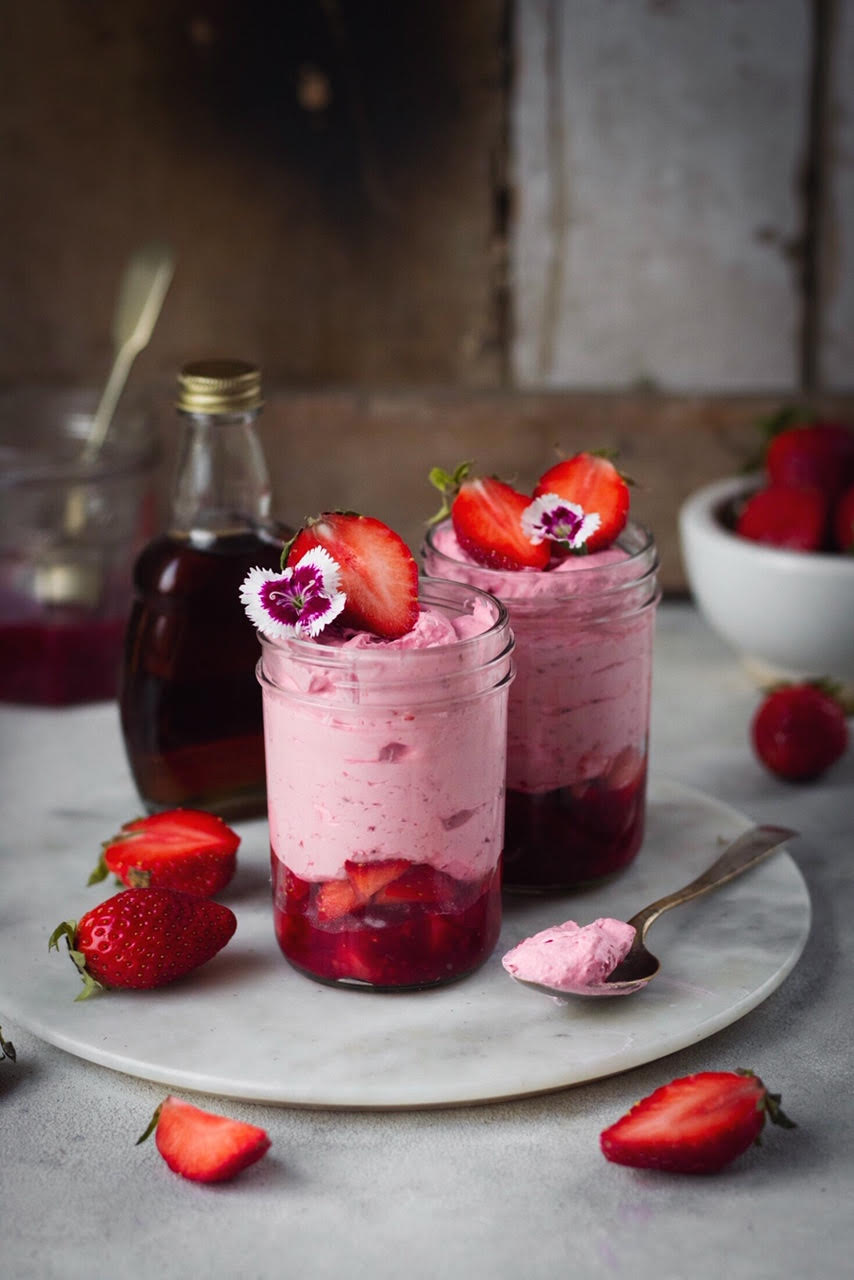 To summarize why you must make it at home, this easy and fresh strawberry mousse is-
quick and hassle free
no bake
eggless
gelatine-free
creamy, light and fluffy
made using fresh strawberries
elegant
Why I love the fluffy eggless strawberry mousse recipe
I have to admit, mousse is my favorite dessert to make when I'm running short on time. You only need a few ingredients to put this together. The best part is that when served nicely, this eggless strawberry mousse makes for a very elegant dessert. You can pipe the mousse into small cups and make pretty strawberry mousse cups. These make for a great simple dessert to serve at parties. You can churn out large portions for a big crowd in not time. How wonderful is that? You should also check the mango mousse and mocha mousse I made earlier.
Simple strawberry mousse ingredients
The ingredient list for this simple, fuss free eggless strawberry mousse is actually pretty short. You only need fresh strawberries, water, corn flour, sugar and whipped cream. I also like adding some lemon zest to my strawberry compote but that's optional and you can skip it, if you wish. I love the zing and kick it gives to the fluffy sweet mousse. You can either use castor sugar or granulated sugar for this recipe. Both are fine since we'd be cooking it on the stove. Please make sure you are using the best quality strawberries available. That's where the flavor is coming from. If you wish you could also add some vanilla extract to your creamy strawberry mousse.
How to make eggless strawberry mousse
Before we dive into making this delicious and light strawberry mousse, I urge you to read my post on how to make whipped cream. This post will answer all your questions related to whipped cream- how to whip is perfectly for the mousse, which brands to pick and how to make sure your cream is fluffy. Whipped cream is very important to make this mousse. Once you have whipped your cream perfectly, you have won half the battle.
Besides the whipped cream, the other important element of this eggless strawberry mousse is the fresh strawberry compote. To make the simple strawberry compote, we cook fresh strawberries, sugar, water, corn flour and lemon zest on the stove.  It is very important to let the strawberries cook and break down so that you have the perfect strawberry compote for the mousse. Adding the cornflour makes the compote thicker, which is important.
Strawberry mousse with strawberry jam
If you don't want to make a compote at home, you can simply get some store bought strawberry jam and fold it in the whipped cream. I prefer making the compote from scratch at home to make this fluffy eggless strawberry mousse. Store bought jams are much sweeter and you can play around with the flavor of homemade strawberry compote.
Strawberry mousse cups presentation
I love serving my eggless strawberry mousse in jars or cups. I use a piping bag fitted with a large round tip to neatly pipe my mousse into the jars. If you don't have a piping bag, you can use a spoon to transfer the mousse into the jar. Before piping the mousse, I like to add a layer of strawberry compote with strawberry slices at the bottom to make the jars more interesting. You can also serve the mousse with pieces of sponge cake or a crumb. You can make the honey-walnut crumble that I serve with my mocha mousse. After piping the mousse, I top it with some fresh sliced strawberries and edible flowers.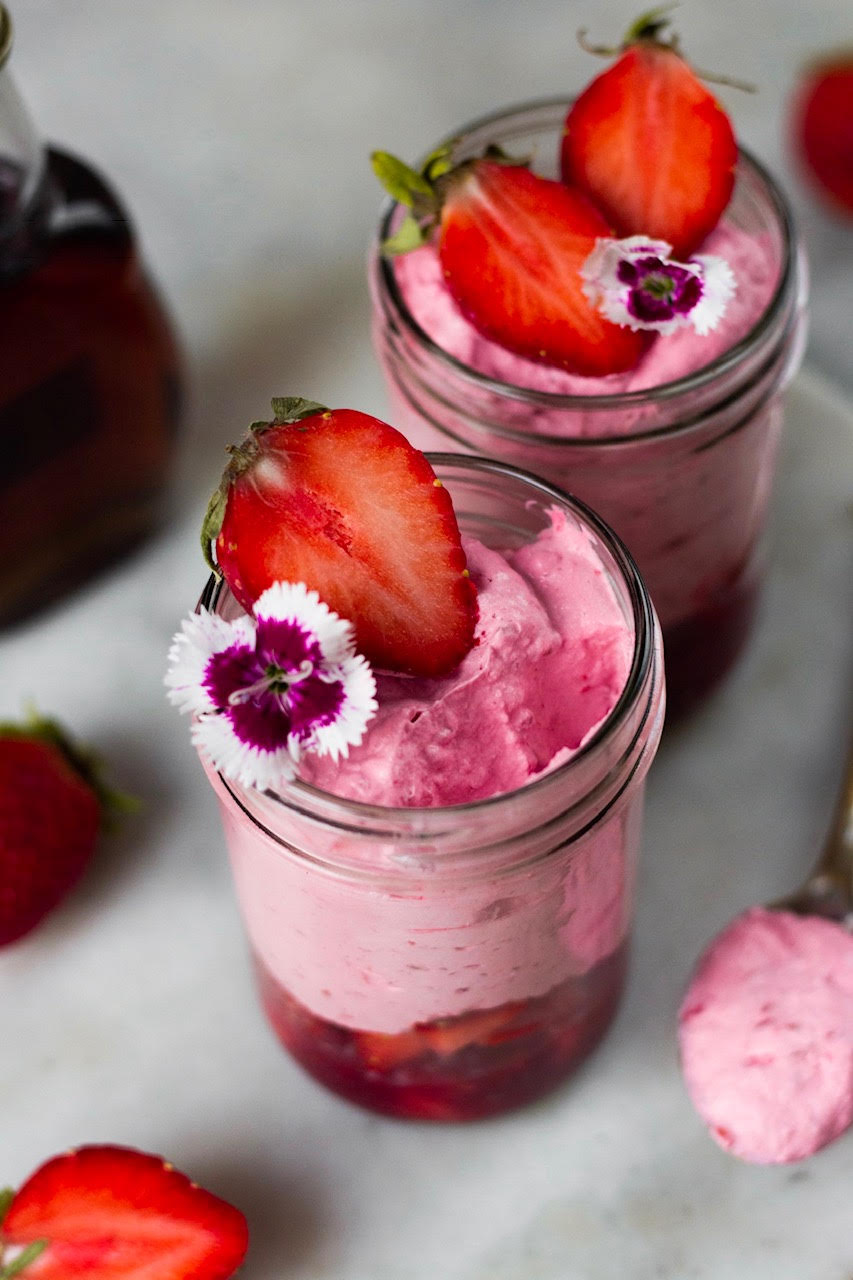 This recipe makes about two cups of strawberry mousse. If you make this eggless strawberry mousse at home, share pictures with me on my Instagram using the #BakeWithShivesh
Procedure and Ingredients:
Eggless Strawberry Mousse without gelatine
Ingredients
1 cup fresh strawberries, roughly chopped
¼ cup granulated sugar
1 teaspoon lemon zest
5 tablespoons water
1 tablespoon cornflour
1 cup unsweetened whipped cream, whipped to firm peaks
Instructions
In saucepan set over medium heat, cook strawberries and sugar. Use a wooden spoon to breakdown the strawberries to make strawberry compote.
Meanwhile, combine the water and cornflour to make a slurry. Add the mixture to the strawberry compote. Cook it for another 30 seconds and bring the mixture off heat. Mix in the lemon zest
Let the strawberry compote cool completely.
Once the strawberry compote has cooled completely, use a spatula to carefully fold it into the whipped cream.
Transfer the mousse into a piping bag attached with a large round tip. Pipe the mousse into jars/ cups. Let them set in the fridge for 40-50 minutes.
Before serving, top with fresh strawberries. Your eggless strawberry mousse is ready!