Strawberry season is here and the beautiful red berries that I adore so much have flooded the market. I baked an eggless strawberry cake sometime back and the next thing on my list was an eggless strawberry cupcakes recipe! These fluffy, light and sweet eggless strawberry cupcakes with fresh strawberries are so good, you'll not believe I don't use any eggs to make them. This easy to bake eggless vanilla strawberry cupcakes need to go up on your to-bake list now! This reminds me, have you tried my eggless lemon cupcakes recipe yet?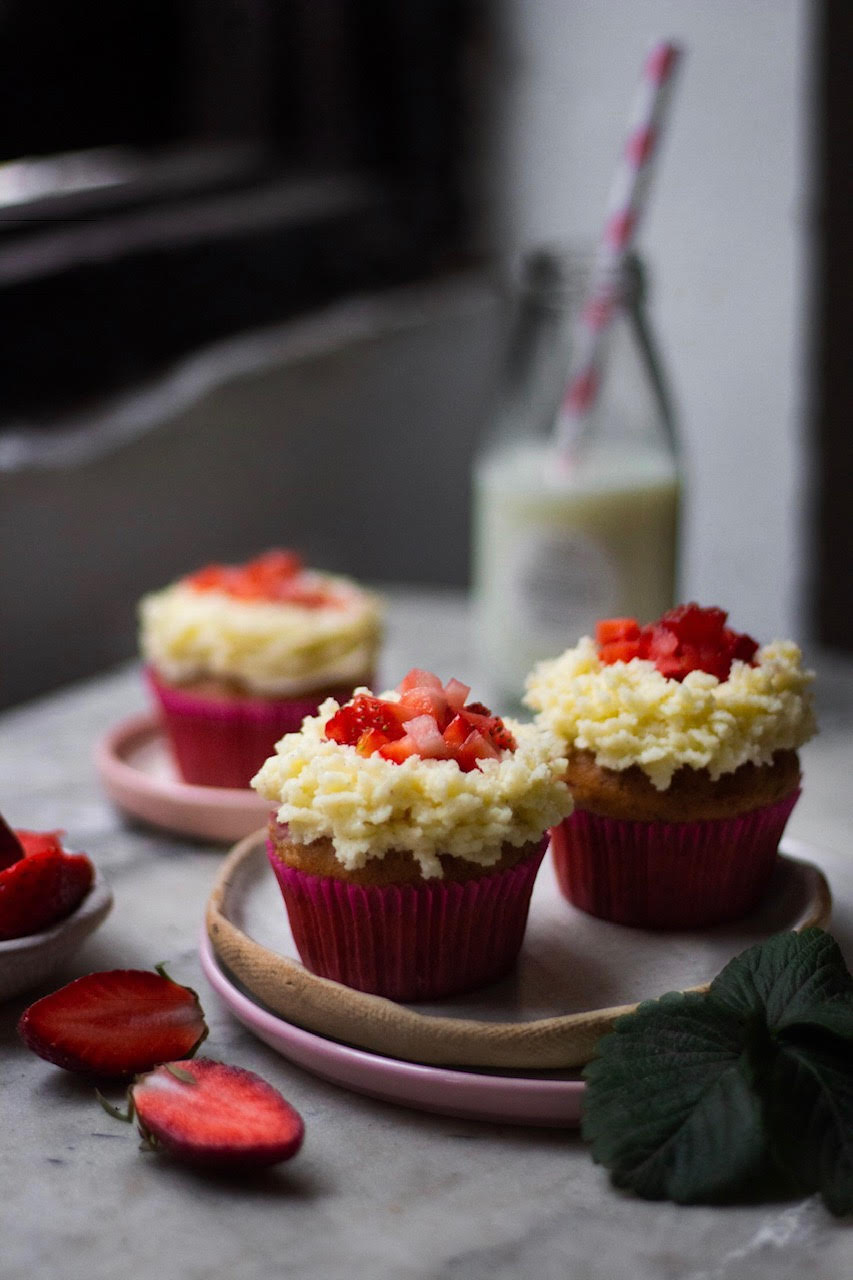 January is usually the time when I end up experimenting the most in the kitchen. Work isn't very hectic and I'm hyped to bake as much as I can. I usually find myself in the kitchen almost everyday with all my baking tools, thinking of new recipes to try. This time last year I was working on my book- Bake With Shivesh. I was creating recipes, styling and shooting them to meet my 31st January deadline. It was such an exciting time. Now to have the book out on shelves feels unreal! If you haven't gotten your copy yet, you can get it on Amazon. The recipe of these eggless strawberry cupcakes with fresh strawberries is actually inspired by the eggless lemon cupcakes recipe in the book.
Eggless Strawberry Sponge Ingredients
You'd be surprised to see that these easy strawberry cupcakes are fuss-free when it comes to ingredients. Besides your regular maida, sugar and vegetable oil, all you need is a cup of fresh strawberries. I love recipes that only call for ingredients which I already have on my kitchen shelf. I flavor these simple, easy to bake eggless strawberry cupcakes with good old vanilla. You can throw in some fresh lemon-zest, if you like. Feeling adventurous? Add half a teaspoon of cardamon powder for extra flavor.
I top these fluffy cupcakes with my  vanilla bean buttercream frosting . You can also use  cream-cheese frosting to decorate these cupcakes. If you end up making the butter cream frosting with these easy strawberry cupcakes, don't forget to read my tips on how to make the perfect buttercream frosting.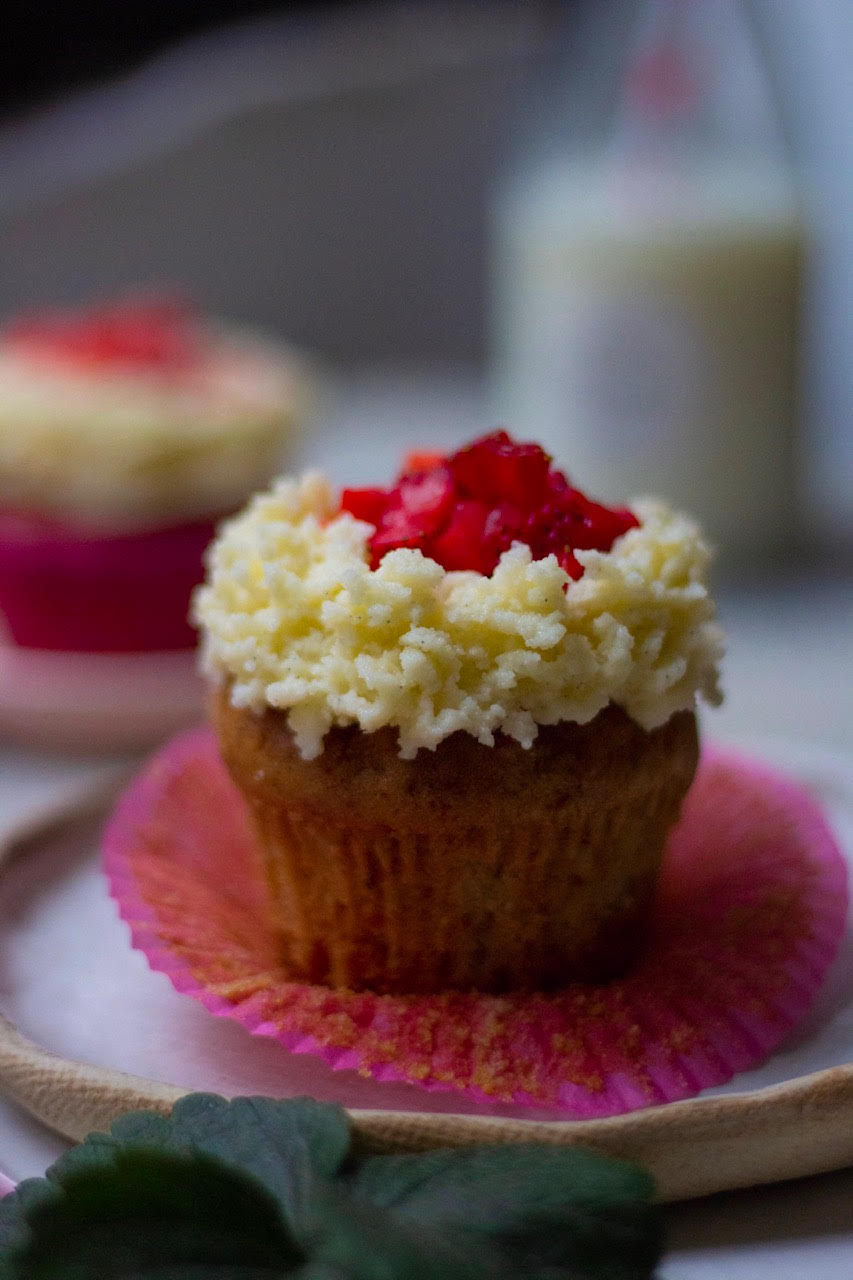 Make Easy Eggless Cupcakes at home from scratch
Have you tried baking cupcakes without eggs before? I use flax egg to substitute eggs in this recipe.  It is nothing but 2 tablespoons of ground flax seeds combined with one tablespoon of water. Just ground flax seeds in a grinder. Add water to in. Give it a good mix and let it rest of 5 minutes. That is what we call a flax egg and that is what we'll use in place of egg in these eggless strawberry cupcakes with buttercream frosting. Now, you cannot use flax egg as a substitute blindly in all my recipes but you could definitely experiment with it. Using flax egg as a substitute for egg has always worked for me when it comes to cupcakes/ muffins and cookies. The flax egg does a great job of binding everything together.
And don't worry about the taste of the seeds. You will not taste the flax seeds at all in these eggless strawberry cupcakes. All you will taste is some sweet vanilla and a burst of flavor from tart fresh strawberries.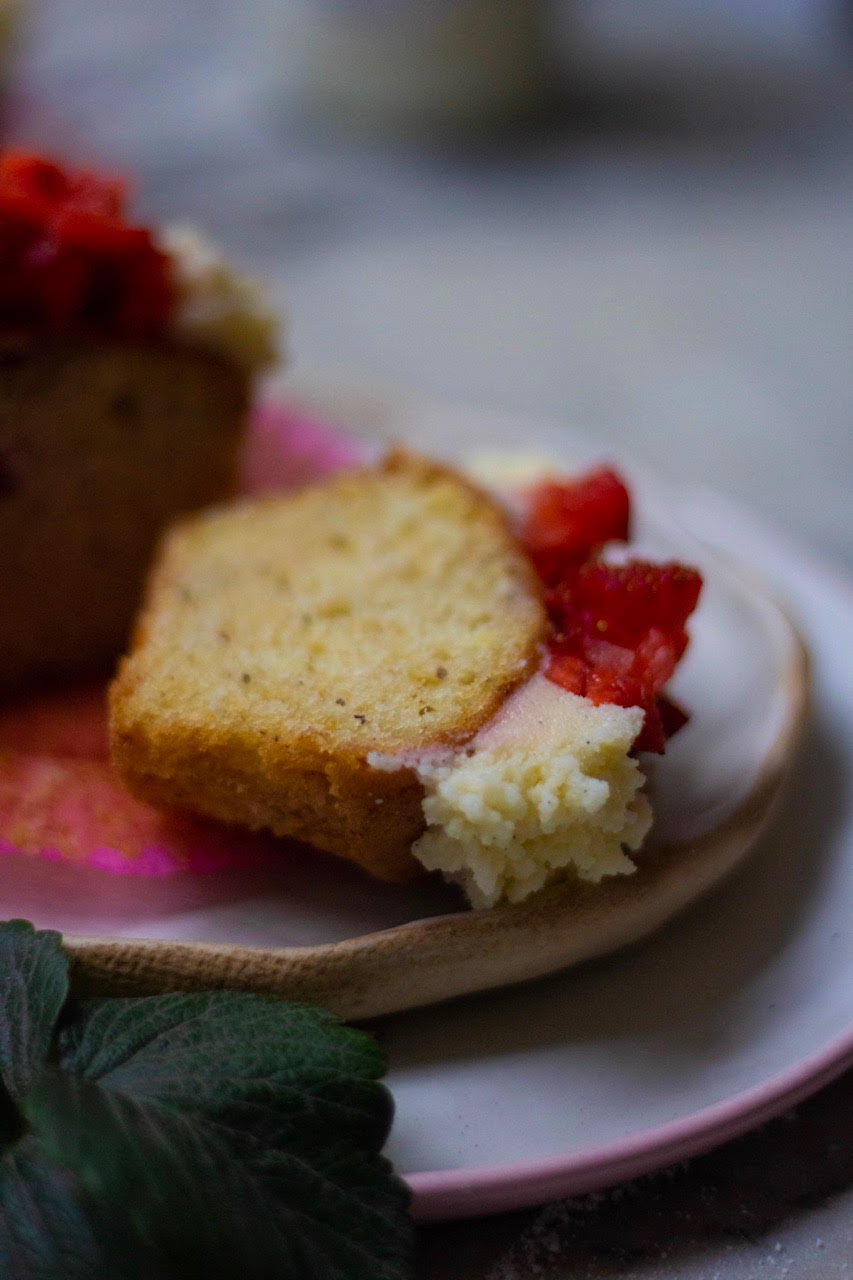 Make Dairy Free/ Vegan strawberry cupcakes from scratch 
You can use this eggless strawberry cupcakes recipe to make vegan strawberry cupcakes too! It's very simple. The recipe does not use any butter. We use vegetable oil instead. There are no eggs because we use a flax egg in this recipe. All you have to do to make these strawberry cupcakes dairy free/ vegan is to use a plant based milk like almond milk or soy milk. If you want to make vegan strawberry cupcakes, use an organic raw sugar instead of refined sugar. Everything else remains the same.
Tip to bake Eggless Strawberry Cupcakes in Microwave
Looking for an eggless strawberry cupcakes recipe in microwave?  All you have to do while baking these strawberry cupcakes in the convection microwave  is to reduce the baking time by 25%. So in the microwave this will only take about 15 minutes at 180*C. Everything else remains the same.
How to bake Eggless Strawberry Cake
I shared an eggless strawberry tea cake recipe on the blog earlier this month and it has been a BIG hit. I've lost count of the number of people who have made the eggless cake at home but I am so glad all those who made it loved the recipe. I hope you also try making these simple eggless strawberry cupcakes at home. Don't forget to share pictures with me on my Instagram.  If you love baking with eggs, you must try my favorite strawberry cream cake recipe. It is a simple strawberry sponge cake that I top with freshly whipped cream. So delicious!
More simple eggless dessert recipes
If you bake this eggless strawberry cupcakes with buttercream frosting at home, don't forget to share pictures with me by using #BAKEWITHSHIVESH. Happy Baking!

Eggless Strawberry Cupcakes Recipe
Recipe type:
eggless dessert
Ingredients
2 tablespoons ground flax seeds + 1 tablespoon water, rested for 5 minutes
2 cups (240g) maida/ all-purpose flour
2 teaspoons (8g) baking powder
½ (3g) teaspoon baking soda
½ teaspoon (2g) fresh lemon zest
½ cup (120mL) vegetable/ olive oil
1 cup (200g) castor sugar
1 teaspoon (5mL) vanilla extract
1 cup (240mL) milk
¾ cup (130g) strawberries, diced
Instructions
Pre-heat the oven to 180*C. Prepare a cupcake pan with cupcake liners.
In a medium sized bowl, combine flour, baking powder, baking soda and lemon zest. Keep it aside.
In a separate bowl, beat oil, sugar and vanilla together.
Beat in the flax egg ( 2 tablespoons ground flax seeds + 1 tablespoon water, rested for 5 minutes).
Now fold the flour mixture into the wet ingredients, in three batches, alternating with the milk. Do not over beat and mix only until there are no large flour pockets.
Carefully fold in the strawberries.
Use an ice-cream scoop to transfer the batter into the prepared cupcake pan. Bake at 180*C for 20-25 minutes or until a skewer inserted into the cupcakes come out clean.
Once the cupcakes have cooled completely, decorate them with vanilla bean butter cream frosting and diced strawberries.