First things first- you must make this eggless strawberry tea cake at home! It is light, fluffy, easy to put together and made using fresh strawberries. What is not to love? As soon strawberry season starts and I can't help but enter the kitchen every single day to whip up something using these delicious berries. Remember the strawberry-cream cake I made last year? So many of you made it at home and loved the recipe. This time I decided to make it eggless and also keep is simple and fuss-free.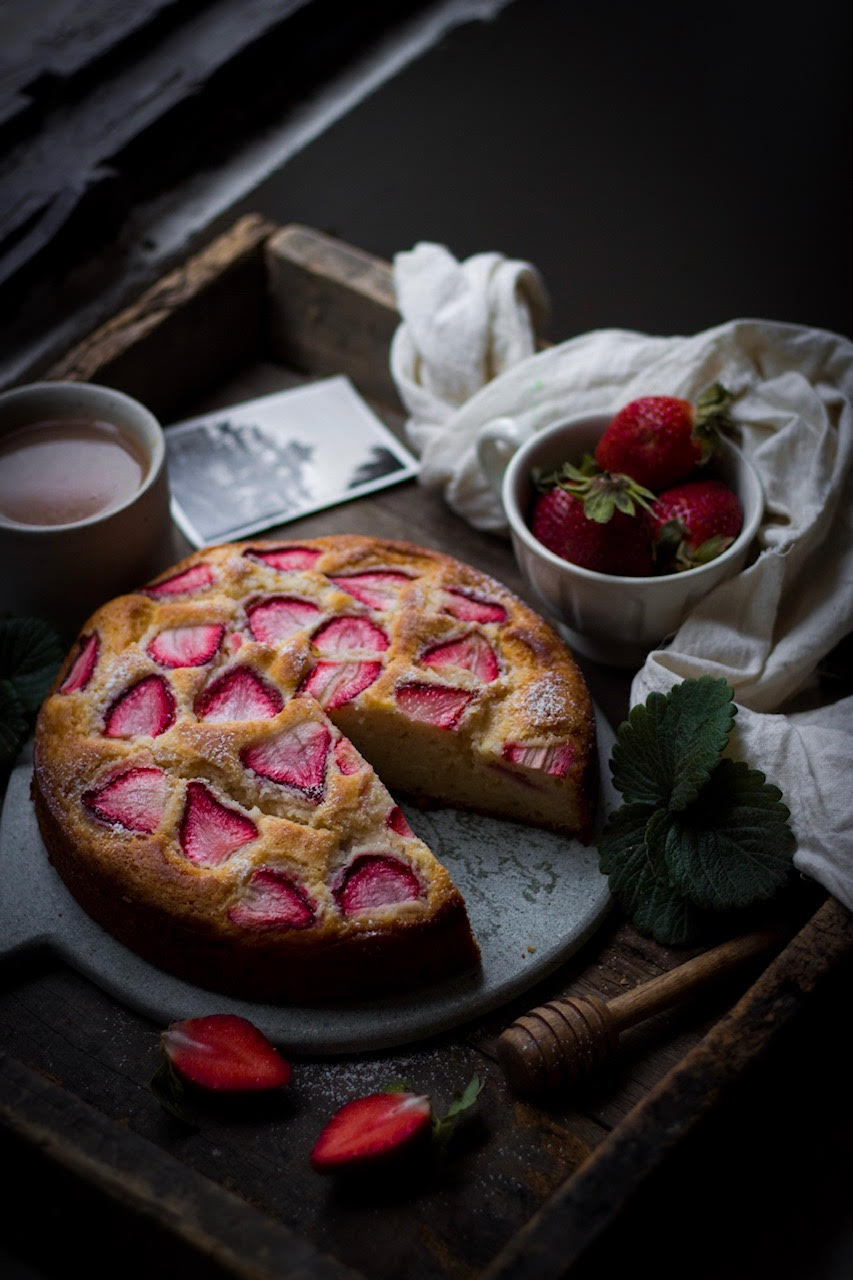 You'll be surprised to see how easy to make this eggless strawberry tea cake is. It takes less than 10 minutes to prepare the batter of this cake. You only need some very basic ingredients, which you probably have on your kitchen shelf already! I use vegetable oil to make this simple and easy eggless strawberry cake. That makes the cake moist and soft. Using butter in this recipe makes the cake too heavy. I also use castor sugar/ superfine sugar in the recipe. The addition of lemon zest in the batter gives this strawberry tea cake that extra kick, which I love.

Why I love this strawberry-yogurt tea cake
I love this recipe for not only how easy it is to make but also because it is a no-fuss, simple cake. You don't have to worry about the frosting and decoration. The cake has a beautiful golden-brown crust. The strawberry slices on top makes it look even more beautiful. You can dust the cake with some icing sugar and you are good to go. A slice of this eggless strawberry cake with a cup of tea will be perfect on a winter afternoon. If you're feeling indulgent, serve it with a dollop of whipped cream and some more fresh strawberries.
I have seen several recipes that make strawberry cakes with strawberry crush. That does not work for me. I love slicing fresh strawberries and folding them in the beautiful pale yellow cake batter. I love the smell of fresh strawberries when they are baking in the oven and I absolutely adore how they taste once they're cooked. So beautiful! Fresh strawberries are the star of this eggless strawberry tea cake.

How to make eggless strawberry cake at home
This brings me to another very important ingredient of this simple strawberry cake- yogurt!  I like using Greek yogurt instead of regular dahi because homemade curd is usually very watery. If you don't have Greek yogurt, you can use market bought curd or hung curd. Just get rid of all the extra water and use only thick curd for this recipe.

Tip to make eggless strawberry cake in microwave
All you have to do while baking this strawberry cake in the microwave is to reduce the baking time by 25%. So, in the microwave this will only take 22-25 minutes at 180*C. Everything else remains the same.

How to make eggless strawberry cupcakes
The good news is that you can use the same recipe to bake eggless strawberry cupcakes. Simply use an ice-cream scoop to transfer the batter into a cupcake tray lined with cupcakes liners. Bake the cupcakes at 180*C for about 20-25 minutes. How simple is that! I love to top these cupcakes with vanilla bean buttercream frosting or cream-cheese frosting.  Sometimes, I also bake eggless strawberry cupcakes at home using flax egg. I will share that recipe on the blog next week.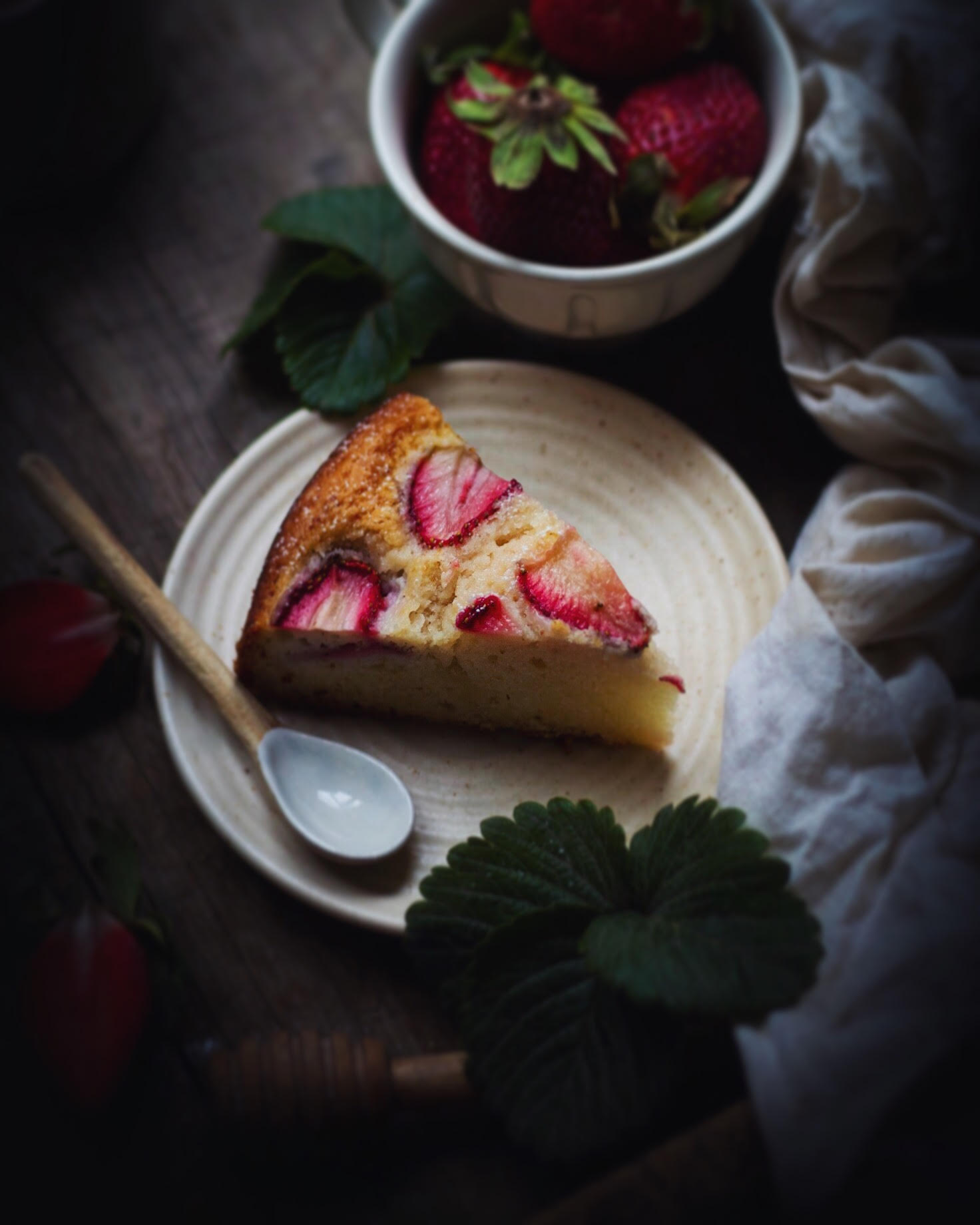 More eggless recipes to try:

Let's jump to the recipe now and bake this soft, moist, delicious strawberry tea cake! If you bake this eggless strawberry tea cake at home, please don't forget to share a picture with me on my Instagram using #BakeWithShivesh


Eggless Strawberry Tea Cake
Ingredients
2 cups (240g) maida ( all-purpose flour), sifted
½ teaspoon (2g) fresh lemon zest
2 teaspoons (8g) baking powder
½ teaspoon (3g) baking soda
½ cup (120mL) vegetable oil
1 cup (200g) castor sugar
1 cup (285g) Greek yogurt/ hung curd
¼ cup (60mL) milk
1 teaspoon (5mL) vanilla extract
1 cup (170g) fresh strawberries, sliced
Instructions
Pre-heat the oven to 180*C. Line a 9" round pan with parchment paper.
In a bowl, combine maida, lemon zest, baking powder and baking soda by whisking them together.
In a separate bowl, beat the oil, sugar and yogurt together until everything is well combined.
Beat in the milk and vanilla extract and mix well.
Gently fold the dry ingredients into the wet ingredients and mix only until there are no large flour pockets. Do not over-mix.
Use a spatula to carefully fold in some strawberries into the batter. Reserve the rest for the top.
Transfer the thick batter to the prepared cake pan. Arrange rest of the strawberry slices on top
Tip- to get that extra golden crust, evenly sprinkle about 1-2 tablespoons of castor sugar on top.
Bake the cake at 180*C for 40-45 minutes until a skewer inserted into the center comes out clean.