If you search strawberries on the search toolbar on my website, you will see my blatant love for strawberries literally everywhere! As a fruit, strawberries taste incredible fresh off the vine and end up tasting even better in desserts. If my website was a movie, strawberries would be, without a doubt, the lead protagonist, haha. And evidently, you wouldn't find more recipes about any other fruit or berry than how many exist around strawberries!
Why I love Strawberries
Strawberries are so delicious and vibrant. They not only add a pop of colour, but so much flavour to your desserts! Their freshness balances out major flavours like chocolate and vanilla perfectly! The best part about strawberries is how easy they are to source! You'll find them with every fruit vendor this season. Like me, you can also easily plant these at home!
Top ten strawberry recipes on the blog
This is the best season for my favourite fruit and it was only obvious that I should do a round-up of my favourite and the best strawberry recipes on the blog!
What are you waiting for? Hurry up, rush to the market, get at 'em strawberries and try these recipes out! I am so sure you all going to fall in love with the fruit as much as I have.

I think muffins are a genius thing. They don't take up too much time and the end result is absolutely delicious. You could eat them for breakfast or with tea in the afternoon or for dessert. You don't necessarily require a frosting for these muffins, which makes it all the more easier to make! The perfect golden brown crust and almond flakes make these muffins appealing and picturesque.
Click HERE for the recipe.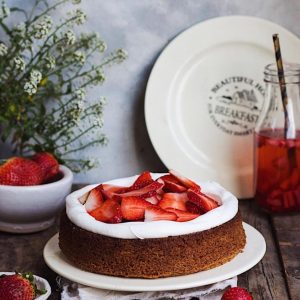 I remember this strawberry cream cake was one of the first recipes I posted on my blog- right after I started. There is something so pleasing about its simplicity. A basic sponge with strawberries, topped with a wonderful vanilla flavored cream whipped to perfection and fresh slices sitting on top- that's my idea of a comforting dessert.
Click HERE for the recipe.

I have already exclaimed my love for strawberries and how I would whip them up with something every day given the option to do so. I love how beautiful the fruit is, both taste wise and by appearance, and they elevate any desserts to another level, exactly how you can see in this strawberry cake. The frosting to this strawberry cake is an orange cream cheese frosting which is the easiest frosting that one can go with! You can also incorporate the zest of other fruits as per your liking!
Click HERE for the recipe.
No one loves baked donuts as I do and that is why I've been making them so often. They're fun, delicious and easy to make.
I got my hands on a delicious strawberry jam and made swirls on the donuts before I popped them into the oven. These donuts are incredibly light and perfect for breakfast. The strawberry jam adds a beautiful flavor to the donuts. To make the donuts moist, I use buttermilk in the recipe!
Click HERE for the recipe.
I love anything and everything fresh, so when this recipe of lemon strawberry bundt cake came into my mind, I knew it will end up becoming one of my go-to recipes in no time!
This lemon strawberry bundt cake, when eaten, has a blast of fresh flavors of lemon and strawberry at each bite. The cake is also infused with cut strawberries and I know you guys will end up loving it!
Click HERE for the recipe.
This Strawberry Cheesecake Ice-cream, it is one of my favorites. Perfect for a time when I want both cheesecake and ice-cream.
For all the cheesecake lovers who also love the sweetness of strawberries, this Strawberry Cheesecake Ice-cream is no less than heaven for you guys. Every bite has that divine taste of both major ingredients entwined in just the perfect balance.
Click HERE for the recipe.
I am always in love and always up for anything that includes fresh berries and this puff pastry strawberry tart tingles all of my taste buds to the maximum!
All you need is rolled puff pastry, strawberry preserve, and some fresh strawberries. The flaky, buttery puff pastry makes for a perfect base for a yummy strawberry filling. The best part about this tart is that you can cut it into triangles like I did, and you'll have strawberry pizza slices!
Click HERE for the recipe.
Granitas are a product of Italy's extremely hot summers. When Italians had no ACs and no energy, they just blended some fresh produce with ice and made this slushy and delicious dessert that we now call Granitas. Follow my advice of using fresh strawberries or other berries while preparing Granitas because these are the focus of the entire dish and fresh produce will only elevate your palates.
Click HERE for the recipe.
Eggless and No-Bake recipes are, in my opinion, the most liked recipes. They're hassle-free and so effortless that it'd be too obvious to mention, haha. This decadent and gorgeous strawberry custard tart fits both of the divisions and that is why, these winters, you need you to make this recipe your favorite one!
Click HERE for the recipe.
This Apple Strawberry Pie is your best friend for every possible occasion, trust me when I say this. The prefix of 'quick' was intentionally added by me because the compilation of this recipe before we push it in the oven, barely takes less than a total of five whole minutes and if you already don't love this recipe, I'd totally be judging you, haha.
Click HERE for the recipe.