It is SO hot in Delhi and I hate it. The only thing that helps me survive this heat is ice-cream. And as I always say, the ice-creams made at home are the best! Have you tried making it at home yet? It is much easier than you think it is. I make this Strawberry Cheesecake Ice-cream using the Kitchen Aid ice cream maker attachment but I have no-churn ice-cream recipes as well. Oh and some sorbets and coolers to make you feel better this summer.
This Strawberry Cheesecake Ice-cream, it is one of my favorites. Perfect for a time when I want both cheesecake and ice-cream.
For all the cheesecake lovers who also love the sweetness of strawberries, this Strawberry Cheesecake Ice-cream is no less than heaven for you guys. Every bite has that divine taste of both major ingredients entwined in just the perfect balance.
I am so sure that you guys will fall in love with this Strawberry Cheesecake Ice-cream this summer just like I have!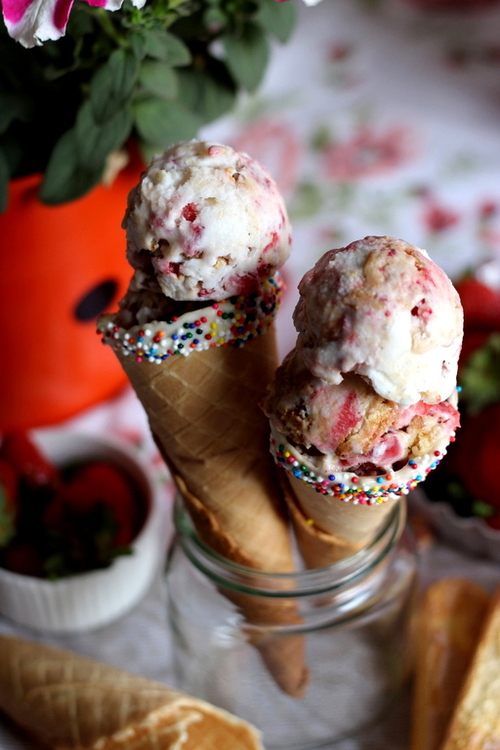 INGREDIENTS
1 cup whole milk
2 cups double cream
3/4 cup granulated sugar
beans from one vanilla pod
1/4th cup fresh strawberries, finely chopped
1/4th cup crushed digestive biscuits
PROCEDURE
Chill the Kitchen Aid Ice Cream Maker attachment in the freezer overnight.
In a saucepan, whisk together milk and granulated sugar until the sugar melts.
Add cream and mix well. Add vanilla beans.
Pour the mixture into a container, cover and freeze for 2 hours.
Pour the mixture into the ice-cream maker and churn at low speed for  15 minutes.
Carefully fold in the strawberry pieces and crushed biscuits.
Transfer the mixture into a freeze safe container and freeze until firm.