If I had to pick one ingredient that I could bake with everyday, it'd be strawberries. They're so beautiful as it is but once they're baked in a dessert, I feel they get even better. I love the tartness berries bring to a dessert and of course the pop of color. I've made so many desserts using strawberries but this strawberry cream cake continues to be my favorite.
I remember this strawberry cream cake was one of the first recipes I posted on my blog- right after I started. There is something so pleasing about it's simplicity. A basic sponge with strawberries, topped with a wonderful vanilla flavored cream whipped to perfection and fresh slices sitting on top- that's my idea of a comforting dessert.
Besides this strawberry cream cake, some other favorite strawberry desserts from the blog are-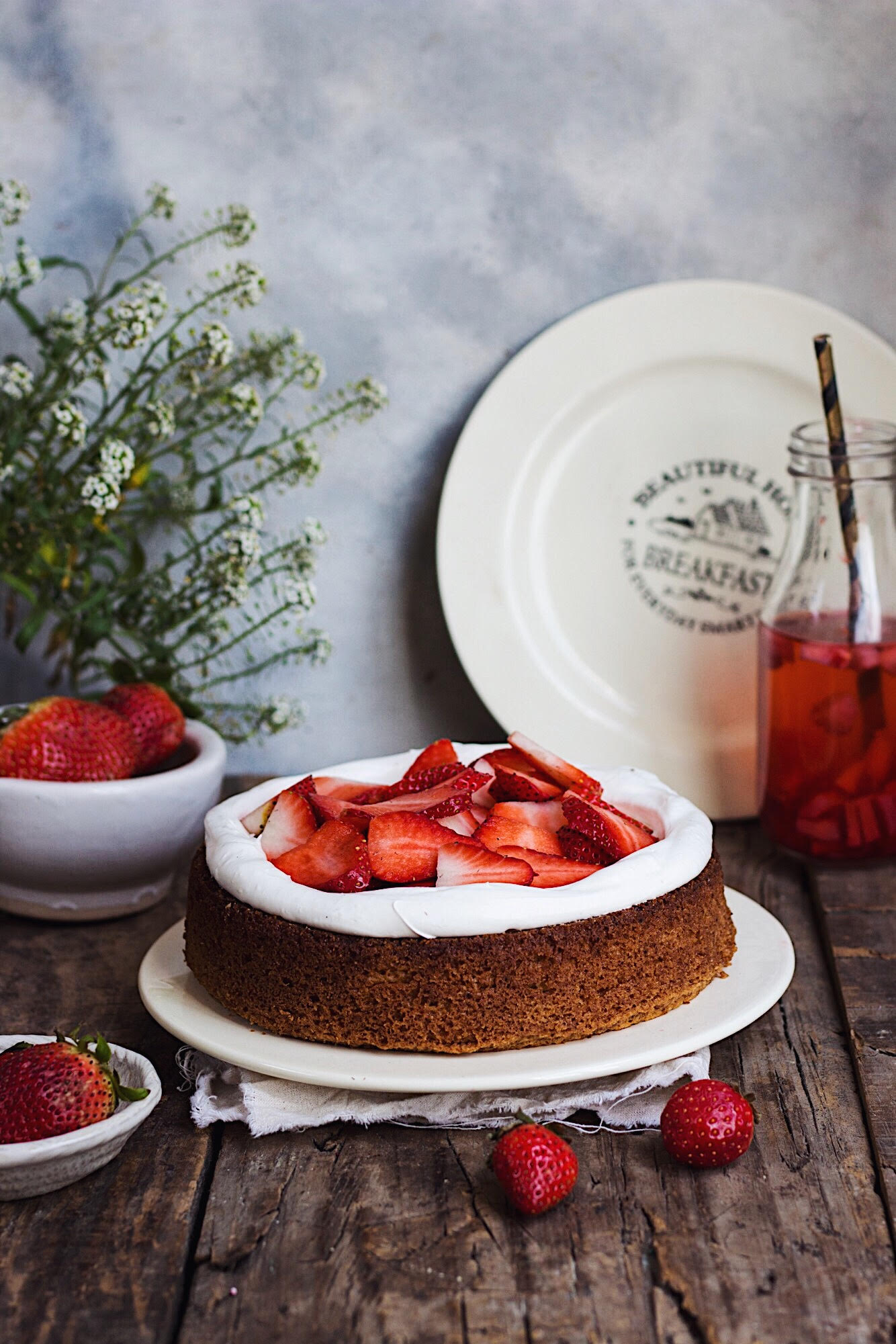 INGREDIENTS-
2 cups all purpose flour
2 teaspoons baking powder
1/2 teaspoon cardamon powder
1/4 teaspoon salt
3/4 cup vegetable oil
1 cup castor sugar
1 teaspoon pure vanilla extract
2 eggs
1/4 cup milk
10-15 strawberries, thinly sliced
FOR THE CHANTILLY CREAM-
1 cup whipping cream
1/4 cup icing sugar
seeds from one vanilla pod
Fresh strawberries, to top
PROCEDURE-
Pre-heat the oven to 180C. Line an 8″ round cake pan with parchment paper
In a bowl, whisk together flour, baking powder, cardamon powder and salt
In a separate bowl, beat vegetable oil and castor sugar. Beat in the vanilla.
Add eggs, one at a time and beat well after each addition. Mix in the milk.
Using a spatula, gently fold in the dry ingredients into the wet ingredients. Mix only unil well combined. Fold in the sliced strawberries
Pour the batter into the prepared cake pan. Bake at 180C for 40-45 minutes or until a skewer inserted into the center comes out clean.
To make the chantilly, beat the whipping cream with vanilla on high speed.
Add the sugar, one tablespoon at a time, with the mixer running.
Keep beating until the cream gains volume and forms firm peaks.
Once the cake has cooled completely, top with with chantilly and fresh strawberries.