We're just days away from the New Year and how can I resist myself from whipping up another delicious cake, haha. This Carrot Coconut Cake is delicious and it is literally all you need at this time of the year to keep you warm and to keep you going!
With all the right winter spices and seasonal yummies like carrots, this Carrot Coconut Cake is the perfect dessert to treat your Christmas hangover and get you and your parties prepped up for New Year's! Even though there are so many carrot-y recipes on the blog, my favorite carrot cake recipe is in my book. If you haven't purchased it, just click here and bake away!
Also, this is another recipe that I bring to you guys in association with SPRIG. I have used my favorite Natural Bourbon Vanilla and Demerara Sugar to enhance the taste and flavor of the dessert and like every other time, SPRIG products have not let me down. If you haven't any of their product, you're missing out on a lot!
If you prefer a simple and egg-free version, you can also try this equally delicious Eggless Carrot Cake!
I top this carrot coconut cake with cream cheese frosting. Click HERE for the recipe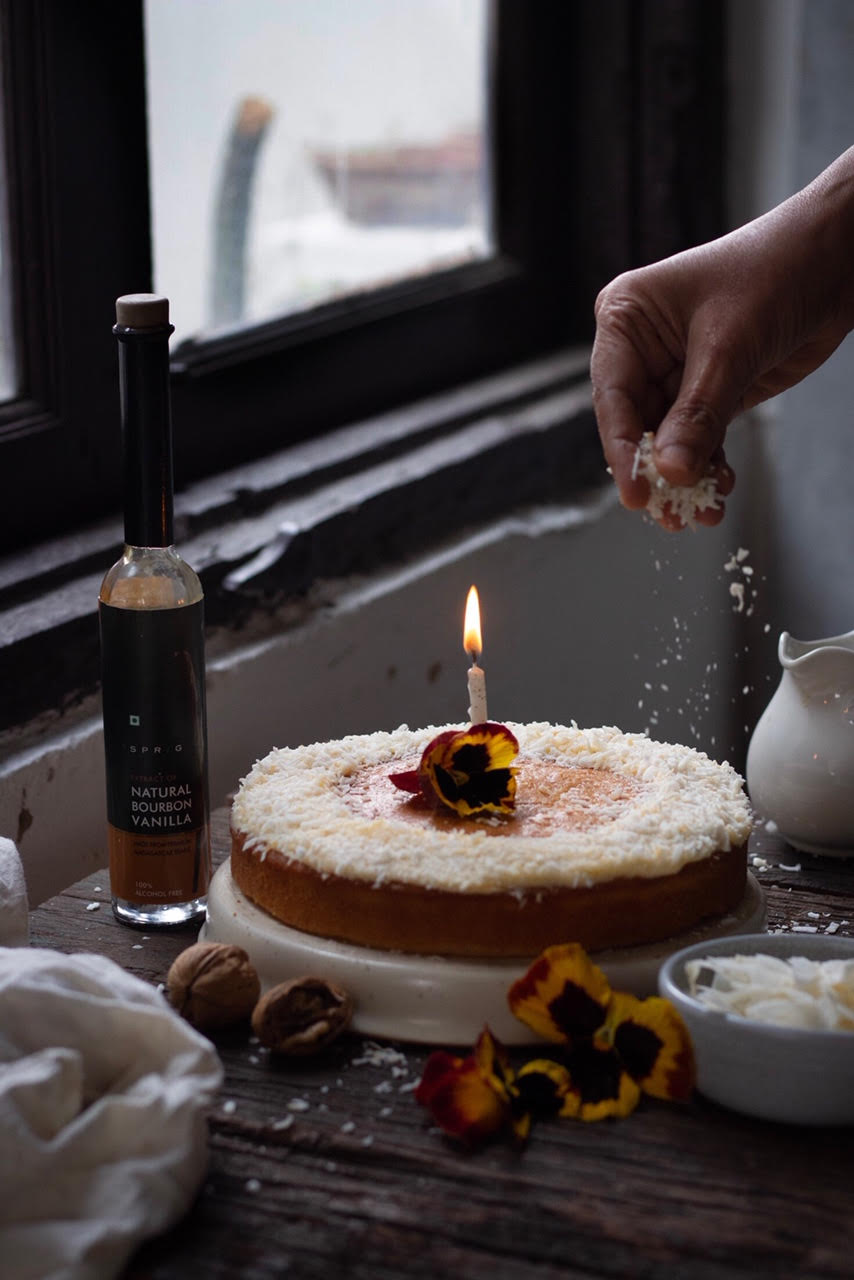 CARROT COCONUT CAKE
Ingredients
2 cups all-purpose flour
¼ cup shredded coconut
½ tsp ginger powder
2 teaspoons baking powder
¼ teaspoon salt
¾ cup vegetable oil
½ cup castor sugar
1 cup grated carrots
½ cup Sprig Demerara Sugar with Real Sri Lankan Cinnamon
1 teaspoon Sprig Bourbon Vanilla Extract
2 eggs
½ cup milk
Instructions
Pre-heat the oven to 180*C. Line an 8″ round cake pan with parchment paper.
In a bowl, whisk together flour, baking powder, ginger powder, and salt, and shredded coconut.
In a separate bowl, beat vegetable oil, castor sugar, and Sprig Cinnamon Sugar.
Beat in the Sprig Bourbon Vanilla Extract.
Add eggs, one at a time and beat well after each addition. Mix in the milk.
Using a spatula, gently fold in the dry ingredients into the wet ingredients.
Add the grated carrots. Mix only until well combined.
Pour the batter into the prepared cake pan. Bake at 180*C for 30-40 minutes or until a skewer inserted into the center comes out clean.
Once the cake has cooled completely, top with cream cheese frosting and more shredded coconut.