The recipe you have been asking for- Eggless No Bake Nutella Tart is finally here! I know you love eggless dessert recipes and I have to say that this eggless no-bake Nutella  tart is the bomb! The crust of this Nutella tart is crumbly and the filling is luscious and creamy. Both the elements work so well together that you can't help but fall in love with this easy to make, no-bake tart! This has become my go-to recipe for whenever I need to whip up something quickly, without putting in too much effort. The best part? You can bet everyone will love this eggless no bake tart. Well obviously, it's Nutella! If you love Nutella desserts as much as I do, say YAY!
I'm happy to report that this Nutella tart is-
eggless
no-bake
easy to make
5 ingredients recipe
delicious
creamy
Be prepared to fall in love with this simple creamy no-bake Nutella tart! If you make this Nutella tart at home, don't forget to share a picture with me on my Instagram and use #BakeWithShivesh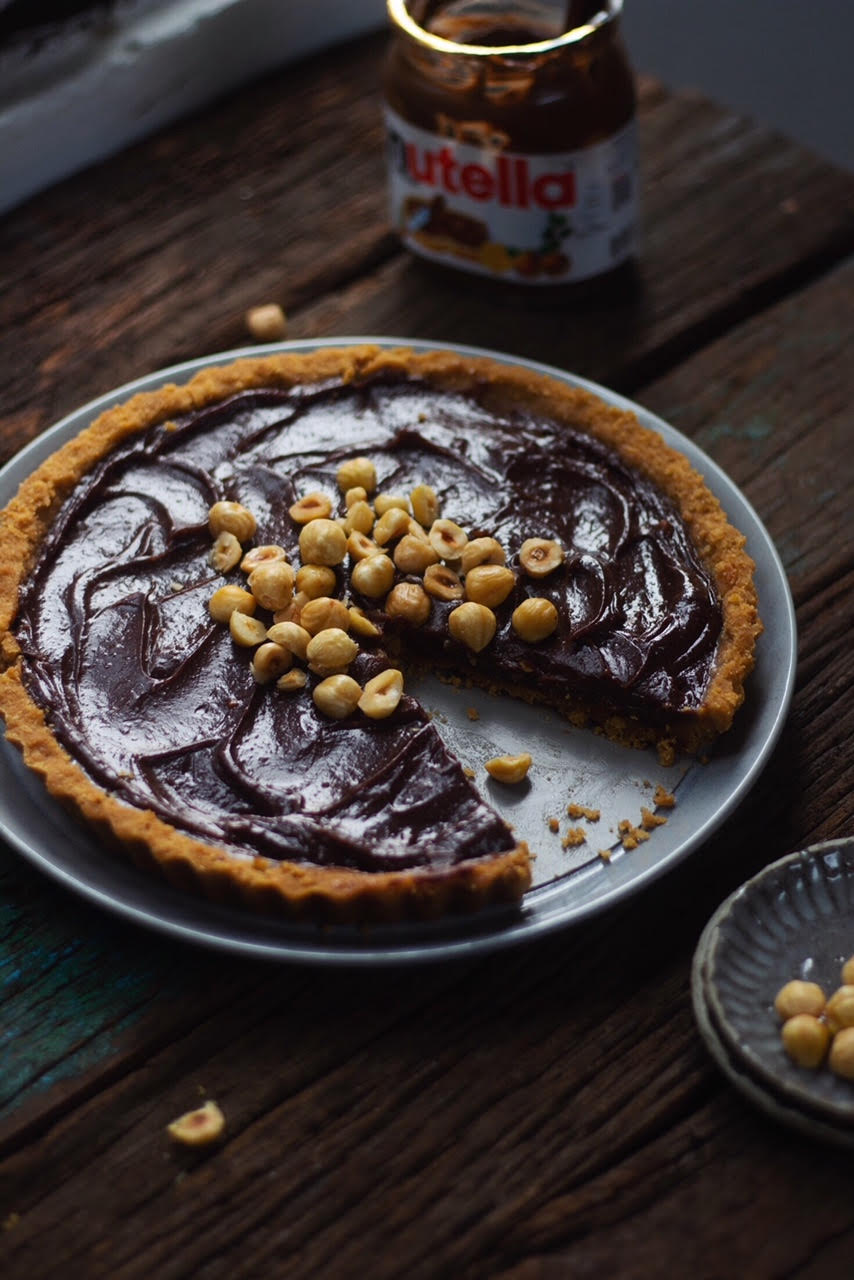 EGGLESS NO BAKE NUTELLA TART
5- INGREDIENTS NUTELLA TART
Yes! You read that right. You only need 5 ingredients to whip up this simple  Nutella tart. For the crust, You can use any digestive biscuits that you an get your hands on. I like to use regular salted butter to make this delicious tart. The salt from the butter gives it so much more flavor. I do top the final tart with sea salt as well but some salt in the crust of the tart is great too.
The luscious Nutella filling is made using only three ingredients. This means that you can make this eggless no bake Nutella tart with just 5 ingredients. How cool is that! I use heavy cream to make the Nutella filling but feel free to use the regular Amul fresh cream. I also top the eggless no bake Nutella tart with toasted hazelnuts to add some extra crunch. Some sea salt would be great too!
I also love baking Nutella puff pastry tarts, which are equally delicious and simple to make. The warm Nutella filling snuggled in flaky puff pastry is what dreams are made of. And guess what? They're eggless too! I would definitely recommend you check out that recipe too and make those eggless Nutella puff pastry tarts for your next tea party!
EGGLESS NO BAKE NUTELLA TART CRUST
This eggless no bake Nutella tart uses a very easy tart shell recipe- only crushed digestive biscuits and melted butter.  You can crush the digestive biscuits in a food processor. I usually do not grind them too fine as I like the texture of the bigger biscuit chunks. But make sure the chunks aren't too big because the tart shell won't hold shape otherwise. Sandy texture is perfect. Once you have crushed your digestive biscuits, all you have to do is add the melted butter. It is very important to make sure all the crushed biscuit crumbs are coated with melted butter. The melted butter that will hold the tart shell together. It is also extremely important to let the tart shell chill in the fridge until it is completely set. The melted butter needs to set in the fridge for the tart to hold shape. Don't lose patience there!
EGGLESS NO BAKE NUTELLA FILLING
I bet you will fall in love with this luscious Nutella filling. It is so simple to make and very creamy and delicious. I do not add any extra sugar to the filling because the Nutella is already very sweet. All you have to do is to cook the Nutella and cream together. It is like making a ganache with Nutella-so yum! To thicken the filling for this no-bake tart, I use corn flour. Once you add corn flour to the Nutella, make sure you continuously keep mixing to prevent any lumps. Mixing continuously will make sure you get a beautiful, smooth and lump free Nutella filling. Bring the mixture to a boil and then transfer the filling into the no-bake tart shell and then spread it evenly and let the tart sit in the fridge for another 30 minutes.

EGGLESS NO BAKE NUTELLA TART
Recipe type:
no bake eggless dessert
Ingredients
CRUST
2 cups digestive biscuits, crushed
1 cup butter, melted
FILLING-
1 cup nutella
2 cups + 4 tablespoons fresh/heavy cream
4 tablespoons corn flour
toasted hazelnuts and sea salt, to top
Instructions
In a large bowl, combine digestive biscuits and melted butter until the butter coats all the digestive biscuits properly.
Use your fingers to press down the biscuit crumbs into the bottom and up the sides of a 9" tart pan. Refrigerate to let it cool and set.
To make the filling, combine 4 tablespoons of cream with corn flour. Set it aside.
In a large saucepan mix to combine Nutella and rest of the 2 cups of cream.
Set the saucepan over medium heat. Add the corn flour mixture to the Nutella-cream mixture and mix well. Keep mixing to prevent lumps.
Bring the mixture to a boil and then turn off the heat. The Nutella mixture should be thick and coat the back of a spoon. Let it cool completely.
Transfer the filling into the tart shell and top with toasted hazelnuts and sea salt. Chill the tart in the fridge for at least 30 minutes before serving.