Hello Nutella and chocolate lovers! I have something very interesting for you. These Nutella Puff Pastry Tarts are easy to make, delicious and chocolaty. Flaky, buttery puff pastry filled with Nutella and chocolate and baked until golden brown- it doesn't get better than this.
It makes for a perfect party dessert for kids. You can make this in less than an hour and everyone will love it! If you are looking for simple, quick and delicious dessert recipes, these eggless Nutella- chocolate puff pastry tarts are going to become your best friends.
I love puff pastry. It is so much fun to work with and also super yum. I love the multiple flaky layers of flour and butter and how they crisp up in the oven on baking. You can use puff pastry to make so many different desserts and also a lot of savory dishes. Making puff pastry at home is a long and tedious task and that is why store bought puff pastry sheets come handy. You can buy puff pastry from big departmental stores like Mordern Bazaar or FoodHall.


4 INGREDIENTS NUTELLA PUFF PASTRY TART
Another reason why I love baking these Nutella puff pastry tarts is that you only need 4 ingredients to make these tarts. You need frozen puff pastry sheets and Nutella. You also need some good quality chocolate. I like using dark chocolate here. The fourth and last ingredient that you need to make these simple puff pastry tarts is hazelnuts or almonds. They add a lot of crunch and texture to the tarts, which I absolutely love. If you like, you can also brush the puff pastry with egg wash to get a nice golden-brown finish to the tarts. To keep them eggless, you can also simply brush them with some cream.
HOW TO MAKE NUTELLA-STRAWBERRY PUFF PASTRY TART
You'll be surprised to see how versatile this recipe is and how much you can play around with it. To make Nutella-strawberry puff pastry tarts, you simply have to follow this same recipe. Instead of using chocolate chunks, you can top the tart with strawberry slices. As simple as that. The cool part is that you can use this same recipe to make a number of different  Nutella puff pastry desserts like Nutella puff pastry triangles, Nutella puff pastry braid, Nutella puff pastry pinwheels or Nutella strawberry puff pastry hearts. If you love tasty puff pastry desserts as much as I do, don't forget to check out my favorite Strawberry Puff Pastry Tart recipe.
NUTELLA DESSERT RECIPES-
If you make these Nutella puff pastry tarts at home, don't forget to share a picture with me on my Instagram and use #BakeWithShivesh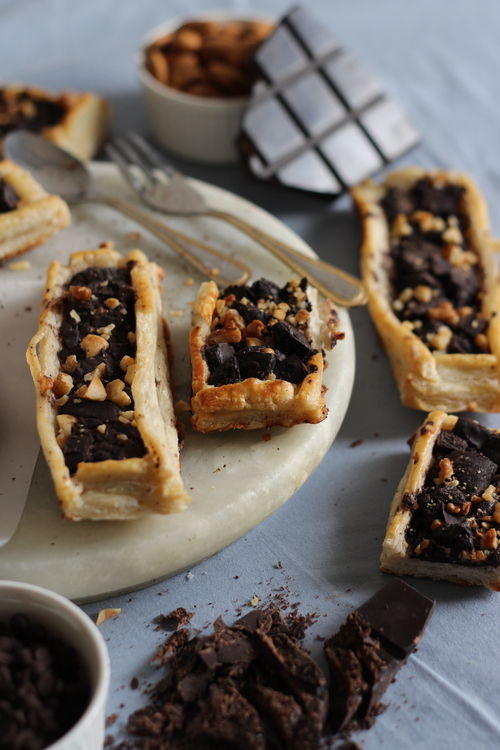 Eggless Nutella- Chocolate Puff Pastry Tarts
Ingredients
1 sheet of rolled puff pastry, thawed
½ cup Nutella
1 cup chocolate chips/ chocolate chunks
¼ cup crushed almonds/ hazelnuts
Instructions
Pre-heat your oven to 180*C.
Spread the puff pastry on a baking tray lined with baking sheet. Cut them into rectangles or shape of your choice.
Use a knife to score 1" edges on each puff pastry rectangle.
Fill with Nutella. Arrange chocolate chunks on the top. Sprinkle with crushed almonds or hazelnuts.
Bake the tarts for 20-25 minutes or until the edges become golden-brown.