These Eggless Nutella Cookies are what dreams are made of! Crispy on the edges, chewy in the center and bursting with the flavor of Nutella- it doesn't get better than this! Oh wait it does. They're also egg free and vegetarian. To make them even better, I load these easy-to-bake cookies with chocolate chips and sea salt. Nutella sea salt cookies are my favoruite. What a terrific combination! Don't you think so?
Happy World Nutella Day, dear readers! I remember those days when I'd eat Nutella five to six times a day- smeared on bread,  with strawberries or just like that out of the jar. While that kind of obsession is no longer there, I still love to indulge now and then. Now I usually use Nutella for when I'm baking and I absolutely love it. These eggless Nutella cookies are a result of that love. A lot of my reader's have been requesting for eggless recipes. Since I love my readers, I've promised to post as many eggless recipes here as I can. Which reminds me- have you tried the eggless chocolate chip cookies that I shared? I bet you'd love them too.
Since we're celebrating our love for Nutella today, you can also try out the Nutella filled chocolate thumbprint cookies or the Nutella puff pastry tarts. If you bake these cookies at home, please don't forget to share a picture with me on my Instagram using #BakeWithShivesh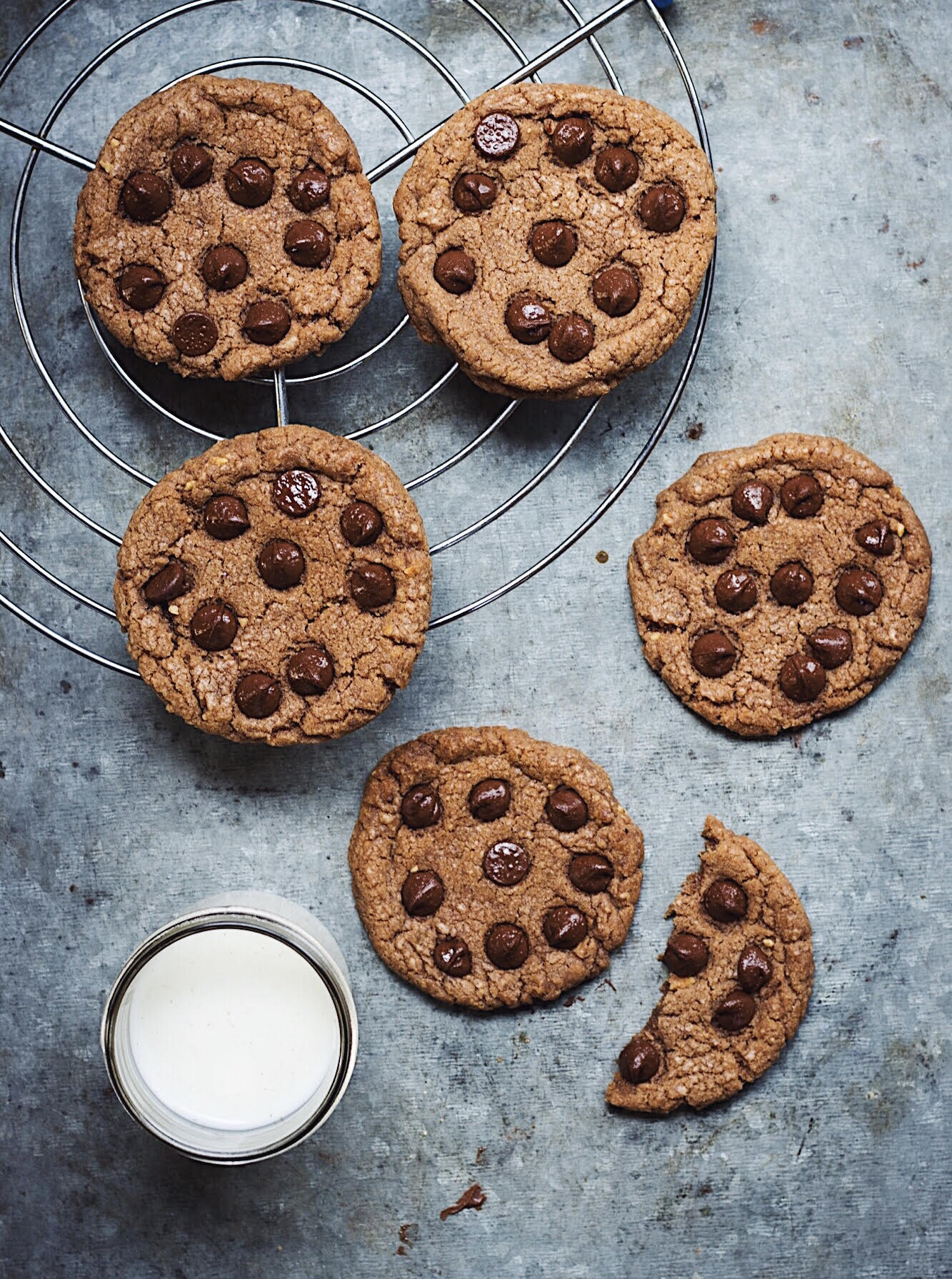 HOW TO MAKE EGGLESS COOKIES
One question I get asked very often- what is the eggs substitute in cookies? How do I make cookies eggless? In this recipe, I use flax egg instead of a regular egg. A flax egg is basically just ground flax seeds mixed with water. You can't use this is every recipe in place of the egg, but here it works wonderfully. If you consume eggs, you can simply use one regular egg instead of the flax egg. 
HOW TO BAKE THE PERFECT EGGLESS COOKIES
I have written a detailed article on how to get your cookies right. You can read that for all the wonderful tips that will make sure you make the perfect eggless nutella cookies every time. I'm sharing my top few tips here-
Measuring the flour right:
One way of ensuring that you don't end up adding extra flour is scooping up the required amount in your measuring amount and scraping off any of the excesses with a knife.  In fact, this pro-tip is a must for all baking purposes considering what disaster wrong measurements can do to your batter or dough.
Ingredients at Room temperature:
When the recipe clearly states use room temperature ingredients, Use room temperature ingredients. There is absolutely no substitute for that. Using chilled butter, cold eggs could seriously destroy the texture of your cookie. Put all the required ingredients in the open long before you start mixing them, and only heat or refrigerate any ingredient if asked to do so by the recipe instructions.
Refrigerate your dough:
Once you have mixed all your ingredients, letting your dough refrigerate for a few hours could help blend all the things that you put in. More importantly, it helps enhance the flavor of your batch of cookies.

EGGLESS NUTELLA COOKIES
Ingredients
1 tablespoon ground flax seeds
2 tablespoons cold water
½ cup salted butter, softened
½ cup soft brown sugar
¼ cup castor sugar
¼ cup Nutella
1 teaspoon vanilla extract
1 + ¼ cup all purpose flour
½ teaspoon baking soda
1 teaspoon corn flour ( optional)
¼ cup chocolate chips
sea salt, to sprinkle
Instructions
In a small bowl, mix ground flax seeds and water. Let it rest for 5 minutes.
In a separate bowl, cream the butter with brown and castor sugars until the mixture is creamy.
Add the flax seed mixture and beat well.
Mix in the Nutella and vanilla extract.
Using a spatula, fold in the flour, baking soda and cornflour. Mix until the dough comes together and there are no flour pockets.
Let the dough sit in the fridge for 30 minutes or until it is firm.
Pre-heat the oven to 180*C.
Using an ice-cream scoop, scoop the cookie dough on a baking tray lined with parchment paper.
Gently press the cookie dough calls with your fingers. Place the chocolate chips on the top.
Bake the cookies for 10-15 minutes or until the edges become golden-brown.
Let the cookies rest on the baking tray for 10 minutes before you lift them off.
Sprinkle with sea salt.