I'm not a fan of the idea of a red velvet cake, to be honest. But since a lot of my readers have been requesting for the recipe of a red velvet cake, I couldn't say no. And what better time to do a red velvet cake than Valentine's? I know a lot of you would love to bake this red velvet cake for your loved ones on Valentine's so here you go!
The frosting is my favorite cream cheese frosting. I absolutely love it and it goes so well with this red velvet cake. For the recipe of the frosting, please click HERE!
If you end up baking this red velvet cake for your boo, please do not forget to tag me on Instagram and use the hashtag- #bakewithshivesh. You can also check out the Eggless Red Velvet Cake Recipe.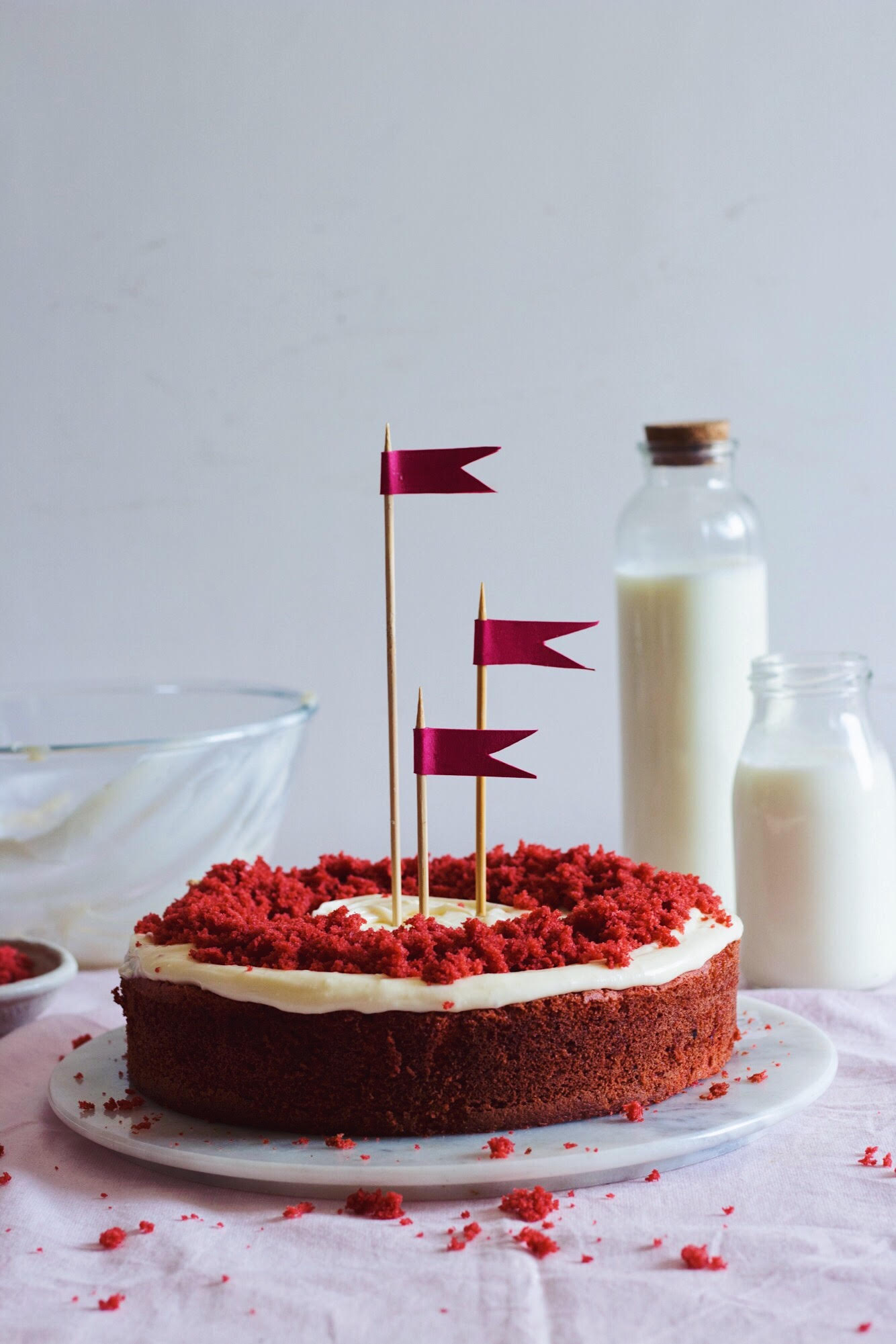 Easy Red Velvet Cake Recipe
This recipe of the red velvet cake is a very easy and basic one. If you stick blindly to the recipe and follow each measure religiously, you're bound to obtain the most indulgent red velvet cake ever! This cake is called so because of it's smooth velvety texture which is what imparts the heaviness and the decadence to the cake. Each bite of this beautiful red velvet cake is a direct stairway to heaven and I am sure that one would certainly not mind baking it for their lovers on such a beautiful occasion like Valentine's!
Tips for getting moist red velvet cake
For this cake, it is very important that you're beating your sugar and butter up until a level when it is creamy and fluffy. This step is what gives the cake it's gorgeous moistness.
Do not add all the four eggs together. The recipe already asks you to add one at a time and this is important because eggs and butter do not mix as well and as fast. If you end up adding all the eggs together, it will take you longer to mix the eggs into the butter-sugar mixture.
If you wish to preserve the cake for longer, make sure you're packing it in an airtight container.
Other toppings for your Red Velvet Cake
While I have used my favorite cream cheese frosting, I do understand that you guys might want to take a different way or just, an easier way with your frosting. For the same, you can choose any of the following and it will go equally well with this delicious cake.
Red Velvet Cake Recipe
Red Velvet Cake with Eggless Option
Ingredients
¾ cup milk
1 teaspoon white vinegar
2 cups all-purpose flour, sifted
2 teaspoons  baking powder
1 teaspoon baking soda
1 cup butter, softened ( 200gm)
1 + ½ cup castor sugar
2 teaspoon vanilla extract
4 eggs
1 teaspoon edible gel red food color
Instructions
Line a 9" circular cake pan with parchment paper. Pre-heat the oven to 180C.
In a cup combine milk and white vinegar. Let it sit for 10 minutes.
In a bowl, whisk together the flour, baking powder, and baking soda.
In a large bowl, beat the butter and sugar on high speed until the mixture is light and fluffy. This may take about 5 minutes. Add vanilla.
Beat in the eggs, one at a time, and beat well after each addition.
Using a spatula, fold the dry ingredients into the wet ingredients in three batches, alternating with the milk. Do not over-mix. Mix only until everything is well combined.
Add the red food coloring and mix until the batter is evenly colored.
Transfer the batter to the cake pan and bake at 180C for 40-45 minutes or until a toothpick inserted into the center comes out clean.
Once the cake has cooled completely, cover it with cream cheese frosting.