I lost count of how many of you wanted to see this recipe on the blog. I'm not a red velvet fan but for you guys, it's here- Eggless Red Velvet Cake! I made a classic red velvet cake last year in Feb for Valentine's Day. This year, I'm sharing the eggless version of this very popular cake. This cake, for sure, is a crowd-pleaser. Everyone seems to love it! That makes it the perfect cake to bake for paries and dinners and also for Valentine's Day.
Over the last few months, I've shared several eggless recipes. You guys loved the eggless strawberry tea cake and the eggless chocolate chip cookies. I hope you enjoy baking this easy eggless red velvet cake too. It's actually very simple to bake. All the ingredients you need are very basic. I am sure you have most of them on your kitchen shelf already.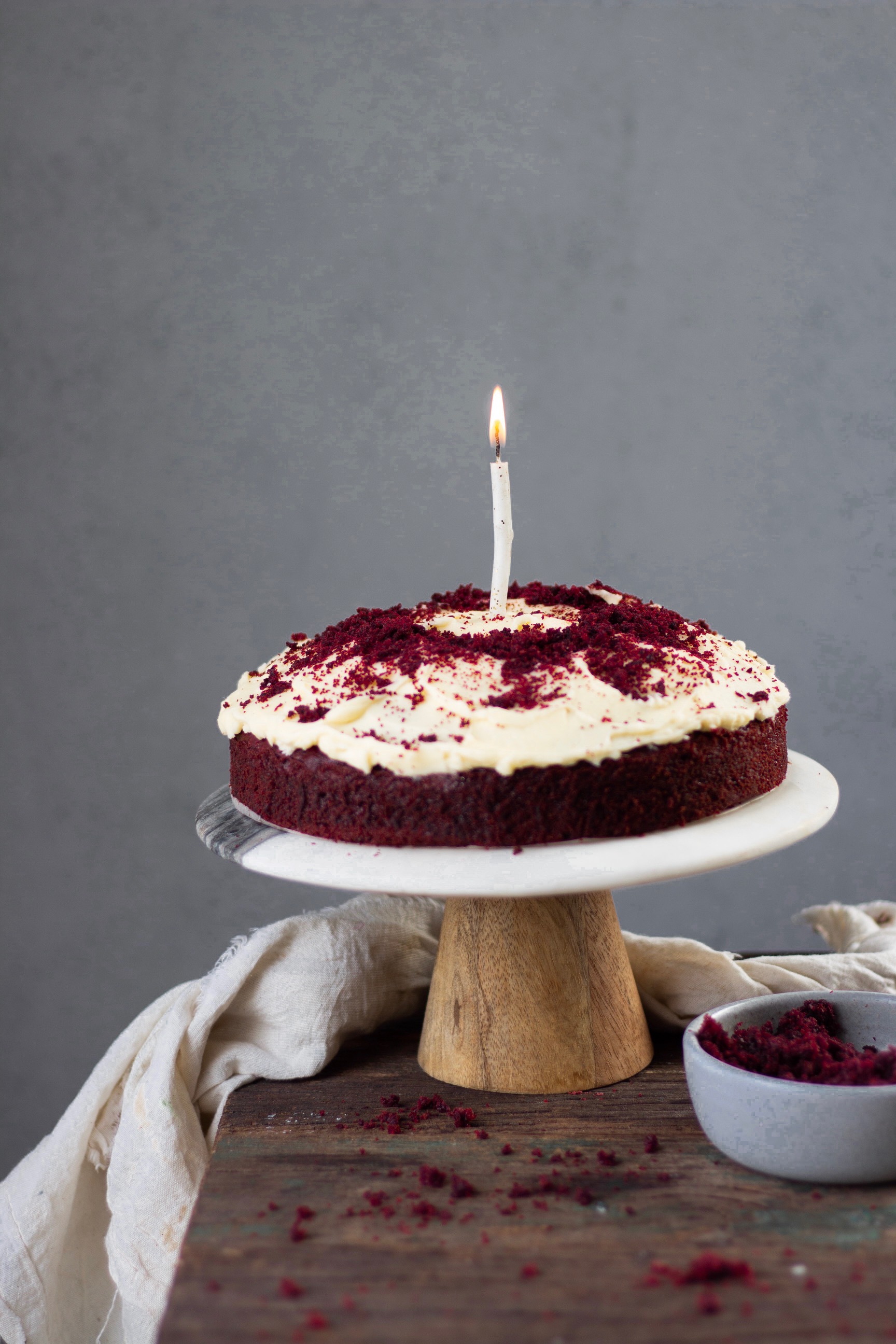 Eggless Red Velvet Cake Ingredients
Besides the basic flour, coca powder and sugar that you need, you also need sugar, lemon juice and white vinegar to make this easy eggless red velvet cake. I use vinegar and lemon juice because they are acidic in nature and react with the baking soda to make this cake truly soft and velvety. So please don't skip either of these ingredients. For the colour, I use edible artificial gel red color. You can use liquid color as well.
Red Velvet Cake Frosting
I usually love my cakes without frosting but I recommend topping this eggless red velvet cake with frosting. My choice of frosting with red velvet cake is cream cheese frosting. If you don't have cream cheese, go ahead and smother the cake with me vanilla bean buttercream frosting. Don't forget to let the cake cool completely before you cover it with frosting.
Eggless Red Velvet Cake with Buttermilk
To make butter milk for this eggless red velvet cake recipe, simply add 1 teaspoon white vinegar to 1 + 1/4 cup milk. Let it rest on the counter for 5-7 minutes. You will see that the milk curdles a little. You need to add this mixture to your red velvet cake. It makes the cake super soft and velvety.
Eggless Red Velvet Cupcakes
You can use this recipe to bake eggless red velvet cupcakes also. Simply scoop the batter into cupcake trey lined with cupcake liners and bake at 180*C for 20-25 minutes.
Are you ready to bake this super soft, most and easy eggless red velvet cake? If you bake this cake for Valentine's day for some time later, please don't forget to share a picture with me on Instagram using #BakeWithShivesh.

Easy Eggless Red Velvet Cake Recipe
Ingredients
1 + ½ cup (180g) all purpose flour/ maida, sifted
2 tablespoons (15g) cocoa powder
1 teaspoon (6g) baking soda
1 cup (200g) castor sugar
½ cup (120mL) vegetable oil
¼ cup (72g) yogurt
2 teaspoons (10mL) lemon juice
2 teaspoons (10mL) vanilla extract
4-5 teaspoons (20-25mL) red food colour
1 + ¼ cup (300g) buttermilk
Instructions
Pre-heat the oven to 180*C and line a 9" round cake pan with parchment paper.
Ina large bowl, combine flour, cocoa powder, baking soda together. I recommend you sift all the dry ingredients once.
In a separate bowl, combine sugar and oil. Beat well.
Add yogurt, vanilla, red color and lemon juice and mix until everything is well combined.
Add dry ingredients to wet ingredients in three batches, alternating with buttermilk.
Be careful to not over mix. Beat only until everything is well combined and there are no large flour pockets.
Transfer the batter into the prepared cake pan and bake for 30-40 minutes or until a skewer inserted into the center comes out clean. Your eggless red velvet cake is ready!