This Eggless Tiramisu is one of my favorite desserts- I love it for its flavor and texture. It is also one of the first desserts that I made on my own when I started baking- probably because it is such an easy to put together dessert. Hence, I will forever love this eggless tiramisu recipe.
The eggless tiramisu is comfort in every bite. The kick of coffee, the texture of the ladyfinger biscuits and the creaminess of the mascarpone cheese work beautifully together. Moreover, this is an eggless tiramisu recipe without alcohol, and so, you don't have to worry about it!
If you'd like more of this wonderful eggless tiramisu, you should definitely try the 4-layer chocolate cake tiramisu recipe on the blog!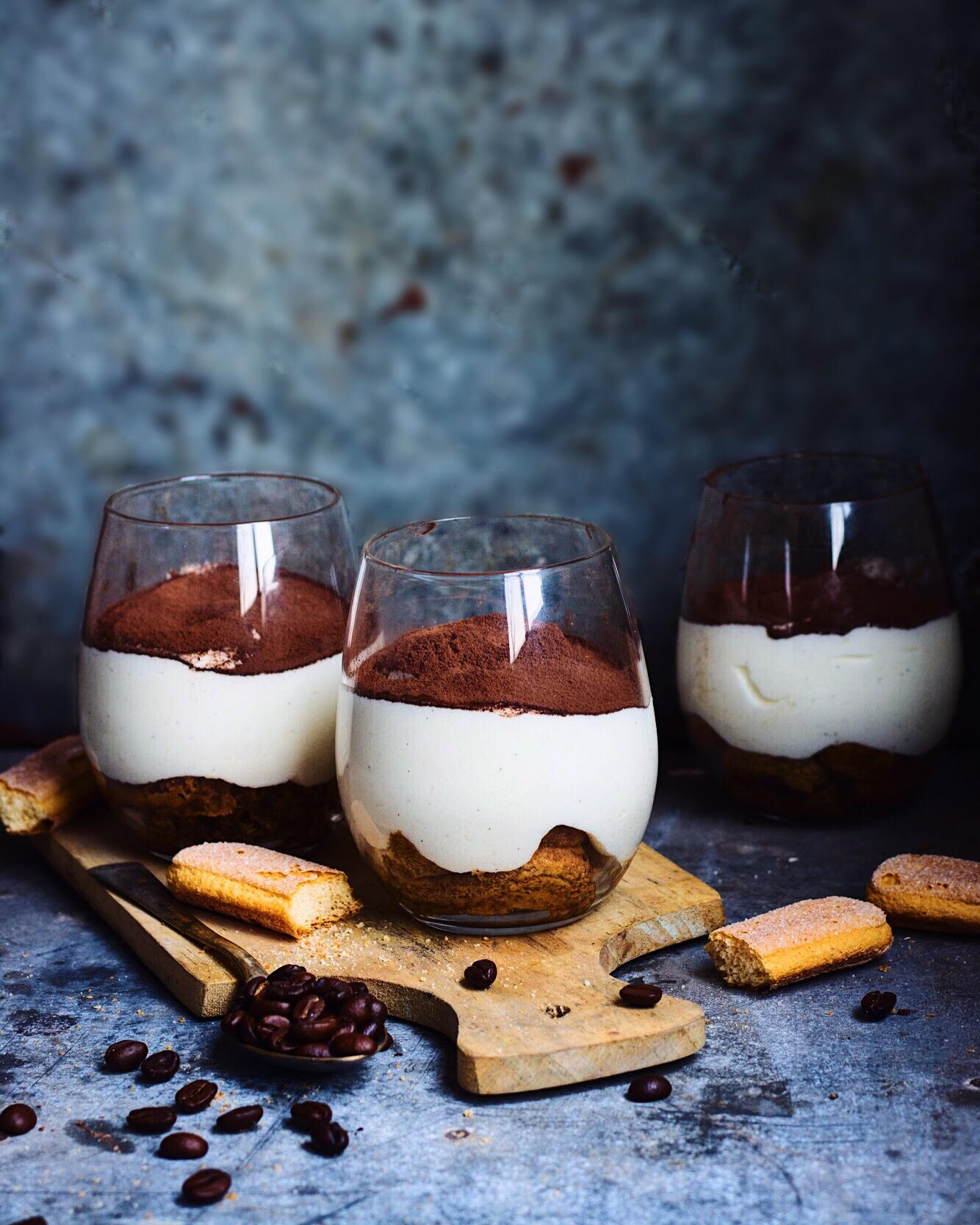 Ingredients of this Easy Tiramisu Recipe
To talk about the ingredients of this tiramisu, I use the mascarpone cheese from Flanders. For the ladyfinger biscuits, the most commonly available brand in India is Vicenzovo. There is no substitute for these but you can find them at FoodHall or Modern Bazaar. If you're in Delhi, you'll get them at Khan Market or in INA. You can use the coffee powder of your own choice. Make sure you let the tiramisu rest in the fridge for a good amount of time before digging in.
I have also curated a book with a wonderful fruity Tiramisu recipe, which I am sure you guys will like. To get your hands on the book, you can click here.
Simple Tiramisu Recipe in a Cup
The main reason why I call this the easy tiramisu recipe is because of the facts that neither do you need to use alcohol, neither does the recipe call for eggs. Not only this, you can serve this eggless tiramisu in glasses like I do or set it in a flat-shallow dish. Like I always say, there is no end to experimentation and baking is all about playing around with ingredients, shapes, and what not. Consequently, you can also choose to serve this eggless tiramisu in cups which will surely add a fancy touch to the wonderful recipe. Furthermore, this tiramisu is very light but completely satisfying and probably the best you've ever tasted!
Easy and Eggless Tiramisu Recipe
Easy tiramisu recipe without eggs
Ingredients
1 cup water
2 tablespoons coffee powder
10-15 lady finger biscuits
1 cup mascarpone cheese, at room temperature
1 cup whipping cream, chilled
½ cup icing sugar
cocoa powder, to dust
Instructions
In a saucepan, bring the water to a boil. Pour the boiling water over coffee powder. Let it cool.
Dip the lady finger biscuits in the coffee. Do not soak or let it sit in the coffee for too long.
Layer the lady finger biscuits in a dessert glass or a shallow dish.
Lightly beat the mascarpone cheese.
Using an electric mixer, beat the whipping cream on high speed. Keep adding the sugar in batches while the mixer is still running. Beat until the cream doubles in volume and forms soft peaks.
Using a spatula, gently fold in the mascarpone cheese into the whipped cream. Transfer to a piping bag.
Pipe the filling on the layer of lady finger biscuits.
Dust with cocoa powder. Let the tiramisu rest in the fridge for 4-5 hours or over night.