EGGLESS NUTELLA COOKIES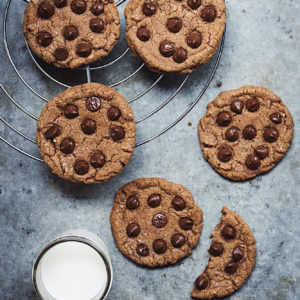 1 tablespoon ground flax seeds
2 tablespoons cold water
½ cup salted butter, softened
½ cup soft brown sugar
¼ cup castor sugar
¼ cup Nutella
1 teaspoon vanilla extract
1 + ¼ cup all purpose flour
½ teaspoon baking soda
1 teaspoon corn flour ( optional)
¼ cup chocolate chips
sea salt, to sprinkle
In a small bowl, mix ground flax seeds and water. Let it rest for 5 minutes.
In a separate bowl, cream the butter with brown and castor sugars until the mixture is creamy.
Add the flax seed mixture and beat well.
Mix in the Nutella and vanilla extract.
Using a spatula, fold in the flour, baking soda and cornflour. Mix until the dough comes together and there are no flour pockets.
Let the dough sit in the fridge for 30 minutes or until it is firm.
Pre-heat the oven to 180*C.
Using an ice-cream scoop, scoop the cookie dough on a baking tray lined with parchment paper.
Gently press the cookie dough calls with your fingers. Place the chocolate chips on the top.
Bake the cookies for 10-15 minutes or until the edges become golden-brown.
Let the cookies rest on the baking tray for 10 minutes before you lift them off.
Sprinkle with sea salt.