What comes to your mind when I say- rich, glossy, chocolatey smooth silky mixture. CHOCOLATE GANACHE! If I could use more adjectives to describe my love for ganache- I would. I am so happy that the second episode of my HOW TO serious- GANACHE just went live. My main purpose for creating this series was to help all bakers get a stronger grip of their baking basics. As a baker if you perfect the basics and have them on the back of your hand, you will be good to go on and experiment with any recipe.
Ganache is so versatile, you can drizzle it on top of deserts, whip it and pipe your cakes and cupcakes with it, or make a whole another dessert- truffles with it. Best part, it's just 2 simple ingredients, cream and chocolate. Grab your notebooks cause i'm about to dive in all of my secrets on how to get that perfect ganache!
Ingredients for Ganache
The only two ingredients you would require to make ganache would be cream and chocolate.
Cream
In my kitchen we always lean towards making the ganache using fresh cream. The brands that I trust for fresh cream are Mother Dairy and Amul. However, if you are making your ganache with heavy cream, my brand recommendations would be Tropolite and Rich.
Chocolate
You can make your ganache with any kind of chocolate be it couverture or compound, chocolate chips. You can also make your ganache different based on what kind of chocolate you prefer, white, milk or dark. My personal favourite has to be dark chocolate ganache. It hits all the right accents of sweet and sharp. Some of the trusted brands that I use are- Callebaut, Regal, Amul, Vanleer and Morde. ​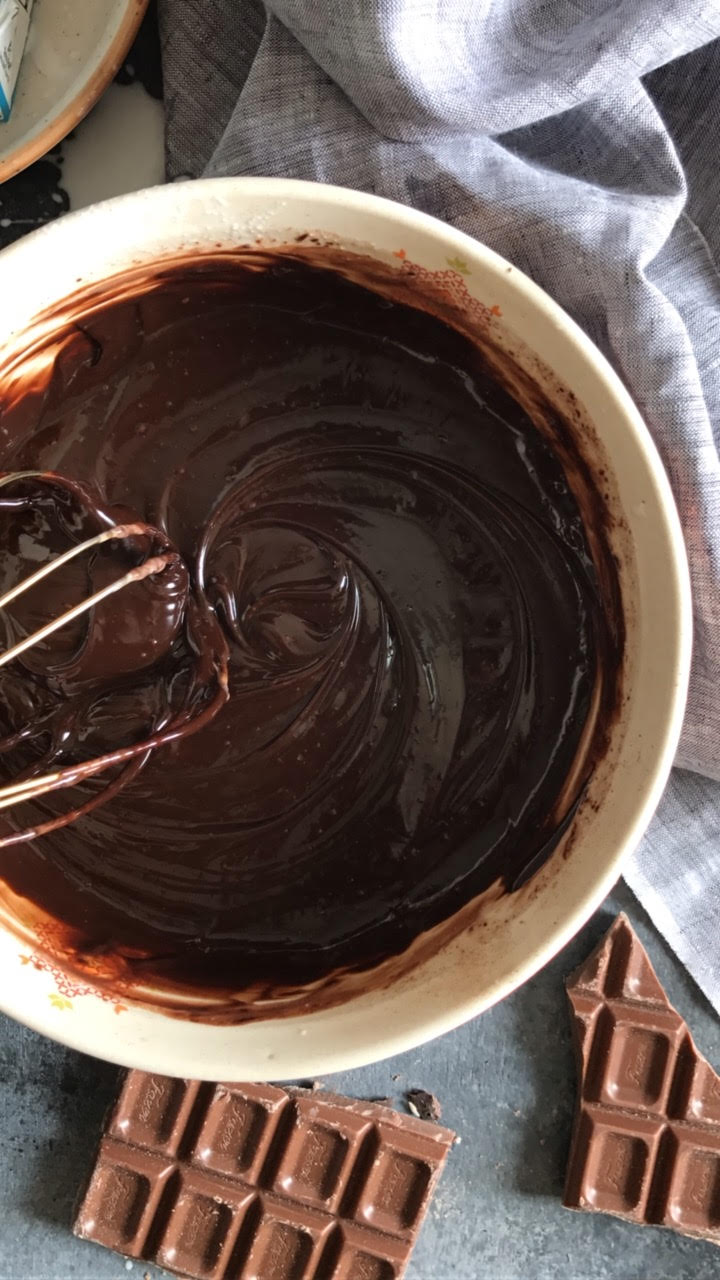 RATIOS
There are 3 different kinds of ratios used. We have to understand that different ratios will yield a very different result. The consistency would be completely dependent on the ratio. You need to pick the ratio looking upon how you want to use it.
1. The first ratio and the most popular ratio is 1:1 where you use one part of cream to one part of chocolate. This mixture is used for dripping, dipping, in donuts and filling in eclairs.
2. The second ratio is 1:2 where you add one part cream to 2 parts chocolate. This ganache is mostly used to decorate cakes and cupcakes. I really love the consistency of this ganache as it is pipable. This is also the most produced ganache in my kitchen.
3. The third ratio is 1:3 where you add one part cream and 3 parts chocolate. This type of ganache will be super thick. It's mostly used to make truffles because it doesn't melt easily and hold onto its shape.
METHODS
There are 3 different methods used to make chocolate, all of them use different techniques, however the end result is the same silkiest ganache you have asked for!
GANACHE OVER A DOUBLE BOILER
To start you will need a sauce pan with water placed on a medium heat. We will not be cooking our chocolate over direct heat. The water becomes the medium of cooking. Now we shall bring the water to a slight simmer. Now place a heat proof bowl, with your chocolate and place it on top the pan. Make sure the water doesn't directly touch the bowl, only allow the steam to touch the bowl and work on melting the chocolate. Stir your chocolate in intervals until fully melted. Add your cream in the bowl now and mix this well. Once they are well combined, set it off the heat and let it cool completely. This is also the most trusted method that I use in my kitchen to make ganache.
POURING HOT CREAM OVER CHOPPED CHOCOLATE
In this method you need to take your cream in a sauce pan and heat it. You need to be very careful so as to not burn the bottom of the pan. So continuously stir the cream until it is nice and warm. Pour this cream over the chopped chocolate in a heat proof bowl. Wait a couple of minutes until the chocolate is melted and then stir to combine.
IN A MICROWAVE
Here you need to take a microwave safe bowl. Add in your chopped chocolate and microwave it in 10 second intervals. Be very careful, the chocolate can get burnt very easily. So stir after every 10 seconds and microwave until it's just melted. Once the chocolate is melted add your cream to the chocolate. Combine well and let it cool completely before you use it.
WHIPPED CHOCOLATE GANACHE
Technically to prepare this ganache the procedure remains the same but in order for whipping it up you need to make sure that the cream you are using is heavy cream. The cream you use should have a minimum fat content of 30%. Completely cool your ganache before mixing in the cream. Use an electric mixer to beat it until it becomes light and airy. The colour will become to lighten which means that your ganache is good to go! Use this to decorate your cakes and cupcakes.

HOW TO FIX CHOCOLATE GANACHE?
If your mixture has released fat the right way to fix it is to use a hand blender to blend it so it emulsifies.
If your chocolate ganache has chocolate chunks, the best way to fix it, is to heat it in the microwave and mix it well after 10 seconds so that the chocolate chunks melt and the ganache is nice and smooth.
STORAGE
Always store with a piece of plastic wrap pressed against the surface to prevent any film or crust from forming. The ganache needs to be refrigerated at all times. You can also Freeze for upto 1 month. Before using the frozen ganache remember to thaw in the fridge and then let it come to room temperature.
TIPS FOR A PERFECT GANACHE EVERY TIME
1. Chop the chocolate evenly, this will ensure even melting of the chocolate making the
Mixture smooth and lump free.
2. Do not stir the cream when you pour it over chopped chocolate. Be patient, let the cream do its work.
3. Make sure the chocolate does not come in contact with water, this will seize the chocolate. Keep all your bowls, spatulas and pans dry at all times.
If you do want to try Ganache combinations, you can check some videos out on my Youtube as well!

How to make the perfect chocolate ganache
Ingredients
2 cups chopped chocolate
1 cup fresh cream
Instructions
In a saucepan over medium heart, bring the cream to a simmer.
Pour the hot cream over chopped chocolate and let it rest for a minute.
Whisk the chocolate cream mixture until everything is combined well.
Let it cool in the fridge for 30 minutes at least before using.