All of us are attracted towards a good, decadent chocolate tart. And this is a fact I am sure of. One thing that I have noticed about tarts- they look too good but sometimes, don't taste good. And No-bake eggless chocolate tart is going to absolutely blow your mind. Why? Because it is delicious, decadent, super easy to make and what not! So, I see absolutely no reason why someone would refrain from trying this tart out. It's raining cats and dogs in Delhi and I am absolutely loving the rains. This No-bake eggless chocolate tart happens to be THE perfect way to celebrate rains- trust me on this.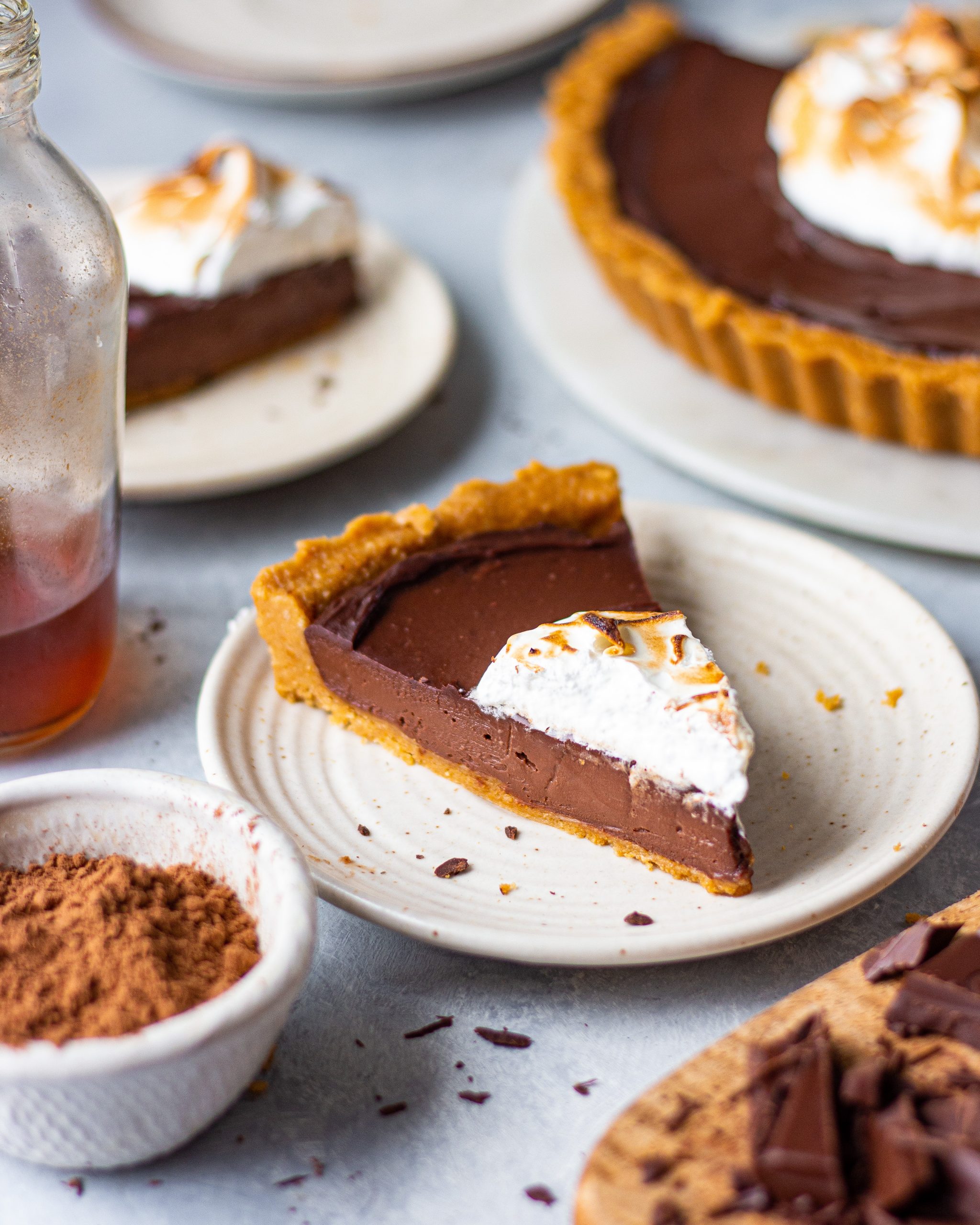 There is something about a chocolate tart that appeals to everyone. Chocolate is a flavor that is loved dearly by everyone. Plus, the tart crust of this No-bake eggless chocolate tart Is something to truly die for. Have you ever tasted the biscuit and butter base? It is absolutely delicious and truly out of this world. Combined with the rich chocolate flavor of the filling, this biscuit base makes this No-bake eggless chocolate tart such a winner! There are so many tarts on the website. Have you tried baking the Rose Tart that I shared with you a few days back? It is super delicious! And if you're looking for a classic, fool proof, delicious tart, you should definitely check out my Eggless Caramel Pecan Tart.
No-bake eggless chocolate tart CRUST
This No-bake eggless chocolate tart uses a very easy tart shell recipe- only crushed digestive biscuits and melted butter.  You can crush the digestive biscuits in a food processor. I usually do not grind them too fine as I like the texture of the bigger biscuit chunks. But make sure the chunks aren't too big because the tart shell won't hold shape otherwise. Sandy texture is perfect. Once you have crushed your digestive biscuits, all you have to do is add the melted butter. It is very important to make sure all the crushed biscuit crumbs are coated with melted butter. The melted butter that will hold the tart shell together. It is also extremely important to let the tart shell chill in the fridge until it is completely set. The melted butter needs to set in the fridge for the tart to hold shape. Don't lose patience there!
Tips to nail the No-bake eggless chocolate tart
A tart is the easiest, most delicious and versatile dish that one can prepare in no time. It goes well with both sweet and savoury fillings. Whether it is custards, lemon curd, or cream cheese filling, you just need to put on your thinking caps and go where your creativity takes you! So many you ask me- how to make perfect tarts? Here is some insight:
Allow the No-bake eggless chocolate tart base to set in the fridge. Like previously mentioned, the butter needs to become stable and hold the crust together, This is of essence.
The cornflour is what will make your silky chocolate filling thick and stable. Please do not skip it. It can also be substituted with custard powder
I used 55% dark chocolate to make this tart. You can use an even darker chocolate or a lighter one- upto you. This percentage of dark chocolate enables you to have a balanced taste.
The meringue I used to decorate the tart has egg whites in it. You can avoid it if you want to keep the tart eggless.
Spread the biscuit mixture nicely while make the crust. If you don't do this, you will end up with a rather haphazard crust for this No-bake eggless chocolate tart. You don't want this. Trust me.
In case you make this easy tart, please tag me on instagram!

No-bake eggless chocolate tart
No-bake eggless chocolate tart recipe
Ingredients
CRUST-
2 cups crushed digestive biscuits
¾ cup melted salted butter, (add more if needed)
FILLING-
1 cup melted chocolate
2 cups + 4 tablespoons fresh/heavy cream
4 tablespoons corn flour
1+ ½ tsp coffee powder
Instructions
In a bowl, combine crushed biscuits and melted butter until a ball formed of this mixture between your fist stays and does not crumble.
Spread this mixture onto a 9 inch tart tin, make an even layer and allow to set in the fridge for 30 minutes.
For the filling, heat 2 cups of cream in a saucepan over medium-low heat.
Meanwhile, mix the 4 tbsp of heavy cream with the corn flour- make a slurry and keep aside.
When the cream simmers, add the coffee and the melted chocolate. Combine well.
Once combined, add in the corn flour slurry and let the mixture thicken.
Once sufficiently thick, pour the hot mixture on your refrigerated tart base and allow to chill in the refrigerator for a minimum of 1-2 hours. This time is needed for the tart to set,