March has been great so far. If you follow me on Instagram, you must have been seeing all the pictures I've been sharing from my new studio. It actually used to be a small room on my terrace where we used to dump everything. I started shooting there in December'17 because of the beautiful light it gets but it was in a complete mess. I decided to get it re-done and turn it into a space where I can have fun shooting. I got rid of all the unnecessary things in the room, got it re-painted, got a prop shelf made, had an air conditioner installed and also got two tables made. I think it looks great there and this eggless caramel pecan tart is the first dessert I shot in my new studio space. So exciting!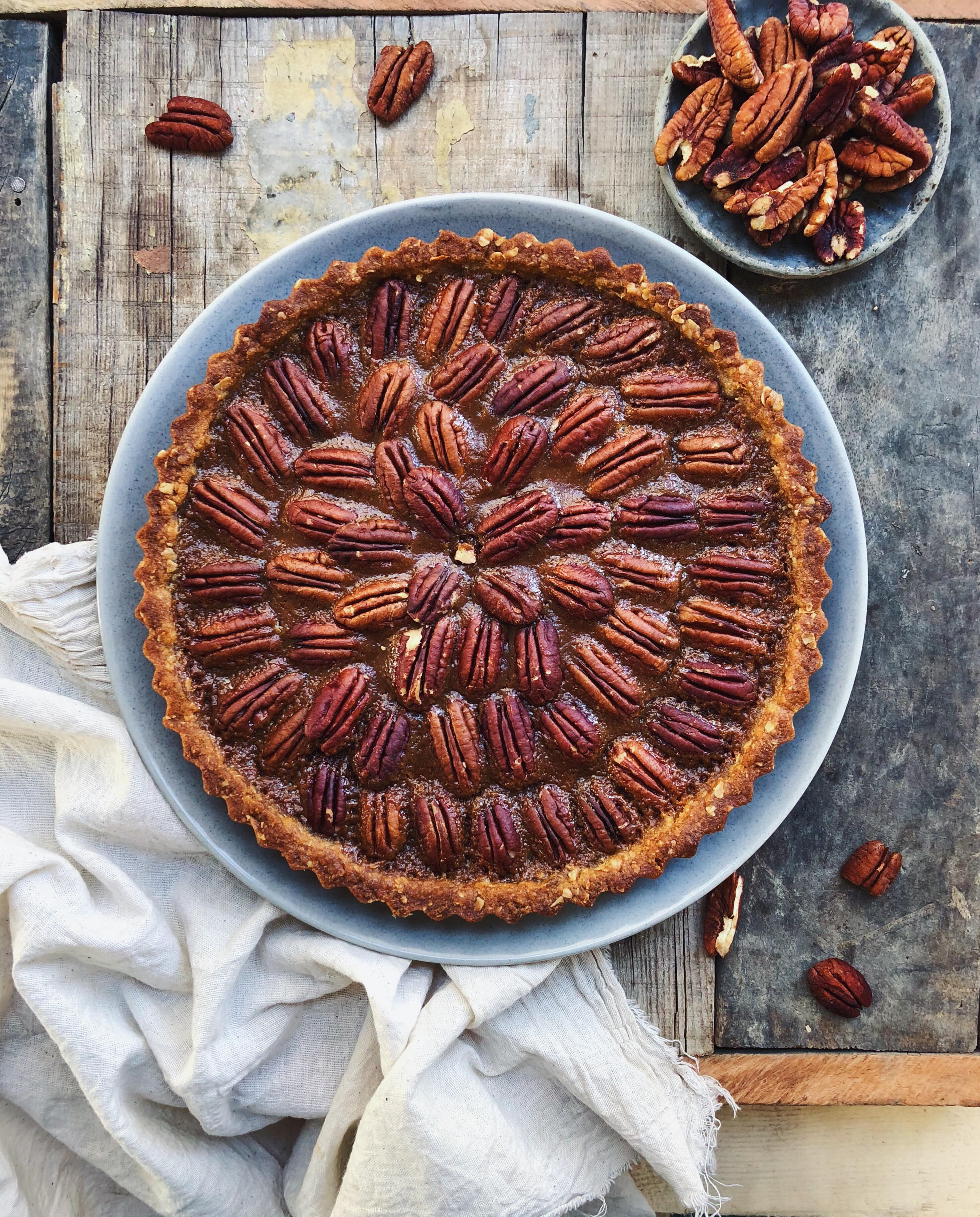 I'm going to be traveling most of April- I'm going to be in Taiwan from 17th-24th of April and then to Bali from 25th for six days. Since I'll not be baking too much next month, I'm going to make up for it in March by sharing as many recipes as I can this month. Since a lot of my readers have been requesting for eggless recipes, I decided to create a 10 day, 10 eggless recipes challenge. I'll be sharing 10 eggless recipes in the next 10 days. I hope I'm able to pull this off haha.
This eggless caramel pecan tart is a family favorite- we all love it at home. The tart shell, that I made with oats this time, is nice and crunchy but my favorite part has to be the gooey caramel with pecan nuts. If you don't have pecans on hand, you can use any nuts that you like- almonds, hazelnuts, walnuts or even cashew nuts!
How to get your tart shell right
While I usually use all purpose flour to make the shell for my tart recipes, I have used a combination of rolled oats and flour for this eggless caramel pecan tart. The crunchy texture that the oats give to the tart shell goes perfectly with the gooey caramel filling. The best part about this tart shell is that it is eggless! If you want to nail the tart shell recipe, you can read my post on how to make perfect tarts. I've talked about basic tips you should keep in mind when making tarts, and am sure it will be of help!
Resting and pricking the dough
It is very important that you let your dough rest in the refrigerator before you use it. This allows the gluten in the flour to relax, making the dough malleable and flexible. If you miss this step, your tart shell will most likely crack on you, so be patient and let it rest! Once you line the tart pan, prick it using a fork. Heat from the bottom of the pan can cause the base of your shell to arch up, which is the last thing you want! Pricking the lined dough avoids that situation!
Tips to make homemade caramel
Caramel, even though is easily available as it is in the market, is extremely easy to make! You only require basic ingredients like sugar, water, butter and cream! You just need to be careful while making it, so as to not burn your hand! I suggest to always use a bigger saucepan that the one you think you'll require. This will be safer as the mixture will bubble vigorously when you add cream. Also, resist the urge to stir the sugar and water mixture . Instead, once you see the amber colour developing, gently swirl the saucepan to prevent it from burning.
Eggless Caramel Pecan Tart
Eggless Caramel Pecan Tart
Ingredients
TART SHELL-
½ cup butter (113 grams/ 8 tbsp)
⅓ cup castor sugar
1 cup all purpose flour
¼ cup rolled oats
FILLING-
⅔ cup granulated sugar
¼ cup water
6 tablespoons butter
½ cup heavy cream, cold
1 cup pecans
Instructions
In a bowl, cream butter and sugar.
Mix in flour and oats and beat until the dough begins to come together.
Knead the dough and chill in the freezer for 15 minutes or until the dough is firm.
Roll out the dough and line a 9" tart pan with the rolled out dough. Chill in the freezer for another 15 minutes. Pre-heat the oven to 180C.
Use a fork to prick the chilled tart shell and bake at 180C for 10 minutes until the tart shell is golden-brown.
To make the filling, cook sugar and water in a saucepan set over medium heat until it turns into an amber color.
Bring it off-heat and immediately add the cream. The mixture will bubble vigorously, so be careful.
Mix in the butter while the caramel is still hot.
Pour the caramel into the tart shell. Arrange the pecans on top.
Bake the tart for another 15 minutes.